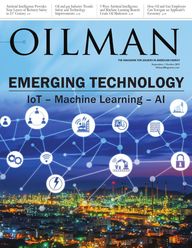 Return to flip book view
Oilman Magazine Sept/Oct 2019
Page 1
How Oil and Gas Employers Can Navigate an Applicant's Economy p. 36Articial Intelligence Provides New Layers of Renery Safety in 21st Century p. 85 Ways Articial Intelligence and Machine Learning Benet Crude Oil Marketers p. 28Oil and gas Industry Trends: Safety and Technology Improvements p. 22THE MAGAZINE FOR LEADERS IN AMERICAN ENERGYSeptember / October 2019OilmanMagazine.comEMERGING TECHNOLOGYIoT – Machine Learning – AI
Page 2
Precision Mass Flow MeasurementAn ONICON BrandTHERMAL MASS FLOW METERMODEL FT4Xsales@foxthermal.com • (831) 384-4300• Accuracy compliant BLM 3175 & API 14.10• Data Logger with 7-year history• Gas-SelectX® gas selection menus• Advanced DDC-Sensor™ technology• CAL-V™ in-situ Calibration Validation• No additional pressure or temperature compensation• Direct mass flow measurement• Low pressure drop GET A FREE QUOTEfoxthermal.com/quote
Page 3
Oilman Magazine / September-October 2019 / OilmanMagazine.com1IN THIS ISSUEFeatureEmerging Technology: Looking Toward the FutureBy Sarah Skinner - pages 24 & 25In Every IssueLetter from the Publisher – page 2OILMAN Contributors – page 2OILMAN Online // Retweets // Social Stream – page 3Downhole Data – page 3Top 10 Houston-Area Oil and Gas Equipment and Services Companies – page 19OILMAN ColumnsThe National Energy Dialogue Continues: Mark A. Stansberry – page 23Software and Technology's Effect on Safety, Operations, and Modernization in the Oil and Gas Industry: Tonae' Hamilton – page 32Sixth Circuit Fans the Flames of Class Certication Against Operators: Thomas G. Ciarlone, Jr. – page 37Interview: Bobby Martin, Founder, OmniShelf: Tonae' Hamilton – page 38Interview: Rachel Olney, Founder and CEO, Geosite: Sarah Skinner – page 44Quick View of The Acquisition & Divestiture Market: Josh Robbins – page 49Augmented Reality: More than a Game: Sarah Skinner – page 50Colorado Governor Continues War on Oil and Gas: Jason Spiess – page 52 Guest ColumnsGas Detection and the Connected Worker: Rick Pedley – page 4An Overview of Unconventional Reservoirs and Their Basic Classication: Ender Sánchez – page 6Articial Intelligence Provides New Layers of Renery Safety in 21st Century: Lillian Espinoza-Gala – page 8A Minute Saved, a Minute Gained? Why Analysis is Key for Your Next Drilling Project: Martin Harrop – page 10Odor Control in Oilelds Now Has Greener Options: Tonya Chandler and John Richardson – page 12Comparing Oil Superpowers: No Match? Eugene M. Khartukov – page 14Maximizing Flame and Gas Detection Effectiveness: The Case for Optimizing Detection Coverage over Device Availability: Julian Yeo – page 16Pink Petro Founder & CEO Tells Congress the Future of Energy is All-Inclusive: Rebecca Ponton – page 18Automated Pipe Welding Emerges from "Perfect Storm" of Technology Advances: Mitch Dupon – page 20Oil and Gas Industry Trends: Safety and Technology Improvements: Ria Edens – page 22Blockchain Early Adoption in Oil Industry - Risks and Rewards: Amandeep Kaur – page 265 Ways Articial Intelligence and Machine Learning Benet Crude Oil Marketers: Josh Gray – page 28Why Not Graphene? Raul Palencia – page 30How Oil and Gas Employers Can Navigate an Applicant's Economy: Ron Hudik and John Romanow – page 36The Trouble with Oil Price Predictions: Lakshman Achuthan and Anirvan Banerji – page 40Oil From Garbage: Any Prospects? Eugene M.Khartukov – page 42Enhance Security in Oil and gas Asset Integrity Management: The Latest Technologies and Strategies to Protect Digital Data: Dave Maguire – page 48
Page 4
Oilman Magazine / September-October 2019 / OilmanMagazine.com2Gifford BriggsGifford Briggs joined LOGA in 2007 working closely with the Louisiana Legislature. After nearly a decade serving as LOGA's Vice-President, Gifford was named President in 2018. Briggs rst joined LOGA (formerly LIOGA) in 1994 while attending college at LSU. He served as the Membership Coordinator and helped organize many rsts for LOGA, including the rst annual meeting, Gulf Coast Prospect & Shale Expo, and board meetings. He later moved to Atlanta to pursue a career in restaurant management. He returned to LOGA in 2007.Mark A. StansberryMark A. Stansberry, Chairman of The GTD Group, is an award-winning: author, columnist, lm and music producer, radio talk show host and 2009 Western Oklahoma Hall of Fame inductee. Stansberry has written ve energy-related books. He has been active in the oil and gas industry for over 41 years having served as CEO/President of Moore-Stansberry, Inc., and The Oklahoma Royalty Company. He is currently serving as Chairman of the Board of Regents of the Regional University System of Oklahoma, Chairman Emeritus of the Gaylord-(Boone) Pickens Museum/Oklahoma Hall of Fame Board of Directors, Lifetime Trustee of Oklahoma Christian University, and Board Emeritus of the Oklahoma Governor's International Team. He has served on several private and public boards. He is currently Advisory Board Chairman of IngenuitE, Inc. and Advisor of Skyline Ink. Thomas G. Ciarlone, Jr.Tom is a litigation partner in the Houston ofce of Kane Russell Coleman Logan PC, where he serves as the head of the rm's energy practice group. Tom is also the host of a weekly podcast on legal news and develop-ments in the oil-and-gas industry, available at www.energylawroundup.com, and a video series on effective legal writing, available at www.theartofthebrief.com.Jason SpiessJason Spiess is an award winning journalist, talk show host, publisher and executive producer. Spiess has worked in both the radio and print industry for over 20 years. All but three years of his professional experience, Spiess was involved in the overall operations of the business as a principal partner. Spiess is a North Dakota native, Fargo North Alumni and graduate of North Dakota State University. Spiess moved to the oil patch in 2012 living and operating a food truck in the parking lot of Macís Hardware. In addition to running a food truck, Spiess hosted a daily energy lifestyle radio show from the Rolling Stove food truck. The show was one-of-a-kind in the Bakken oil elds with diverse guest ranging from U.S. Senator Mike Enzi (WY) to the traveling roadside merchant selling ags to the local high school football coach talking about this week's big game.Joshua RobbinsJosh Robbins is currently the Chief Executive Ofcer of Beachwood Marketing. He has consulted and provided solutions for several industries, however the majority of his consulting solutions have been in manufacturing, energy and oil and gas. Mr. Robbins has over 15 years of excellent project leadership in business development and is experienced in all aspects of oil and gas acquisitions and divestitures. He has extensive business relationships with a demonstrated ability to conduct executive level negotiations. He has developed sustainable solutions, successfully marketing oil and natural gas properties cost effectively and efciently.Steve BurnettSteve Burnett has been working in the oil industry since the age of 16. He started out working construction on a pipeline crew and after retirement, nishes his career as a Pipeline Safety Compliance Inspector. He has a degree in art and watched oil and art collide in his career to form the "Crude Oil Calendars." He also taught in the same two elds and believes that while technology has advanced, the valuable people at the core of the industry and the attributes they encompass, remain the same. The EIA (Energy Information Agency) at the Department of Energy recently mentioned U.S. petroleum production increased 16 percent and natural gas 12 percent in 2018. The EIA said the increase was the largest petroleum and natural gas production increase from a single country in history. With that, the U.S. surpassed Saudi Arabia as the largest petroleum producer with Russia in third place. Fantastic news for our economy and energy independence. With increased oil and natural gas, the need for infrastructure to push production to market is so much greater. As we've reported over the last year, several pipelines have come online, several are near completion and there are still more to come in 2020. Liqueed natural gas exports increased this summer setting new records. A couple of new LNG facilities are scheduled to start production later this year. Still yet, great news, our industry is humming along, collecting modest gains. The Anadarko/OXY merger was also exciting news for the industry. However, there is still caution coming from major oil producers, even independents, to keep CAPEX under control. Every segment of the industry is on watch to reduce spending, maintain a positive cashow and produce results. That's the right approach as we head into 2020, an election year, and faced with an uncertain trade war. E&P bankruptcies are on the rise and there has been an increase in M&A activity in the services, equipment and supplies side of the business. All signs that the industry has an increased appetite for change and adjustment. So, the good news is we're energy independent and producing more oil and gas, the bad, well, I guess only 2020 will tell.SEPTEMBER — OCTOBER 2019PUBLISHER Emmanuel SullivanMANAGING EDITOR Sarah SkinnerASSOCIATE EDITOR Tonae' HamiltonFEATURES EDITOR Eric EisslerGRAPHIC DESIGNER Kim FischerCONTRIBUTING EDITORS Gifford Briggs Steve Burnett Thomas Ciarlone, Jr. Joshua Robbins Jason Spiess Mark StansberrySALES Eric Freer Diana GeorgeTo subscribe to Oilman Magazine, please visit our website, www.oilmanmagazine.com/subscribe. The contents of this publication are copyright 2019 by Oilman Magazine, LLC, with all rights restricted. Any reproduction or use of content without written consent of Oilman Magazine, LLC is strictly prohibited.All information in this publication is gathered from sources considered to be reliable, but the accuracy of the information cannot be guaranteed. Oilman Magazine reserves the right to edit all contributed articles. Editorial content does not necessarily reflect the opinions of the publisher. Any advice given in editorial content or advertisements should be considered information only.CHANGE OF ADDRESS Please send address change to Oilman Magazine P.O. Box 771872 Houston, TX 77215 (800) 562-2340Original cover photo by Sompong Rattanakunchon www.123RF.comLETTER FROM THE PUBLISHERCONTRIBUTORS — BiographiesEmmanuel Sullivan, Publisher, OILMAN Magazine
Page 5
Oilman Magazine / September-October 2019 / OilmanMagazine.com3Week Ending August 30, 2019DIGITAL DOWNHOLE DATAGulf of Mexico: 26Last month: 23Last year: 16 New Mexico: 108Last month: 109Last year: 102 Texas: 440Last month: 453Last year: 526 Louisiana: 33Last month: 40Last year: 41 Oklahoma: 80Last month: 93Last year: 139 U.S. Total: 904Last month: 946Last year: 1,048OIL RIG COUNTS*Source: Baker HughesBrent Crude: $58.64Last month: $62.29Last year: $74.41 WTI: $53.54Last month: $56.85Last year: $69.97CRUDE OIL PRICES*Source: U.S. Energy Information Association (EIA)Per BarrelGulf of Mexico: 59,018,000Last month: 59,451,000Last year: 47,628,000 New Mexico: 27,902,000Last month: 26,019,000Last year: 20,002,000 Texas: 154,145,000Last month: 148,688,000Last year: 130,717,000Louisiana: 3,752,000Last month: 3,622,000Last year: 4,350,000Oklahoma: 18,689,000Last month: 18,456,000Last year: 16,330,000 U.S. Total: 375,354,000Last month: 364,021,000Last year: 324,254,000CRUDE OIL PRODUCTION*Source: U.S. Energy Information Association (EIA) – May 2019 Barrels Per MonthGulf of Mexico: 80,081Last month: 85,627Last year: 76,811 New Mexico: 146,084Last month: 150,472Last year: 120,082 Texas: 734,429Last month: 753,832Last year: 645,593Louisiana: 256,327Last month: 249,215Last year: 231,937 Oklahoma: 260,442Last month: 270,859Last year: 241,563 U.S. Total: 2,942,788Last month: 3,009,493Last year: 2,641,008NATURAL GASMARKETED PRODUCTION*Source: U.S. Energy Information Association (EIA) – June 2019Million Cubic Feet Per MonthConnect with OILMAN anytime at OILMANMAGAZINE.com and on social media RETWEETS@OilmanMagazine#OilmanNEWSStay updated between issues with weekly reports delivered online at OilmanMagazine.com SOCIAL STREAMfacebook.com/OilmanMagazine
Page 6
Oilman Magazine / September-October 2019 / OilmanMagazine.com4OILMAN COLUMNGas Detection and the Connected WorkerBy Rick Pedley In our increasingly connected world, portable gas detectors have been slow to keep up with the latest digital trends. In the age of IoT, you can control your toaster and home thermostat using an app on your smartphone, but what about your portable gas detector?When wearing a portable gas detector on the job, whether it's a single gas H2S monitor or a ve-sensor multi-gas instrument, we really don't pay much attention until the alarm sounds. This misses a trove of information about your work environment and your safety within it.When a gas detector is paired wirelessly with a smartphone, usually via Bluetooth technology, you get access to so much more information. And better yet, you can easily share these data points with the rest of your team. Depending on your preferences, this exchange can even happen in real-time using a cloud-based portal.Consider the smart watch. Popular health tracking apps allow you to review not only things like pulse, respiration, steps, calories burned, etc., but these activities are also placed in context, helping you make the most of this information. In addition to the time of day, the GPS feature shows you your location within a few meters, among a host of other parameters.These digital devices are "always on," which means they record information and observe their surroundings 24/7. If we apply the same approach to portable gas detection equipment, we could mine more information from our work environments. Whether at a particular job site or within a large plant, wouldn't it be helpful to have consistent access to these data points? For example, if we consistently get elevated ammable gas readings near a building or piece of equipment, we can take proactive steps to improve worker safety.When we add in the 'connected' gas detector, we are providing an entirely new level of context around the data provided by the instrument sensors. In order to display the insights available, gas detection equipment manufacturers need to develop a simplied user interface, while quickly disseminating data to those that need it most.Docking stations for gas detectors are a common feature in industrial plants and reneries. They allow users to download data, charge the battery, and calibrate their instruments. These are necessary tasks, made easier by the semi-automatic nature of these devices. Depending on the instrument design, the docking station will be able to download 'snapshots' of the readings, alarms, bump tests, and calibrations. These may be minute-by-minute or at some other interval.But what do we do with this information once we've gathered it? Many, if not most, docking stations are not integrated with a central database, let alone one that's easily accessible. And while we don't want to dismiss data security concerns, putting actionable data in the hands of safety professionals should be viewed as a priority.Using a portable gas detector extends our senses, alerting us to dangers when they are present. As a tool, they are invaluable. The extended functionality of a 'connected' gas detector is right around the corner, with many elements already available. Developing a common platform for this data would be a major step towards widespread availability.Rick Pedley, PK Safety's President and CEO, joined the family business in 1979. PK Safety, a supplier of occupational safety and personal protective equipment and manufacturer of their own new FR line Grit, has been operating since 1947 and takes OSHA, ANSI, PPE, and CSA work safety equipment seriously. PK Safety's customer service can be reached at 800-829-9580 or online at https://www.pksafety.com/contact-us/. Photo courtesy of PK Safety
Page 7
Oilman Magazine / January-February 2019 / OilmanMagazine.com1November 5-6, 2019OILMAN CONNECT is a two-day virtual trade show dedicated to connecting businesses in the Oil and Gas Industry.Feature your products, services, and technologies while you network with other industry experts, attend educational seminars, and track all your leads and data.Visit www.OilmanConnect.com for more information800-562-2340 Ext 4 • info@OilmanConnect.comBook Your Virtual Booth Today
Page 8
Oilman Magazine / September-October 2019 / OilmanMagazine.com6OILMAN COLUMNAn Overview of Unconventional Reservoirs and Their Basic ClassificationBy Ender SánchezToday, there is much that is talked about and discussed in the oil and economic world of unconventional reservoirs. But what are these unconventional reservoirs? Giving an overview of what unconventional reservoirs are from the point of view of operations, geology and petroleum engineering, it leads us to look for a denition about what these are. One of the main parameters that these type of reservoirs will dene is their permeability, so we would be referring to that: they are very low permeability reservoirs, less than one microdarcy (Figure 1), but that they have the possibility to produce hydrocarbons, through the application of different techniques related to hydraulic fracturing. Much of the unconventional resources are found around the world, and have particular characteristics such as their rapid depletion (Figure 2).The fact that they are geological formations of low permeability requires that drilling alternatives based on the development of horizontal wells with the generation of hydraulic fracturing of multiples stages be generated. It is also important to know, among other things, the physical and transport properties of the type of rocks that make up unconventional reservoirs. Likewise, reservoirs known as unconventional are of great controversy worldwide for environmental impacts that the development of such reservoirs could lead, as well as, the use of induced seismicity, which is widely used in the stimulations and studies of such reservoirs.Over the past 10 years, there has been an increase in oil and gas production, in this type of unconventional reservoirs, making countries such as the U.S. and Canada exporters of this type of hydrocarbons. Similarly, the oil industry in general has beneted from the set of technologies implemented in the development of this type of reserves. The discovery of many of these types of reserves could not be possible in the world, without the development of horizontal wells with multiple fractures (Figure 3), which allowed giving economic interest to the geological formations of low permeability. Since traditional or conventional discoveries and developments were intended for rocks with other types of properties: highlighting techniques, where the so-called best petrophysical properties were sought: high porosities, high permeabilities, high oil or gas saturations, low water saturations.Unconventional reservoirs are located all over the world. Its large-scale development begins in the U.S. and Canada, as well as countries such as China and Australia, have pioneered the development of such reservoirs. However, there are great potentials around the world for the development of unconventional reservoirs, such as Mexico, Venezuela, Brazil, Argentina, France, Poland, Algeria, Ukraine, Iran, Libya, Egypt, Qatar, Saudi Arabia, Pakistan, United Arab Emirates and South Africa. This, if we refer to its horizontal spatial location; but if we speak in their vertical location, that is, in the geological column, we will nd them embedded among the so-called conventional reservoirs, since many of them represent in the conventional system of reservoir distribution, characteristics of source rock and rock seal, as well as could have been limiting the permeability of the source rock.The importance of unconventional reservoirs is that for the next 50 years and more, the planet will still require energy from this type of resource; and the global oil industry, must ensure that the whole world is provided with this type of energy in an economically cost-effective manner, which guarantees all the national security principles of the countries involved, generating the least possible environmental impact and in harmony with the living conditions of society. In this sense, one of the advantages of this type of deposit is the production of natural gas that is generated in the world, in order to reduce CO2 emissions into the atmosphere. Much of the gas production can come from unconventional deposits in the world.In terms of its classication, we can nd different types of unconventional deposits, but there is basically a classication in three types:1. Rich in Organic Matter- Source Rock2. Conventional Unconventional3. Hybrid playsFigure 1: Permeabilities to be considered in the difference between conventional and unconventional deposits. Source: Geomechanical Course Applied to Unconventional Sites Course - Stanford University.Figure 2: Examples of monthly production and cumulative production in unconventional reservoirs. Geomechanical Course Applied to Unconventional Sites Course - Stanford University.
Page 9
Oilman Magazine / September-October 2019 / OilmanMagazine.com7OILMAN COLUMN1. Rich in organic matter- Source Rock: They are made up of those rocks that in previous explorations, or in the description of traditional oil systems, constitute the Source Rock, however, there are accumulations of hydrocarbon in this type of rocks, which turn them into storage rock; and their accumulations are considered unconventional.2. Conventional Unconventional: They represent the group of con-ventional reservoirs in sandstone or limestone, whose accumulations in organic matter are not very signi-cant, but whose low permeability re-quires the design of horizontal wells with multiple fractures to ensure the hydrocarbon ow from formation to wells. Given their treatment and their very low permeability they are considered unconventional.3. Hybrid Plays: Represent the combination of the two above types, i.e., they have large organic content and at the same time were considered conventional resources.Organic-rich deposits are generally formed in platform environments (Figure 6), where some organic sediments are deposited in combination with very ne grain sediments, specically on a continental margin, where in geological eras, could coexist algae, phytoplankton, and organic matter die and fall to the sea oor in relatively deep water, additionally it is buried by clay in a reducing environment (So the organic matter doesn't oxidize).In a geological context we must say that over time this accumulation of organic matter has much to do with the relative variation of sea level, which will give the precise depths for the deposit of ne sediments, combined with the generation or the number of living organisms, which when they die, can settle in the basins. This organic matter reaches the maturation necessary to become oil or gas.Thanks to this combination of ne sediments and organic matter, today we can nd the reservoir of shale, rich in organic matter. We can nd deposits with great lithological variation, where they are present:• Combination of shale sand, carbonates and shale• Basal shale, which correspond to areas of high clay content and high organic content• Areas of high organic content with presence of claysWhen talking about hybrid play and conventional unconventional depos-its, it is necessary to refer to the terms of production and drilling modes in order to achieve the best results in these types of reservoirs. They are precisely called unconventional be-cause their permeabilities are so low that they require horizontal drilling and multiple fracturing, as we have already mentioned. Also, its rapid depletion is a typical characteristic of this type of reservoirs, even if we are talking about sandstone or carbonate type storage rock.Observing the hybrids' play and con-ventional unconventional deposits, the characteristic that differentiates them is their organic content, since hybrid plays, even though they are made up of sandstone or limestone source rock, are very related to the processes that gave rise to the source rock, or there is an important content of organic accumulations, which point to these types of formations the character of hybrids.As for their production characteristic, let us remember that there are deposits in which induced fractures are generated, or what we know as hydraulic fracturing, in order to generate the channels that can allow the communication of the uid from the training to the well. Accumulations that may be contained in fractures are temporary and the formation matrix must rell these fractures. So, their production behavior will be fast depletion depending on the time, requiring subsequent stimulations that could reactivate the productive state of the wells. Among the most well-known types of stimulations is multi-stage fracturing and induced seismicity.Ender Sánchez has almost 12 years of experience in the oil and gas industry which include reservoir management, well productivity, petroleum geology, geomechanics characterization, stratigraphical characterization, integrated studies, new well location strategies, and geomodeling. He holds a bachelor's degree in Geology Engineering and a specialization degree in Petroleum Geology. Figure 3: Multi-fracturing horizontal well design scheme. Geomechanical Course Applied to Unconventional Sites Course - Stanford University.Figure 4: Distribution of the unconventional deposits known worldwide. Geomechanical Course Applied to Unconventional Sites Course - Stanford University.Figure 5: Global energy and environment Challenge. Source: Conoco Phillips 2017 Figure 6: Organic matter deposit scheme in basins. Source: Loucks and Rupple 2007
Page 10
Oilman Magazine / September-October 2019 / OilmanMagazine.com8OILMAN COLUMNArtificial Intelligence Provides New Layers of Refinery Safety in 21st Century By Lillian Espinoza-GalaIn the late 1990s the oil and gas industry worked overtime against the fear of what would happen when the clocks struck midnight in the year 1999 ushering in 2000. No one knew what would hap-pen with computer clocks designed only through years ending in 99. The news media covered the new millennium like an approaching hurricane. The Y2K fear and frenzy seems so distant in light of the many global crises that our best and brightest engineers have had to deal with in the last two decades. From 9/11 and Hurricanes Katrina, Rita, Ike, Sandy and Harvey to cyber threats, global recessions and a change in demographics. In 2019 adapting a radically different approach with AI (Articial Intelligence) and IoT (Internet of Things) is not just a method of reducing down-time, increasing prots, and creating security in the midst of unexpected crises - it is being recognized as mandatory. The major oil and gas operators have accepted Oil and Gas 4.0 as the only accept-able path forward for sustainable and high security renery and plant operations.Mark Anderson began his career with Shell Oil in 1981 and has led robotics and automation in drilling globally for Shell and with SPE (Society of Petroleum Engineers). Cur-rently Anderson, a consultant and managing member of Anderson & Spilman, LLC, says, "Managing robotics and automation holds the promise to take humans out of harm's way. The issue on uptake to date in the oil eld is the variety of tasks that humans are required to do. There is not the high degree of repetition like in a factory setting. Automation is a bit of an 'all or nothing' proposition in terms of removing people from the worksite. If you automate part of a position, the individual, who is still required to do those tasks not yet auto-mated, will need to be present at the worksite." Mr. Anderson has been working with universities and young professionals in global competitions to make the transition to robotics easier.Once a disaster or crisis is elevated to BREAK-ING NEWS, the response has usually been long investigations and new procedures for safer operations or new technologies. But in this age of disruption the need for proactive and interactive Process Safety Management and Quantitative Risk Assessment and Mitigation in the design phase has the ability to insure nancial stability for the investors.Perhaps what happened in the summer of 2019 illustrates to what extent breaking news can also break an industry. According to reporting by the Philadelphia Inquirer on June 21, 2019, the night shift at the PES Renery responded immediately to the blast that shook communities several miles away. This is one of the few renery disasters where one woman at 4:00 a.m. working the boards did everything correctly and, together with more than 100 workers, literally saved the city of Philadelphia. During the rst 20 minutes, as renery employees scrambled through reballs that lit up the sky turning night into daylight for miles around, many of the lead workers wondered how many people they would have to bury. Then word arrived that every single worker had been accounted for and they simply had to ght the res and get control of the ow of chemicals. On June 26th while these same employees scrambled cleaning up the site to get the operation back on line they were even more stunned to learn on breaking news that PES would close the renery. No one could have imagined that with only ve minor injuries and no harm to the community the renery workers would be faced with being out of work. What AI solutions, IoT and companies like SparkCognition potentially can offer will not only save the environment, the lives of workers and surrounding communities, but the actual renery itself. In this season when the oil and gas industry has lost the public trust, innovative software and IoT technology are the key to renery survival.The road map to weaving advanced software and AI technology into reneries and chemical plants might have seemed expensive and extremely complex for everyone from the C-Suite (the blunt end of the safety spear) on down through the VP and middle management in 2010. But, in light of more than 35 major renery and chemical plant disasters in the United States since 2015, keeping those who work onsite and the surrounding communities safe is tied directly with keeping the license to operate from all stakeholders: investors, partners, employees, the community and local, state and federal governments. Oil and gas companies recognize the social license to operate (SLO) is just as vital as any permit from a governing authority.Making the Energy Transition from Disaster to High Tech Solutions - Like a Moon Shot for The Oil and Gas IndustryImplementing innovative change is never easy in any industry but in 2019 capturing multiple data streams of information from specic vessels, pumps and compressors allows for keeping on top of preventative and corrective maintenance, as well as real time hazard analysis and risk assessment in rapidly changing weather conditions and corporate changes. The benets of digital solutions reduce downtime and prevents equipment surprises. The energy industry is undergoing a state of disruption. Historically, energy companies who survived the booms and busts and major transitions survived or failed based on whether they looked at disruption as a threat or an opportunity. Shell, BP and ENI are leading the way by using analytics and advanced machine learning to capture huge streams of data, much of which has gone unused. The organizations who jump on Oil and Gas 4.0 and surf the waves of change with the latest AI and IoT software solutions will offer just in time decision making and add new layers of safety protection not humanly possible otherwise.By streaming information in real time to the key decision makers, front line workers have a second Social License to Operate"You don't get your social license by going to a government ministry and making an application for one, or simply paying a fee. ... It requires far more than money to truly become part of the communities in which you operate." – Pierre Lassonde, President of Newmont Mining Corp., 2003Image courtesy of SparkCognition
Page 11
Oilman Magazine / September-October 2019 / OilmanMagazine.com9OILMAN COLUMNset of eyes to alert them to a critical action before a combination of small events balloons into a crisis. It has taken decades for accurate tornado alerts to send messages to homes, business and governments so that all stakeholders can respond proactively. Introducing AI and advanced machine learning and software solutions promises nancial savings as well as salvation for the USA's aging reneries and chemical plants. Phillipe Herve, Vice President, SparkCognition, says the money and time invested in AI and machine learning in 2019 is a drop in the bucket when compared to how much money can be saved by preventing unnecessary downtime and lower insurance premiums. The technology can also help engineers in the design phase make more informed decisions to create and operate facilities that will be far more productive in the entire lifecycle of the facility and increase production. Herve, an engineer, says he was skeptical at rst. But upon further investigation and experience with different sectors of the oil and gas industry, he has invested his future professional life in helping the energy industry move toward the most advanced levels of digital and software solutions. He notes that AI and machine learning have already been proven on offshore drilling rigs and production platforms, but now solutions such as those offered by his company SparkCognition are already being tested in reneries and chemical plants in 2019.Change is always difcult at any point in history. Herve says the three main challenges to fully implementing AI technology and software include radical change in:1. Technology – new and different. Oil and gas reneries and chemical plants generate enormous amounts of data, but until recently it has been difcult to use it quickly due to the amount of time required for data scientists to clean it up and nd only the information that is relevant to solving a particular problem for a specic piece of equipment. This is where solutions like Darwin come in to help make the transition almost seamless for both the engineers and data scientists and those in management and at the worksite.2. Change in Process – Without big data and AI, reneries and plants have traditionally had to react after disasters to create innovative solutions. Herve says, "With AI we may be able to detect a slight change faster than a human but this is probably not where the full power resides. AI is capable of detecting combina-tions of sensors which are abnormal to a particular asset. Every single sensor provides a reading which is within range and not alarming by itself. The combination of value reported by multiple sensors is abnormal which is some-thing humans have great difculty in detecting. Some rule-based algorithms have been written for some assets to catch these combinations but the rule-based approach only works for abnormalities which are "planned." The true power of AI comes when the system is auto-matically and intelligently capable of detecting an anomaly even if the anomaly has not been considered as a possibility. Expanding the con-cept, with Automated Machine Learning, you can detect any anomaly, regardless of whether it was considered a possibility or not without having to write hundreds or thousands of rules to consider each possible use case." In 2019, the software solutions proven with a client in a few months go beyond what a team of human engineers could have accomplished in a few years in the past. 3. Organizational Culture – The interface between different ladders in an organizational chain of command have always proven most challenging. Organizational culture is dened as "how people work" with many people explaining "this is not how we do things around here." Resolving the fragile interface between the seasoned workforce and the vision of the data science engineers will require a space for dialogue and candor in the feedback loops. The words "Safety in the Work Place" have been chanted like a mantra to the point where many of those on the sharp end of the safety spear have come to feel that those in the C-Suite are not providing a safe space for them to voice their fears and concerns. Investigations by the U.S. Chemical Safety Board have consistently uncovered failure in organizational system risk assessment after a disaster. There is a lack of feedback loops for workers to send bad news up the chain of command in real time. Machine learning and addition of new software solutions will require listening protocols for sharing concerns of the workforce.Case studies from companies that have introduced AI prove that with buy in from the top to the bot-tom of the organization, operations can demon-strate that the introduction of advanced software can be streamlined to make life easier for everyone. Once engineers and plant managers give various software suites a test drive in a plant, the front-line employees see how the algorithms help them reduce the amount of time spent on troubleshoot-ing and repairs and allow a proactive response to daily operations. The software sends out alerts when preventive or predictive maintenance needs to be addressed sooner. Just a couple of years ago Herve says the rst editions of AI allowed plant operators to see AFTER a breakdown what should have been done six months or six weeks before the event. This latest edition of algorithm prevents the breakdowns BEFORE they happen.Texmark Chemicals put SparkCognition sensors on one of their pumps in 2019. The onsite workforce found their ability to operate between the sensors and the actual equipment enhanced their ability to maintain their equipment while providing a new understanding of it. The transition was easier than anyone expected. Doug Smith, CEO, Texmark Chemicals, Inc. is more than simply a satised customer. Smith says, "SparkCognition's ability to deliver reliable, AI-based predictive analytics helps the people working with and on the equipment not only know what is happening but, more importantly, what is going to happen and when. This is a game changer. Not only does this improve plant safety, but it increases productivity by reducing unplanned downtime." Smith is encouraging his competitors and industry colleagues to become early adopters of AI and Machine Learning.As our oil and gas industry enters the next decade, sustaining the license to operate and keeping the public trust will depend on investing in the innovations and technology that keep reneries and plants from becoming the latest story on breaking news. Lillian Espinoza-Gala, owner LEG Exploration Education, served on the steering committee for National Academy of Science Offshore Worker Empowerment workshop held in Houston in January 2018 and a section of her Macondo Research is published in Chapter 2 of the proceedings. She currently serves as a Membership Chair on SPE International Human Factors Technical Section Board. A massive re burns at Philadelphia Energy Solutions Inc's oil renery in this still image from video in Philadelphia, Pennsylvania, June 21, 2019. WCAU-TV/NBC via REUTERS
Page 12
Oilman Magazine / September-October 2019 / OilmanMagazine.com10OILMAN COLUMNA Minute Saved, a Minute Gained? Why Analysis is Key for Your Next Drilling ProjectBy Martin HarropIt's mid-January, 150 miles from land with the temperature around zero degrees Celsius. The waves are 50 feet high, with many large vessels having chosen to shelter closer towards the coast. It's not worth the risk. Such conditions are not uncommon in the North Sea and strong winds and currents along with large waves can occur in many areas of the world. At all locations, long-term offshore oil and gas installations must remain intact and in position. Their critical infrastructure must withstand the most extreme conditions Mother Nature can throw at them, or an environmental disaster could be around the corner.The design, maintenance and monitoring of key components such as risers and conductors has developed signicantly as the industry has matured. Today, highly developed technology has to be carefully balanced against efciency and cost, and advanced analysis is playing a huge part in striking the right balance between safety, efciency, capability and cost. The Analysis ModelRiser and conductor analysis, often used to validate a proposed riser or conductor design before it is installed, has evolved into a specialism in its own right. Making sure these components are t for standard, in whatever conditions they are operating in, is fundamental to the success of any offshore installation.A typical platform conductor used on a production well will be supported by guides spaced carefully to ensure the conductor remains stable. The conductor must support the surface wellhead equipment and internal casing weights of the well while withstanding all environmental loads for the planned production life. A typical high-pressure drilling riser conguration consists of the subsea wellhead connector assembly, tapered stress joint, high-pressure drilling riser, tensioning joint, riser landing joint, hydraulic tensioning system and a surface blow-out preventer. Similar to the conductor, the drilling riser must withstand all potential environmental conditions, but will also need to be designed to contain the maximum pressure expected during drilling. As shown by this example, the design of conductor and risers can vary signicantly from one eld to the next.Analysts can now utilize advanced computer software to build model representations of these systems and predict the forces and stresses that they face whilst offshore. The obvious, but huge, benet being that it can be simulated safely and quickly onshore rather than trying it out in the North Sea, waiting, and dealing with disaster. Almost any conductor and riser system can be modeled in the virtual world, with nobody in harm's way.Put simply, this means that operators can choose the right specication of equipment for each situation. For example, making an educated choice between high quality but expensive equipment and a much cheaper model that can still perform the required role effectively.Although this kind of data modeling has been used before, its advances in the software and processing power have allowed a huge leap in its capabilities of late. Tens of thousands of numbers can be input, and millions of calculations can be conducted, varying loads, conditions, materials and so on, producing far more accurate and less conservative results than ever before. This process, once seen as more of a last-minute tick box exercise to satisfy health and safety requirements, is now being harnessed to inuence a project early in the FEED (Front End Engineering Design) stage in order to reduce costs and streamline the design, years before drilling starts.Understanding, Planning and PracticeAlthough it can have a positive inuence on project's CAPEX as close as two weeks before operations commence, the earlier this analysis is completed the more impactful the optimization and the bigger the savings can be. By the time key decisions have been made regarding equipment like risers and conductors, its impact can still be important but limited. Companies like Aquaterra Energy are at the forefront of utilizing this new digital technology. In one recent platform and conductor design example in Vietnam, their in-house team of riser analysis experts conducted a series of sensitivity modeling, which looked at maximizing drilling uptime on a new platform. The results successfully increased the rig operation window from less than the one-year storm up to a 50-year storm with only minor modications to the platform design. A small number of tweaks to the pre-build design prevented huge headaches during drilling and when the installation entered production.Proper Planning Prevents…Future IssuesWith the analysis conceivable now, it would be possible to plan all equipment so that it is designed for at least a 30 or 40 year lifespan. This makes maintenance and upgrades far more straightforward in decades to come, getting the most out of the expensive wells.The pioneering wells of the North Sea, some drilled in the 1980s or even the 1970s, are one such example. When initiated, most, if not all, were thought to be destined for decommissioning in around 20 years. Today, some are still operating, with operators trying to extend the life of these unexpectedly active assets.MP Riser Nipple Up - Well C2 - Maersk Highlander
Page 13
Oilman Magazine / September-October 2019 / OilmanMagazine.com11OILMAN COLUMNIn these instances, there is likely to be a need to re-enter these conductors, the problem being that, due to its age, the original drilling records have been lost and little information is known about the well. This makes an already difcult task signicantly more challenging. In the same situation today, the analysis would be done, stored and be a valuable tool throughout the life of eld operations.Millions in SavingsRiser analysis in practice has achieved some staggering results in recent times. A recent collaboration with Aquaterra Energy and a Norwegian operator is notable in its results. The operator was looking to drill a further two wells in the nal slots of an existing platform. However, unlike the other wells, these two slots did not have all conductor guide supports installed. The initial plan was to retrot a further guide to support the two new conductors, a complex operation with many safety concerns.Using the data modeling, a thicker-walled conductor was found to work without the need for a retrot guide. The result? Less complex and signicantly safer operations and a saving of around US$4 million on project CAPEX, with future savings likely throughout the life of the well.Condence in SafetyThe full potential of riser analysis is beginning to be understood by the industry. All solutions, of course, must make sense from a feasibility and engineering point of view, and that is what this process, conducted well, will do.It has the potential to offer signicant cost savings that far outweigh the investment of the work itself, sometimes hundreds of times. Validating systems for use in specic locations is now not just best practice, but an obvious element to include at an early design stage. Condence in safety and efciencies doesn't always come easy, but analysis makes it achievable for all, even when the next North Sea storm hits.Graduating with a First Class Master's Degree in Mathematics from Durham University, Martin has almost 10 years' experience in the oil and gas sector at Aquaterra Energy. During this time, Martin has worked on a wide variety of riser analysis projects while being based in Norwich and Cambridge. As riser analysis manager, Martin is responsible for the management and technical development of all riser analysis at Aquaterra Energy. AE - Aquadop Install - WAD
Page 14
Oilman Magazine / September-October 2019 / OilmanMagazine.com12OILMAN COLUMNOdor Control in Oilfields Now Has Greener OptionsBy Tonya Chandler and John Richardson Every year, oil companies receive hundreds of complaints about nuisance odors emanating from oilelds. For residents living in these areas, "rotten egg" smells and "dead sh" odors are a fact of life. Companies search to nd the causes and solutions for these nuisance odors without breaking the bank. Companies are looking at new technologies and new applications of existing chemicals to battle this problem in a "greener," more cost-effective way. Odors in the oil and gas industry typically result from the presence of volatile organic and inorganic compounds such as hydrogen sulde and ammonia. Hydrogen Sulde (H2S) can be a component of formation gases dissolved in water and hydrocarbons during oil and gas operations. It is toxic, corrosive and, at high concentrations, can be extremely hazardous and lethal. Organic compounds that lead to odor problems include mercaptans, amines, methane or BETX Benzene, Ethylene, Toluene and Xylene. These odors can be reduced or eliminated by using operational, mechanical, or chemical treatment technologies, but reducing severe odors often requires a combination of several technologies. Advancements in GeoMembranes offer a new perspective on odor control. New Products like Anue's GeoMem-brane Covers (or Pi2 PODZ Horizon covers) offer a breathable design for tanks and other applications where it is important to remove odors but allow water and air to pass through. The applications for this technology are stretching far beyond tank farms. Companies are now building 3-D structures to cover odorous areas, protecting both personnel and neighboring areas from dangerous odors. Olfactometric testing shows these membranes can reduce H2S and other VOC odors by over 90 percent when installed correctly. Chemicals are getting a makeover as well. Recently, new non-triazine chemistries have been developed that increase the efciency and speed of removing hydrogen sulde from crude oil, eld condensate, atmospheric gas oil and produced natural gas. The removal of nitrogen species can lead to enhanced safety and reduced exposure to odor and hazardous substances while allowing producers to meet oil and gas sales specications. Unlike triazines where removal efciency deteriorates at higher temperatures, new scavenger chemistries can maintain performance efciencies at temperatures greater than 1000C. These scavengers offer a less offensive odor than the "rotting sh" smell of traditional scavengers. Anue Water Technologies and its partners are actively engaged in the development of oxidative coupling technologies for treatment of sulfur, containing waters and waste streams as a new sustainable approach to odor control. Work with Ozone, Hydrogen Peroxide and other oxygen de-rivatives are advancing every day. Improvements over conventional peroxide and permanganate technologies have been proposed which utilize a concept called oxidative coupling. In this process, a proprietary catalytic surface is used to bring sulfur containing molecules close enough together such that the peroxide forms a bridged disulde compound. This disulde is then further oxidized to produce a water-soluble sulfoxide. Adsorbed (HSR + HSR) + H2O2 = RS-SR (Disulde) + H2O2 = RS-S=OR (Sulfoxide)Bioaugmentation is another sustainable approach to odor control. In this process, macronutrients and in some cases competitive microorganisms are introduced into a system which promotes the growth of non-odor producing species. These species effectively compete with the anaerobic sulfur metabolizing organisms reducing or eliminating the production of hydrogen sulde and mercaptans. A common example of this is the use of nitrate addition to organic waste streams. Nitrate functions in two distinct ways, through direct chemical oxidation of Hydrogen Sulde and through a metabolic process via sulphur-oxidizing denitrifying bacteria such as Thiobacillus denitricans and Thiomicrospira denitricans. While commonly used for odor control in municipal sewers, the petroleum industry is now beginning to implement nitrate-based microbial treatment technology for both the prevention and removal of sulde from reservoirs, produced water, pipelines and gas storage reservoirs, as well as to help with increasing oil recovery. Anue Water Technologies is developing enhanced bioaugmentation technologies as part of its focus on sustainable odor control. These enhanced technologies overcome some of the limitations of current augmentation methods and promote the further use of sustainable chemistries.The need for "environmentally friendly" methods is being recognized as not only good but necessary for safety, security and health. The trend to nd sustainable technologies in odor control continues to grow with old technologies nding new applications and new technologies emerging. To meet the needs of regulatory requirements into the future, greener solutions offer a more cost-conscious, long-term path to success.Tonya Chandler is the VP of Sales and Marketing for Anue Water Technologies. John Richardson is a consultant working with Anue Water in the Oil and Gas industry. Anue Geo-Membrane systems eliminate odors in all shapes and sized applications
Page 15
Call 1.800.988.8033 and mention OILMAN for special event pricing.New business is your company's priority. Energy Media Marketing can help you reach your core audience with sleek, responsive, integrated technology platforms. Laser-focus your brand's sales-enablement curve – a critical driver to growth and revenue success!Web Design • Branding • Video Production • Booth Event Promotions • Print CollateralsYour brand identity is your business! Creating strategies and planning management is ours!SINCE 2012energymediamarketing.comMarketing RevolvesAround CreatingValue For Customers
Page 16
Oilman Magazine / September-October 2019 / OilmanMagazine.com14OILMAN COLUMNComparing Oil Superpowers: No Match? By Eugene M. KhartukovLast year, Russia and the USA produced respectively some 11.16 and 10.96 million b/d of crude oil and lease condensate or more than any other nation across the world (even more than the traditional but now decrepit oil heavyweighter Saudi Arabia (10.425 million b/d in 2018). Actually, this seems to be the only practical coincidence as all other patterns of these two countries' oil business are quite different.First, let's compare their available oil statistics in detail. For this purpose, we take 2018 data for not only the whole national oil industries, but also for the largest and one of the smallest integrated public oil companies in these countries (Table 1).Just to compare, historians say that the rst oil was produced through a borehole in the USA in 1859 while in the Russian Empire – back in 1846 at the shallow Bibi-Heybat Bay northeast of Baku (Azerbaijan) and within boundaries of the modern Russia – in 1864 in Kuban', near the village of Kievskoye, on a shore of the Kudako River.Annual oil (crude oil + lease condensate) production in the USA experienced a decrease from some 9.6 million b/d in 1970 down to 5 million b/d in 2008 and since then was rising thanks to tight-oil (shale oil) developments and has neared 11 mb/d in 2018. Likewise, in Russia annual oil output was historically also far from stable: it reached over 11.5 million b/d in 1987 and dropped down to 6.1-6.3 million b/d in 1995-1998 (mainly due to the total disorganization of the national petroleum industry after the breakup of the USSR). Since then it fairly steadily rose and has reached 11.16 million b/d in 2018. Below we present a picture with monthly oil production in Russia and the USA as well as in Saudi Arabia (for comparison) in the period of 1998-2018 (Chart X).At any rate, the oil industry plays a much more important role in Russia than in the USA: according to the CIA's Directorate of Analysis (DA), oil contributes over 15 percent of Russia's 2018 GDP and only less than 1 percent of the U.S. In turn, according to Raiffeisen Bank's estimates, in 2018 payments of mineral extraction tax (MET) on crude oil and gas condensate amounted to 2.8 trillion Rubles (over US$45.4 billion) and accounted for nearly 20 percent of total receipts of Russia's federal budget.U.S. oil companies are given the ability to defer tax payments to the U.S. Federal government – it is estimated by American economists that the 20 largest oil and gas companies may defer payments on up to half of their federal income taxes. These companies end up paying less than 12 percent of their pre-tax income, which is 23.3 percentage points lower than what is required of most other corporations. The bulk is borne by the four largest companies – ExxonMobil, ConocoPhillips, Occidental and Chevron. These Indicator USA ExxonMobilHess/Amerada PetroleumRussia Rosneft RussneftStart of Oil Production Year18591870 (Standard Oil)1919 1864 1993 2002Market Capitalization, in US$ billion…345 (4/18/2019) 14.17 (04/25/2019)…66 (12/31/2018)2.47 (12/29/2018)Operating Revenues, in US$ billion279.3 6.47 151.9 2.8Number of employees, in '000; annual average71.0 2.075 295.8 10Oil Production (incl. lease condensate), in mln b/d10.96 1.650.245 (excl/Libya; oil + gas; boe/d)11.16 4.67 0.15Finding & Development Costs (FDC), in US$/boe3.6E (1)8.2 $0.3E (in $/Mcfe) 10-16E 2.2-2.7E (2) 12-16 (2)Net Production Cost, in US$/boe40E (1) 11E (3) 13E15-20 (4)3.1 15-20 (4)Renery Thruput, in mln b/d 17.28 4.3E – (5) 5.74 2.3 0.1EState Control of Oil Production, in wt.%%0 0 0 34.73 75.16 0Degree of Oil Taxation, in % of sales oil price or revenues 45E 40.3 1.62 70E 4.2 0.34Direct Taxes Paid to Own Country's Federal Budget, in US$ billion (6)… 0.095 …45.4E (7)0.4E 0.1ENet protability (8), in %%10.28 (9)9.215.73 (average for 2014-18)20E 14 21Table 1. Indicators of USA and Russia's Oil Industries in 2018(1) Average for all oil/gas-producing companies in the USA. (2) In Russia, for crude oil only, in US$/b. (3) In the USA. (4) Average for Russia (and all oil-producing companies), for crude oil only, in US$/b. (5) In January 2012 the 350-650 kb/d HOVENSA renery, located at: St. Croix in the United States Virgin Islands and 50% owned by Hess Corp. thru its joint-venture with Petroleos de Venezuela, S.A. (PDVSA), was closed down (for environmental reasons) but may restart in 2019. (6) For crude oil; paid in early 2019 for 2018; excluding ad valorem taxes and export duties; income and production taxes on oil companies in the USA. (7) Payments of MET on oil in 2018. (8) ROE (return of net income on equity – in line with the GAAP). (9) For integrated petroleum operations.
Page 17
Oilman Magazine / September-October 2019 / OilmanMagazine.com15OILMAN COLUMNcompanies paid 85 percent of the group's income tax, while smaller companies paid a much smaller percentage – less than 4 percent of their total incomes in taxes. Energy major Chevron, having earned more than $4 billion in 2018, absolutely legally paid last year zero federal income tax, and, according to the Washington-based Institute on Taxation and Economic Policy (ITEP), generally enjoyed an effective tax rate of minus 4 percent. EOG Resources, Occidental Petroleum and Kinder Morgan also paid no federal taxes and, according to ITEP, could boast effective tax rates for 2018 respectively of -7, -1 and -1 percent.Generally, as it is well known, the IRS current system is designed in such a way that the more a taxpaying business entity annually earns the less of income taxes it relatively pays – consequently, the U.S. Big Oil gains prot even here.Large U.S. oil companies also receive subsidies in the form of tax credits and exemptions. Oil companies have been able to avoid paying taxes on expenditures associated with the nebulous term "intangible drilling costs" since 1916. Intangible drilling costs can encompass fruitless efforts to drill in new locations, as well as costs associated with new equipment or drilling infrastructure. These are huge sources of E&P capital expenditures.Also, oil production from certied deep wells and horizontal wells in the States is now exempt from severance tax for a period of two years or until payout of well costs, whichever occurs rst. Likewise, Russian oil companies have a lot of economic privileges. Russia's oil taxes are among the highest in the world. They mainly consist of a mineral extraction tax (MET) and an oil export duty, in addition to the corporate income tax (20 percent), a value-added tax (20 percent), and tax on subsoil use required from oil companies. While, on the average, a current taxation of the Russian oil is estimated at around 70 percent of sales oil price, Rosneft, the country's largest oil producer, which exploits major and highly productive oil elds and has earned nearly US$134 billion in 2018, has paid for 2018 only estimated US$ 0.4 billion in direct taxes or less than 3 percent of its earnings, and Russneft, Russia's smallest integrated oil company, has recorded for 2018 US$2.8 billion in revenues and only US$0.1 billion in taxes (paid in early 2019). And this is not surprisingly, as only in 2018 the company has obtained from the government more than 10 billion Rubles (over US$160 million) in the form of MET breaks.Whereas the oil industry in the States is fully pri-vate and free of governmental regulations, except for those concerning conservation of nature and natural resources, health safety and technical standards (like bans on drilling and laying pipe-lines, MAOPs, tanker double-hulls and the like), the Russian oil business – even after its massive and all-out privatization back in the 1990s – is still under considerable control of the State. In particular, the Russian government or the Re-public's authorities now control 24.2 percent of Slavneft, almost 30.45 percent of Tatneft, 47.85 percent of Gazprom Neft (former Sibneft), 75.16 percent of Rosneft (the nation's leading oil producer), and over 82.66 percent of Bashneft. This means inter alia that over 34.7 percent of national oil production (including lease conden-sate) in 2018 (or more than 193.03 million tonnes out of nearly 555.84 mmt) was controlled by Russia's State. And here we have not mentioned the country's oil export, which is completely con-trolled by the government as Transneft, which handles these exports, fully (100 percent) belongs to the former as far as Transneft's voting shares and privileged ones are concerned. Finally, unlike their American colleagues, Russian oil companies are really "fat cats," enjoying, on the average, around 20 percent of net ROE as compared to a negative one-digit net protability of the U.S. oil business in the relatively-low-oil-price 2018 or as modestly as -3.52 percent of the average net ROE for 2018 – at least, statistically.All in all, common people in both the USA and Russia are proud of their national oil industries, but hate the latter for the huge untaxed prots. This is, perhaps, another similarity but no more…Eugene Khartukov is a Professor at Moscow State University for International Relations (MGIMO), Head of Center for Petroleum Business Studies (CPBS) and World Energy Analyses & Forecasting Group (GAPMER) and Vice President (for the FSU) of Geneva-based Petro-Logistics S.A. Khartukov has authored and co authored over 320 articles, brochures and books on petroleum and energy economics, politics, management, and oil and gas in the FSU, Russia's Far East, the Caspians, Europe, the OPEC, ME and Africa. Participated as a speaker and/or a session chairman in more than 170 international energy, oil and gas and economic fora. Chart X. Monthly Production of Crude Oil and Lease Condensate in Russia, the USA, and Saudi Arabia in 1998-2018, in million b/d – Source: U.S. Embassy Iran
Page 18
Oilman Magazine / September-October 2019 / OilmanMagazine.com16OILMAN COLUMNMaximizing Flame and Gas Detection Effectiveness: The Case for Optimizing Detection Coverage over Device AvailabilityBy Julian YeoFGS (Flame and gas detection systems) are increasingly critical to the protection of people, the environment, and, ultimately, the protability of oil and gas operations. But despite the application of seemingly best implementation practices, many leaks go undetected for unnecessarily long periods of time. Part of the problem relates to judging mitigation effectiveness based primarily on device availability without adequate factoring of coverage density. Effective detection is not possible, however, unless both device availability and coverage density are taken fully into account. FGS BasicsAn FGS typically consists of at least four main components: a ame detector, a gas detector, a communications interface and a control component such as a PLC. In the classical bowtie model of safety protection (Figure 1) ame and gas systems are traditionally classied to the right, with other measures implemented to mitigate damage after a toxic or combustible substance leak has occurred. This contrasts with SISs (Safety Instrumented Shutdown systems), which are classied to the left side, with other measures companies take to prevent accidents.Prevention vs. MitigationA common method for assessing effectiveness is to identify the causes of accidents and isolate them into protective layers guided by what is known as a LOPA (Layers of Protection Analysis), which is commonly used in the design of SIS (Safety Instrumented Systems). A LOPA study, for example, might reveal the need to shut down a feed pump so that an overpressure will not cause leakage of a toxic or combustible gas downstream in the process. While this type of analysis applies well to prevention techniques on the left side of the bowtie, it may not be as helpful for mitigation if the problem spreads past any safety barriers that are typically represented on the right side of the bowtie."Fire and gas-related failures do not necessarily map to a historical linear model in which one barrier eld kicks over to the next barrier eld and so on. Instead, incidents occur when several latent lagging barriers converge with a set of process conditions at one time," said James McNay, a lead consultant for MICROPACK, a provider of re and gas mapping solutions. As the ISA (International Society of Automation) describes the difference in its "Guidance on the Evaluation of Fire, Combustible Gas and Toxic Gas System Effectiveness," LOPA typically considers only two possible states for a candidate protection layer: success or failure. If the protection layer fails, a hazard could occur. If the protection layer succeeds, the propagation of the hazardous event is halted and no hazard results. While this is an appropriate assumption for many independent protection layers, it is not suitable for FGSs since they are not intended to stop the hazardous event from occurring. Instead, the objective of an FGS is to prevent an already bad situation from getting worse (i.e., mitigation).Mitigation effectiveness, then, is mostly about detection. If the gas leaks slowly over time, for example, and doesn't reach the detector's alarm threshold, it doesn't matter how reliable the component itself is; if the detector doesn't sense the leak at all, device location becomes the critical issue, not performance. The denser the coverage, the greater are the chances of the detector sensing a leak.Effectiveness of an FGS is a function of the percentage of the potentially hazardous areas they cover and their performance in detecting anomalies in those areas, as represented by the following formula:Effectiveness = Coverage x AvailabilityWhere: Effectiveness refers to the ability of the detector to mitigate a problem, coverage is the range of the area in which the detector can sense gas or ames, and availability is the performance of the detector measured in response time and availabilityWhile this equation shows that coverage is as important as availability, FGS systems are too often solely judged on availability without considering coverage as an equal contributor. Cost aside, it is easier to increase coverage density by adding more devices than increase device availability, which is inherent to the product design. Investing in the coverage side of the equation can thus have a signicantly greater impact on effectiveness than overspending on Photo courtesy of PICHIT BOONHUAD – www.123RF.com
Page 19
Oilman Magazine / September-October 2019 / OilmanMagazine.com17OILMAN COLUMNthe system availability side of the equation.Real-world DataResults of a study presented at the Ninth International Seminar on Fire and Explosion Hazards help illustrate this. The researchers set out to understand why 60 percent of gas leaks on offshore platforms went undetected while many platforms reported they were applying best practice performance coverage of 80 to 95 percent. Analysis of 18 offshore platforms, however, showed an average coverage of only 57 percent.1 Although the researchers did not provide availability data for the actuators, if we hypothetically max out the availability to 100 percent, we still end up with an effectiveness number of only 57 percent. However, if we increased coverage to 80 percent (the low end of the stated performance targets), it would not be difcult to achieve a much higher effectiveness of 80 percent.This shows that, if maximizing effectiveness is the goal, increasing the coverage density has more impact than increasing device availability. A detection device with SIL 2 level availability and a coverage factor less than 100 percent is not a system with SIL 2 effectiveness.The sooner the detection system detects a loss of containment, the more effective it will be in mitigating the problem. And how fast a leak is detected depends more on coverage than its response time. FGS Role in Accident PreventionThinking of an FGS system as for mitigation only also overlooks the potential role that the system can play in prevention. Leak detection, for example, can identify small but credible leaks that could indicate mechanical integrity failures such as corrosion, leaks which are typically below the threshold that instrumented systems might discover. Users with a low tolerance for risk might seek to guard against all possible major accident scenarios by maximizing coverage of gas detectors, alarm and site emergency planning. Users with a higher tolerance for risk, on the other hand, might limit the gas detector placement to locations where the gas from processes would exceed a predictable concentration level. The choice is between putting your plant and environs in jeopardy and spending heavily for protection you may or may not need.Resolving the Dilemma with WirelessToday, advanced density mapping combined with advancements in wireless communications and battery life make such tradeoffs less severe. When faced with costs of up $50,000 to wire up a leak detection solution on an offshore platform, for example, risk tolerance is a major factor in accident mitigation. But now that it is economically possible to implement up to ve wireless gas detectors (i.e., increased coverage density) for the total installation cost of one wired detector (i.e., better device availability), safety no longer needs to be compromised in the name of cost. 1 Hilditch R., McNay J., "Addressing the Problem of Poor Gas Leak Detection Rates on UK Offshore Platforms." Proceedings of the Ninth International Seminar on Fire and Explosion Hazards. (ISFEH9), pp. 1198-1209. Saint-Petersburg Polytechnic University Press. ISBN:978 5-7422-6498-9WirelessHART gas detectors, such as this Vanguard detector from United Electric Controls, improve safety for oil and gas operations by eliminating the need for wiring, making it signicantly less expensive to increase coverage density. Up to ve Vanguard wireless detectors can be implemented for the total cost of one wired detector.
Page 20
Oilman Magazine / September-October 2019 / OilmanMagazine.com18OILMAN COLUMNPink Petro Founder & CEO Tells Congress the Future of Energy is All-InclusiveBy Rebecca PontonFive short years after its founding, the origins of Pink Petro have become part of oil and gas folklore. At the time, then 40-year-old founder & CEO Katie Mehnert was working in HSE at BP. While ying back to her home in Houston from a business trip to London, she and the older gentleman seated next to her struck up a conversation which culminated in him asking the Million Dollar Question, "What's a pretty young lady like you doing in a dark dangerous business like oil?"Mehnert recalls feeling "unhinged," her mind racing. "I thought, 'You're in the business and you're saying 'dark and dangerous.' Stop. You're making it worse.'"Her next thought was: "I'm going to x this."She jotted some ideas on a cocktail napkin and by the time she disembarked, her mission for Pink Petro, the focus of which is to close the gender gap in energy, had already started taking shape. The choice to use the color pink was intentional, although the organization has never been exclusionary and counts men among its membership. (She later created Experience Energy, a job-sharing platform.)Mehnert says, "We're not a women's network, but I felt like the women's niche was important because there are so few of us. Everyone can be a valuable part of this conversation."The entrepreneurial journey isn't for the faint-hearted. After investing her own savings in the start-up, there has been the quest to nd sponsors – and over the years, she has amassed some of the biggest names in industry. There has been personal loss: her home and ofce were ravaged by Hurricane Harvey. And there's always the struggle to nd balance as a working wife and mother of an eight-year old daughter, who is Mehnert's inspiration to keep ghting when things get tough.Then came the call that she hopes will change everything. One Friday in late February, her phone rang and a Congressional staffer asked if she would be willing to testify that coming Tuesday before the House Energy Sub-committee at a hearing entitled "Clean Energy Infrastructure and the Workforce to Build It." Mehnert said her rst thought was, "Is this for real?" Her second thought was, "No.""As an entrepreneur of a growing start-up, you have to say 'yes' to the right things and 'no' to everything else, and I was in 'no' mode," she says. After consulting Susan Hodge, a former executive at Shell, someone Mehnert admires and considers a mentor, as well as Melody Meyer, who is a board member of BP and NOV, she changed her mind.With her husband, an attorney for a major oil company, preparing for an out of town business trip at the same time, Mehnert seized upon the opportunity for her daughter to see her mom in action and witness the democratic process at work. (Incredibly, a "eld trip" to the nation's capital for a real-life civics lesson was counted as an unexcused absence from school!)"I felt like my job was to represent the energy industry, the private sector opinion – that business opinion, that constituent opinion – so that legislators would consider the fossil fuel industry to be part of the conversation."I'm a big believer in E3 – equality + environ-ment (let's face it, energy and environment are interchangeable; one is a meta fact of the other) = the new economy. My belief is we need all people and all forms of energy at the table when it comes to this energy transition."Mehnert admits going to Washington was somewhat nerve-wracking because of the nega-tive perception often associated with the fossil fuel industry. "We haven't done enough to communicate and own our story. We've done too much to accept the narrative and not proactively speak about what we do. The oil and gas industry is why we have these alternative forms of energy; it powers everything we do. It's going to take all forms of energy to lower emissions and drive a low-carbon future to nd what works best for America, and we need to do this in a way that involves women and underrepresented populations in the workforce."She wanted Congress to understand that diversity in the industry includes not just gender or race or ethnicity, but also skill sets and job opportunities that don't always necessitate a four-year college degree."All forms of energy need to come together to look at the workforce challenge. There are new ways of working – AI and big data and robotics – all of which are going to play a role in the future. If we're not reaching my eight-year old, who understands the cell phone, but doesn't understand how it's powered, we're going to have a problem. If we're worried about meeting the world's demand for energy while lowering our carbon footprint, that's meaningful and exciting work," she says, and it is incumbent on industry to attract diverse, post-Boomer talent.Mehnert stresses that energy and equality are not – should not – be partisan issues. "I would love to meet AOC (Andrea Ocasio-Cortez, Rep. D-NY); I'd love to meet with Ivanka Trump. I think there are women on both sides of the aisle that have interesting ideas I would like to explore. I like to say I bleed purple. I'm willing to meet with anyone who wants to talk about how we can bring people more toward the middle, so we can get closer to nding answers to solve these challenges."She believes her testimony was well-received and, in fact, Rep. Joe Kennedy, III (D-MA), sent follow-up questions which Mehnert pitched to the Pink Petro and Experience Energy communities. "I wanted them to feel like they were part of the process." She says she has no interest in politics at this time, but has no doubt she will return to Capitol Hill and wants to take more diverse voices with her.While Mehnert says men started Energy 1.0, she believes women and minorities have increasing opportunities in 2.0. Knowing that greater di-versity will bring positive change to the industry is part of what drives her. "We've got to make the industry a more highly sought-after choice. This is personal for me. I want my daughter to know this is a meaningful place to work."Rebecca Ponton has been a journalist for 25+ years and is also a petroleum landman. Her book, Breaking the GAS Ceiling: Women in the Offshore Oil and Gas Industry (Modern History Press), was released in May 2019. For more info, go to www.breakingthegasceiling.com. Mehnert's testimony can be read in its entirety here: https://energycommerce.house.gov/sites/demo-crats.energycommerce.house.gov/les/documents/Mehnert%20TESTIMONY.pdf Katie Mehnert, center, and her daughter pose with members of the Energy Subcommittee of the House Committee on Energy and Commerce. Photo courtesy of Katie MehnertOilman Magazine / May-June 2016 / OilmanMagazine.com2Top 10 Houston-Area Oil and Gas Equipment andServices Companies2018 Companywide Revenue: $32.81 BillionTotal Companywide Employment: 100,0005599 San Felipe St., 17th Floor,Houston, TX 77056SLB.COM • 713-513-20002018 Companywide Revenue: $4.91 BillionTotal Companywide Employment: 25,000601 Jefferson St., Houston, TX 77002 KBR.COM • 713-753-38002018 Companywide Revenue: $24 BillionTotal Companywide Employment: 60,0003000 N. Sam Houston Pkwy. E., Houston, TX 77032HALLIBURTON.COM • 281-871-40002018 Companywide Revenue: $2.2 BillionTotal Companywide Employment: 6,3993990 Rogerdale Rd., Houston, TX 77042CJENERGY.COM • 713-325-60002018 Companywide Revenue: $8.45 BillionTotal Companywide Employment: 35,06310000 Richmond Ave., Houston, TX 77042 NOV.COM • 713-346-75002018 Companywide Revenue: $1.91 BillionTotal Companywide Employment: 8,60011911 FM 529, Houston, TX 77041 OCEANEERING.COM • 713-329-45002018 Companywide Revenue: $6.7 BillionTotal Companywide Employment: 31,900757 N. Eldridge Pkwy., Houston, TX 77079 MCDERMOTT.COM • 281-870-50002018 Companywide Revenue: $1.36 BillionTotal Companywide Employment: 4,3004444 Brittmore Rd., Houston, TX 77042 EXTERRAN.COM • 281-836-70002018 Companywide Revenue: $22.88 BillionTotal Companywide Employment: 66,0009110 Grogans Mills Rd., Houston, TX 77380 BAKERHUGHES.COM • 281-363-60002018 Companywide Revenue: $2.13 BillionTotal Companywide Employment: 6,6001001 Louisiana St., #2900, Houston, TX 77002 SUPERIORENERGY.COM • 713-654-2200Source: Houston Business Journal - June 2019 - Ranked by 2018 Companywide Revenue
Page 21
Oilman Magazine / May-June 2016 / OilmanMagazine.com2Top 10 Houston-Area Oil and Gas Equipment andServices Companies2018 Companywide Revenue: $32.81 BillionTotal Companywide Employment: 100,0005599 San Felipe St., 17th Floor,Houston, TX 77056SLB.COM • 713-513-20002018 Companywide Revenue: $4.91 BillionTotal Companywide Employment: 25,000601 Jefferson St., Houston, TX 77002 KBR.COM • 713-753-38002018 Companywide Revenue: $24 BillionTotal Companywide Employment: 60,0003000 N. Sam Houston Pkwy. E., Houston, TX 77032HALLIBURTON.COM • 281-871-40002018 Companywide Revenue: $2.2 BillionTotal Companywide Employment: 6,3993990 Rogerdale Rd., Houston, TX 77042CJENERGY.COM • 713-325-60002018 Companywide Revenue: $8.45 BillionTotal Companywide Employment: 35,06310000 Richmond Ave., Houston, TX 77042 NOV.COM • 713-346-75002018 Companywide Revenue: $1.91 BillionTotal Companywide Employment: 8,60011911 FM 529, Houston, TX 77041 OCEANEERING.COM • 713-329-45002018 Companywide Revenue: $6.7 BillionTotal Companywide Employment: 31,900757 N. Eldridge Pkwy., Houston, TX 77079 MCDERMOTT.COM • 281-870-50002018 Companywide Revenue: $1.36 BillionTotal Companywide Employment: 4,3004444 Brittmore Rd., Houston, TX 77042 EXTERRAN.COM • 281-836-70002018 Companywide Revenue: $22.88 BillionTotal Companywide Employment: 66,0009110 Grogans Mills Rd., Houston, TX 77380 BAKERHUGHES.COM • 281-363-60002018 Companywide Revenue: $2.13 BillionTotal Companywide Employment: 6,6001001 Louisiana St., #2900, Houston, TX 77002 SUPERIORENERGY.COM • 713-654-2200Source: Houston Business Journal - June 2019 - Ranked by 2018 Companywide Revenue
Page 22
Oilman Magazine / September-October 2019 / OilmanMagazine.com20OILMAN COLUMNAutomated Pipe Welding Emerges from "Perfect Storm" of Technology Advances By Mitch DuponAutomated pipe welding has been little more than a pipe dream for decades. But advances in several critical technologies, including sensors, AI (Articial Intelligence), and collaborative robotics, have converged to create a perfect storm of opportunity—and it's happening just in time. The shortage of pipe welders in the U.S. has become a chokepoint for the oil and gas industry. Aging generations of experienced welders are retiring twice as fast as companies can nd replacements, younger welders aren't entering the eld, and a steady cadence of layoffs has driven many experienced workers to leave the industry for more dependable career paths. The impact extends beyond the oilelds, however, with the shortage of trained welders also impacting the cost and availability of new equipment. The shortage of pipe welders leads to higher salaries and overtime, and suppliers are struggling to meet demand without enough skilled workers. Oil and gas companies have few options: buying equipment from overseas vendors adds costs and lead time that urgent projects can't absorb. In the U.S., the situation is being addressed by moving fabrication to specialized pipe shops to increase efciency and output over sending workers into the eld, and taking advantage of robotic automation for processes that are difcult to ll with human workers. But pipe welding is one of the last tasks to be automated. The dimensional variation of standard V butt weld joints requiring full penetration, single-sided welding necessitates intelligent sensing and adaptive control to ensure the long-term strength and viability of welds in the eld, reneries, or factories. Until now, the technologies to accomplish that weren't viable.Sensors, Articial Intelligence, and Collaborative Robots ConvergeThe convergence of several critical technologies has changed that. Today's laser sensors are small, portable, precise, and affordable enough to be used for challenging tasks such as scanning a pipe's root opening for a weld. Powerful articial intelligence software is now accessible to quickly process the sensor data and generate an automated welding program. The nal piece of the puzzle is a small, exible, and safe collaborative robot ("cobot") that can work alongside a human worker and perform consistent, high-quality welds. ARC Specialties, a Houston-based developer of welding solutions, debuted the rst Articial Intelligence Pipe Welding (AIPW) system at the Offshore Technology Conference in May 2019. The AIPW pre-scans the root opening using a Micro-Epsilon 2D laser, then the software uses the data to generate the robot path and welding parameters. The system automatically compensates for gap variations the same way a human welder would, by making changes in oscillation, torch position, travel speed, and welding conditions. A Universal Robots 6-axis UR5 robot positions the torch over a tack weld to start the arc to ensure 100 percent root weld acceptance. Fill and cap pass programs are optimized to ll the groove using user-selectable weave or stringer-bead welding techniques. The UR5 is small enough to be portable yet still allows full freedom of motion for both the laser scanner and welding torch. The AIPW uses the Miller Auto Continuum welding power supply to weld the root with regulated metal deposition (RMD), then switches to pulsed spray for the ll and cap passes. This combination of gas metal arc welding techniques maximizes welding productivity while producing X-ray quality, full-penetration pipe welds.Historically, ARC Specialties declined these tough jobs because joint t-up was never repeatable. President Dan Allford remarks that in the past, "Only human welders with a 'golden arm' able to compensate for variation in root openings, weld center lines, and groove volumes could handle this challenge." But with new technologies available and no labor-shortage solution in sight, ARC Specialties developed an intelligent machine that incorporates the extensive pipe-welding knowledge of the company's team of certied welders, along with full robotic motion and welding control. The collaborative aspect of the industrial cobot allows a human with varying levels of experience to work alongside the welding system, establishing the initial weld position and assuring quality throughout the process. Welding in the shop allows the pipe to be rotated for easier and more consistent access to the weld, and the robot can work continuously, producing much higher duty The SnapWeld Collaborative Robot Welding package a UR cobot-assisted, interactive welding system that can be deployed easily and exibly in existing welding booths.The UR5 robot becomes the "golden arm" for pipe welding and is safe for collaborative work alongside human workers.
Page 23
Oilman Magazine / September-October 2019 / OilmanMagazine.com21OILMAN COLUMNcycles than human workers, as well as greater repeatability and precision. Moving pipe welding out of the eld and automating the process in a shop environment allows manufacturers to optimize both the robot and employees: The AIPW system becomes a force multiplier of the skill and production capability of the welder. Experienced welders can apply their knowledge by overseeing automated welding processes without the physical demands of manual welding. And new welders can be trained on the system as well, with the opportunity to observe the robot's consistent, perfect technique to learn the process. This is a key advantage of collaborative robots: multiplying the productivity of employees by moving them to higher-value tasks while the robot improves output, quality, and consistency on processes that are difcult to ll with human workers.The portability and safety of the cobot means the AIPW can easily be skid-mounted and moved as needed, providing valuable exibility. When the robot is freed from the constraints of one location in the shop and can work in any booth beside a welder, it becomes a tool rather than a xed system. The tool is not the axis around which production orbits, which is the case in traditional automation. The Rise of Cobots In Welding ApplicationsThe AIPW is the latest in ARC Specialties' collaborative welding systems, following the success of its SnapWeld collaborative MIG welding system that takes full advantage of cobot features. Collaborative welding solutions remove typical automation barriers to entry, such as cost, complexity, and space. In exchange for lower payload capacities compared to traditional robots, cobots offer several benets that support their increasing use in welding applications. Cobots, which make up the fastest-growing segment of robotics today, are much smaller, lighter, and less expensive than traditional robots, and have built-in safety mechanisms that allow them to be used alongside human workers without safety fencing (after a risk assessment). Lightweight cobot welders can be mounted on tabletops, carts, or skids, can be hung from ceilings, or installed into existing manual welding booths, eliminating the need for costly new robotic cells. This offers far greater exibility than manual welders or traditional xed robots. Many designs can be deployed 50 percent faster than traditional robots and often cost less than an annual employee wage.Unlike traditional robots that require engineer-level programming, cobots are designed for simple programming with a touchscreen-based interface. Welding tasks can be programmed in as little as half an hour by workers who have no previous experience, and programs can be saved and reused, eliminating the expense of ongoing integration support. In many cases, a worker can reprogram a cobot simply by moving the robot arm through the desired motions; the cobot remembers the instruction and repeats it independently, without the need for new code. That allows manufacturers to easily and inexpensively adapt to temporary jobs or burst production during busy seasons. The exibility and ease-of-programming of cobot-based welding systems make them especially well-suited for low-volume/high-mix environments, as well as custom or small-template welding processes. While collaborative robots are designed for easy programming, they also have full capabilities for sophisticated integrations, and with high accuracy and repeatability, these systems can also handle long runs with consistent quality. While traditional robot work cells often require considerable customization, the exibility of a cobot translates to signicantly faster return on investment that is often measured in weeks or months. This fast ROI is a function of the technology's lower capital and minimal disruption to a factory layout, and by multiplying the value of human assets, freeing workers to tackle higher-productivity processes and acquire new skills. The Time for Automated Pipe Welding Has ComeAutomated welding solutions result in higher duty cycles and much more consistent repeatability than manual welding. This increases output and quality and can signicantly decrease post-weld clean-up, as well as control the usage and costs of welding consumables. While pipe welding has been elusive until now, the convergence of key technologies means the industry nally has a viable, safe, and cost-effective approach to addressing the welding labor shortage, both in the eld and in the shop.Mitch Dupon is an application development engineer at Universal Robots, with a degree in graduated welding engineering from Conestoga College in Canada. His automation experience spans roles at Panasonic Factory Automation, KUKA Robotics, and Universal Robots. During that time, he has traveled the world installing and implementing welding automation. The Articial Intelligence Pipe Welding (AIPW) system from ARC Specialties combines a Micro-Epsilon laser scanner, articial intelligence software and a Universal Robots six-axis UR5 robot arm.
Page 24
Oilman Magazine / September-October 2019 / OilmanMagazine.com22OILMAN COLUMNOil and Gas Industry Trends: Safety and Technology ImprovementsBy Ria EdensThe landscape of players in the oil and gas industry has changed over the last two decades along with some technology, processes, and sources. Fracking in shale plays and exploration in oil sands have moved oil and gas jobs into new areas and uncovered new safety risks. Meanwhile, downstream facilities have been tasked with increasing safety and efciency while rening from these new sources. When the industry began to experience the production slump from conventional sources, peak oil predictions drove the move to horizontal drilling in existing wells and exploration into shale plays like the Permian Basin, Marcellus, and the Bakken along with Canadian oil sands. The idea was to have these unconventional sources ll the gap without leading to serious impacts on the economy.The advent of horizontal drilling and fracking did boost production, and the opening of access to new source areas both on and offshore led to a huge boom in U.S. oil and gas production. Fears about the damage recurring oil panics would cause to the economy drove the U.S. to assert control over the production of oil and gas. Keeping control over production allows the U.S. to have greater condence that declining oil production in OPEC countries would not lead to resource scarcity and price uctuations.The effects of the dramatic rise in U.S. production were not lost on traditional oil and gas producing nations. To remain competitive, these countries are innovating their systems and processes from upstream to downstream to regain their market share. Such innovations involve updating old equipment to newer, more efcient and advanced technology to improve safety, increase revenue streams, advance monitoring and measurement performance, reduce inefciencies, and cut waste.Upstream ImprovementsMethane is an abundant greenhouse gas whose upstream presence is ubiquitous. Conventional well completions may involve the venting (releasing) or aring (burning) the gas. Of the two, aring is preferable, since it converts methane, a very powerful greenhouse gas to carbon dioxide, a less powerful one. Environmental regulations - such as 40 CFR Part 98, Order 5, the Kyoto Protocol, ERCB Directive 017 - have long required the monitoring and reporting of vented and ared gases to assess the impact of drilling on the environment. Newer initiatives such as the Paris Agreement aim to bring the world into a sustainable low carbon future - which would require the reduction of ared gases as well as vented gases. Some innovative upstream processes, such as Reduced Emissions Completions (RECs) or "green completions," have become ideal methods of reducing most emissions resulting from drilling. Flowback from fracking is under pressure and can result in a high-rate owback that had been directed to open pits or large tanks in older processes. A signicant amount of gas was lost to the atmosphere from the pits and less from enclosed tanks. Green completions allow the owback – with the associated gases - to remain enclosed within the system to contain or capture the emissions. The captured emissions can be processed and used as fuel gas on-site or made ready for the pipeline. In this way, green completions lead to higher protability at the well site by using captured emissions as a secondary revenue stream. Flaring is still necessary when green completion systems get overwhelmed by high pressured owback and equipment failures. As a safety precaution, the operators must be ready to are gases to avoid catastrophic explosions. In these instances, without the option to are (the limited, safe, controlled burning of natural gas at the well site), an oil well would have to shut down. Shutting a well down is expensive and time-consuming. It reduces the supply of oil and raises production costs, which leads to higher overall costs. But gas ares are still wasteful and environmentally harmful. Although aring had generally been on the decline since 2002, ared gas numbers were on the rise again in 2018, according to World Bank's Global Gas Flaring Reduction Partnership.It's also important to note that Rystad Energy estimates aring in the Permian and the Bakken wastes more than 1.15 billion cubic feet of natural gas. That exceeds the yearly gas demand of nations such as Israel, Colombia, and Romania. Imagine the revenue lost due to wasteful aring if all shale plays were to be combined into the estimates!Midstream ImprovementsInitiatives such as the World Bank's Global Gas Flaring Reduction Partnership works to address the problem of wasteful aring. Their focus is on supporting the development of better infrastructure, technology, market, and governance approaches to aring. Finding ways for oil companies to capture and monetize the gas is particularly promising. To combat wasteful aring, thousands of miles of new pipelines are being planned or built in the U.S. alone. Even with pipelines, some drilling rms still prefer to burn off the gas rather than pay any pipeline fees. This is where state or fed-eral regulations may play a role to reduce wasteful aring. If the regulators deny aring requests, create incentives to capture gases, or impose pen-alties on non-safety related ared gases, a marked reduction in ared gases will be seen. Downstream ImprovementsDemand at the gas pump and on the store shelf for products made from crude oil, such as tires, sunglasses and trash bags doesn't seem to be going down. The world still needs these products, even while fears persist about peak oil. Therefore, producers in the Middle East - and other downstream producers - are forced to increase efciencies to make more out of (potentially) less.Replacing antiquated equipment and instrumentation in favor of more advanced technologies and products has helped reduce waste. When used in conjunction with system updates, modern technology helps identify Photo courtesy of Warawoot Nanta – www.123RF.com
Page 25
Oilman Magazine / September-October 2019 / OilmanMagazine.com23OILMAN COLUMNThe rst International Energy Policy Conference was held in 1992. One of the speakers of the conference stated, "I think most Americans would welcome messages from an industry expressly committed to the importance of what it does, condent in its ability to manage risks, and willing to defend its important work against extremist assault. Most Americans understand the need for secure supplies of affordable energy. And they always embrace conviction." This quote best summarizes the importance of the conference, and especially dialogue. The conference theme and dialogue has been and continues to be "striving for energy efciency and environmental preservation."Since the inception of the conference, it has hosted dignitaries, Fortune 500 companies, industry experts, ambassadors, and delegations to discuss energy efciency, environmental preservation, and the whys, hows and solutions of a national energy plan. The conference, which launched in the Oklahoma City area, has hosted events in Tulsa, Washington, D.C., Houston, Denver, and Dallas as well as other cities throughout the U.S. National Energy Talk: Present and FutureWe found, for example, that our Facebook page "America Needs America's Energy" has a following of over 22,000 people across the U.S. Therefore, this is an example of an area where National Energy Talk can complement the industry and be an active voice on social media. With the launch of National Energy Talk (NET), what once was an annual conference has expanded into a media-driven platform with year-round engagement. Today, NET is helping lead a national dialogue on energy issues, views, and solutions through events, publications, video, audio and online content. NET believes in the power of people: "Nothing moves without energy."NET is NationalNational Energy Talk is a platform engaging a national dialogue on energy issues, views and solutions. We address the needs, plans and issues that all types of energy face today. Through discussion, we can create a national energy vision.Join the TalkThe founding principle of NET remains steadfast: the availability of reasonably priced energy is paramount to the economic and business development both in the United States and in other countries around the world. Your involvement can help continue to bring about this change.A National Energy Conversation in the HeartlandNational Energy Talk ofcially launched on May 1st, 2017. Many thanks to Exploring Energy Radio Show for airing the announcement and to OILMAN Magazine and GTR Newspapers for their great support through our columns!The 2019 and 2020 plans are underway. Keep up with the activities of NET (National Energy Talk) by visiting the National Energy Talk page on Facebook. Future GoalsIt is important that the message is national in scope. Therefore, future goals include visits in Washington, D.C., Houston and other U.S. cities. As consumers and stakeholders of energy, we must drive the process, evaluating how we can best leverage our natural resources here at home to ensure long-term energy independence and security.Future generations are depending on us. America needs America's energy! The National Energy Dialogue Continues By Mark A. StansberryMark A. Stansberryinefciencies or areas where processes can be improved. However, no system can see improvement without the right measurement performance and high accuracy standards. A system is only as good as the data it is receiving from the ow, level, and temperature measurement devices operating within it.These systems can also improve safety at the renery. A safe facility is paramount for worker retention, lowering maintenance, and keeping residents in surrounding communities happy. Summary of downstream efciency or safety issues:• The majority of materials on-site are ammable materials that pose re or explosive dangers• Gas leaks also pose safety risks for both on-site personnel and surrounding communities • Environmental problems caused from leaks, ares, and vented gases • Lost revenue from leaks and inefcient systems Key Take-awaysThe oil and gas industry has seen a lot of changes since horizontal hydraulic fracturing changed the landscape of oil and gas production in recent years. It has set the industry on a trajectory to advance systems, improve efciencies, reduce waste, and increase safety. The smoother the process runs, the more prot there is to be had. Manufacturers catering to the industry have been along for the ride and have listened to what operators need.Manufacturers of devices used to measure or monitor the ow and level of oil, gases, and water have stepped up to improve features and gain product approvals to increase condence in overall system function once implemented. Product approvals such as Class I, Div 1, ATEX, and IECEx are essential to operator condence. Likewise, approvals or certications of manufacturers' quality systems, such as ISO 9001, let operators know that the manufacturer has systems in place to continually improve practices resulting in better functionality, less maintenance, higher performance, and condence in the safety of the overall system. The implementation of modern devices and equipment into oil and gas systems leads to higher protability and a safer industry overall. From upstream to downstream, the advances are sending shockwaves of improvements that benet the workers, the public, and the ones looking to prot from it.Ria Edens, Marketing Communications Manager at Fox Thermal, has a decade of experience in technical writing, marketing strategy, and market development of industrial mass ow measurement instrumentation.
Page 26
Oilman Magazine / September-October 2019 / OilmanMagazine.com24FEATUREEmerging Technology: Looking Toward the FutureBy Sarah SkinnerArticial Intelligence, Machine Learning and IoT are all tools that are barreling through the oil and gas industry right now with a vengeance. This industry is an unassuming recipient of such advances, however they are not only embracing, but growing exponentially due to the safety, convenience and cost driven benets they offer. Originally a world of pen and paper, rough necks, drafters, engineers, geologists, you name it. They are all being positively affected by the emergence of such technology and it's taking the oil and gas industry by storm. So get your umbrella, there are many options out there, lots of terminology and some common goals – to drive down costs, improve safety and project forward into the future. TerminologyThe most important factor in purchasing software is to be educated about it. Some of the technological terms can run together and cross wires occasionally, so it's vital to know their function and the benets they offer. Clarication is necessary, because the terms are many times used interchangeably and can create confusion.• Articial Intelligence (AI): the theory and development of computer systems able to perform tasks that normally require human intelligence, such as visual perception, speech recognition, decision-making, and translation between languages.• Machine Learning (ML): the scientic study of algorithms and statistical models that computer systems use to perform a specic task without using explicit instructions, relying on patterns and inference instead. It is seen as a subset of articial intelligence.• IoT: a system of interrelated computing devices, mechanical and digital machines, objects, animals or people that are provided with unique identiers (UIDs) and the ability to transfer data over a network without requiring human-to-human or human-to-computer interactionKnowledge is power and time is money. They are age old sayings, but they're inevitably true. The human brain can only understand so much. AI and ML can bring unimaginable speed to processing, streaming, analyzing and reading of big data that is produced by the oil and gas industry. Problems can be solved by experts in remote locations and sometimes, future problems can be predicted and prepared for before they ever happen – so they never happen. It's called predictive analysis and it's incredible. It gives companies an advantage like no other. Knowing what is coming and having the ability to prepare for it so there is no lost time. 2Predict2Predict is one of the data science services companies out there that specializes in these exact technologies. Headquartered out of California, they provide custom predictive models that deliver advanced insights and data gap analysis commanding highly valued, data driven decisions. They have a team of experts in ML, Deep Learning and AI algorithmic and model development. This also includes the use of Python open source libraries and creating custom algorithms to address specic needs. Their experience is energy specic that spans digital security, high performance computing, Photo courtesy of Sompong Rattanakunchon – www.123RF.com
Page 27
Oilman Magazine / September-October 2019 / OilmanMagazine.com25FEATUREnetworking, supply chain, marketing, oil and gas, and transportation. I spoke with 2Predict's Lead Data Scientist, Cedric Fraces, about the integration of AI and ML in the oil and gas industry. "Today AI is gaining traction in a wide range of applications – helping companies streamline processes, improve operations, better serve customers and save money. While traditional Machine Learning still heavily relies on feature engineering, the promise of Deep Learning is to remove human bias from decision making. This dichotomy between big data and expert judgement is a central element of our mission. The reach of AI solutions is still very dependent on industries. Some are ready for advanced deployments while others still struggle with automation and digitization. We help professionals navigate that transition while adding value," Fraces says. AI, ML and IoT cannot be set up instantly. Companies have to provide data, implement processes, rene algorithms, etc. The tools have the capability to be smart, but they must go through a certain progression to get to that point. Think of it as an engineer. An engineer starts off as an 18 year old kid going to college for the rst time, four years later (possibly much more depending on how advanced the sought after degree) they are equipped with the knowledge to perform engineering functions. That is the process of the human brain. Machines can think and be equipped with so much more knowledge and it can be done much more quickly.Using 2Predict as an example, there are ve phases of their processes:• Requirements Gathering: Collect requirements and gain understanding of the data landscape, then agree on a statement of work.• Consultation and Planning: Dene the implementation and data scrubbing needs, as well as the algorithms in need of renement.• Implementation and Development: Design, architect and deliver the data analytics infrastructure along with any necessary tools, technologies and algorithms to provide the desired outcomes. • Model Renement: Customize and rene the infrastructure leveraging ML, deep learning and NLP techniques, and modify the data and processing models until new and unexpected outcomes are achieved.• Knowledge Handoff & Education: Setup the development environment, walk through some of the algorithms and models and teach how to play with the inputs and observe the outcomes. This level of knowledge handoff may require special skills, but it can be customized based on the skills available to the specic team. Although there is some leg work involved, it's only in place that way to optimize performance and maximize the potential of every aspect involved from EPC (engineering, procurement, construction) to exploration and production.FutureOnThere is another smart technology company that has been in the spotlight recently (no pun intended) as OTC's recipient of the 2019 "Spotlight on Technology Award." FutureOn was the only digital solutions provider to win this award for their cloud-based, collaboration application, "FieldAP." FieldAP was developed by FutureOn and it is hosted by their own cloud-based data and application platform, FieldTwin. Field Twin is essentially like the app store for iPhone. Major EPC and oil companies are creating applications that will either plug into FieldTwin or be hosted by FieldTwin. Almost like a kind of app store within oil and gas, especially subsea. "We didn't want to reinvent the wheel by creating a new engineering software. We didn't want to reinvent the wheel by creating a new planning tool. What we wanted was to create a wheel hub and spoke model where we were the hub that created the diversity and the technical capability to integrate with a lot of preexisting products or create opportunities for companies to develop new applications that met growing demands or unique needs. What we have created is essentially that. It combines data visualization and integration collaboration, because it's a cloud based platform, it allows for multiple simultaneous users, as well as global users," says Thornton Brewer, FutureOn Marking Manager.The information is a seamless transfer because all of it stays in the cloud-based platform. There are clients with teams in the UK that can work on things and hand off the project to the Houston team as they're going into work the next morning. FutureOn shifted from a data rendering company to being a data visualization and collaboration company. A lot of engineering data languishes in silos. It's not easy to get to and difcult to interpret unless you're an expert. You might have a really crucial well path technology, but if you can't move that data into a more general population standard format, that data will be pretty much useless to anyone but the well engineer who understands that information. They may not be able to put it in a product or some kind of template that is relatable to all personnel that are working from the seabed up. It's crucial that all of that information be more readily accessible. Many times handoff is a major issue. Big companies would (and still do) send large physical boxes of completed documentation in engineering and their clients would have to try to gure out how to integrate that with their ling systems. Down the road, once the eld is in operation, the client may go back in search of information, but they wouldn't be able to go back and necessarily nd that document specically and if they do, they wouldn't know if it was the most recent. This is not the case with FieldAP. With minimal training and downtime only being a couple of hours, massive amounts of IoT tech data can be recorded and it becomes usable information in real time, which can create trends and troubleshoot, all at the same time. Companies can make more informed decisions with the right data in a much more comprehensive and time appreciative manner. "We are envisioning this whole life cycle as being fully digitized where no data is ever lost and everyone from operators or decommissioners can see the history of the eld. The same way medical records travel with you, they don't stay at the hospital, they go with the patient. We want this data repository and collaborative eco system to follow the eld so that the eld has all of this information and operators can use it to create imitative design," Brewer says.IoTIn the case of the Internet of Things, the "things" that make it up can be any smart device or machine that uses sensors to collect data from the environment that can measure observable occurrences or changes. The data must be communicated to a base system, such as a computer or another device and it must have its own IP address creating a unique identiable presence on the internet. Most of these items are capable of functioning without physical user interaction. In the world of oil, it is absolutely vital for equipment and activities to be monitored in every way and for the resulting data, obtained by IoT devices, to communicate with parent companies. The resulting data integrating with AI and ML, can create, document and predict results that the human brain could not. This equips companies with all the possible information that they could conceivably need and provides them with the utmost advantage in a highly competitive industry. FutureThere have been books written about it and movies made about it – it's the superpower that everyone would love to have: the ability to predict the future. Ironically, those are two of the words contained in the names of the companies featured in this very article. It's a well-played choice of words, but it is so much more than that. The historical and transactional data that can be used to capture relationships and identify risks and opportunities for the future is a game changer. The technology of AI, ML, and IoT is incredible and until recently, thought to be a purely ctional concept. It is real and the oil and gas industry is not only adopting it, but reaping the benets. Let me be the rst to welcome you to the future!
Page 28
Oilman Magazine / September-October 2019 / OilmanMagazine.com26OILMAN COLUMNBlockchain Early Adoption in Oil Industry - Risks and RewardsBy Amandeep KaurFollowing the nancial crisis of 2008, Satoshi Nakamoto came up with a revolutionary concept of decentralized money or cryptocurrency, bitcoin with the underlying technology of Blockchain. Since then, Blockchain is continuously improving and is striving to nd a better application experience.Blockchain, the foundation of cryptocurrency Bitcoin, is a distributed network where records are secured by encryption algorithms and the consensus protocols while enabling full end to end visibility in the systems. When this technology emerged over a decade ago, the leaders across the industry were uncertain about if it's practical to use. Now in 2019, executives across the board agree that "Blockchain is in the disruptive stage of growth potential and will create new markets or upend existing markets for poised growth."With an overall market size of around US$2.3 billion by 2021, Blockchain is gaining traction and nding more use cases in the oil and gas industry. Several blockchain pilot projects are analyzing congurations and assessing value across the energy enterprise, from gas eld to end customer. Considering the complexity and risks of oil and gas operations, along with the scale of invest-ment, capitalizing on cost takeout and associated transformation opportunities are the key to prof-itability. Besides connecting through M&A, re-structuring, restructuring initiatives, mergers, and acquisitions regulatory actions, the oil companies collaborate across broader business networks to achieve global standards of success. The oil and gas supply chain network is extensive, as it includes participants from different global locations and under different jurisdictions. As multiple parties participate in a complex supply chain, various linkages in the supply chain become a source of risks.Due to multiple suppliers in the oil and gas in-dustry, each supplier maintains its ledger in com-pliance with their policies and procedures leading to duplication of the contracts, which slows down the recording and reconciliation of the transactions. As a result, capital ow and revenue recognition slow down throughout the supply chain. The duplication of effort and third-party validation amplify the administration cost of doing business. The intermediaries deployed to resolve disputed transactions also drive the transaction cost high, delaying the reconciliation process with other participants in the network.In such an entwined supply chain network, the risk of a security compromise is inevitable and can lead to a buttery effect sending shockwaves throughout the supply chain. Incidents can stem from simple mistakes and may trigger cyberattacks or fraud. As a result, trust declines and deals are often delayed or lost.In the emerging "trust economy" in which companies' assets and reputation are vulnerable, Blockchain based solutions ensure efcient, immutable, transparent, and secured transactions. Blockchain is becoming the revolutionary technology assuring a high level of efciency, privacy, and security. Blockchains fall under two categories: Permissionless and permissioned chains. Permissionless blockchains allow any party without screening to participate in the network, while permissioned blockchains require consortiums or an administrator to evaluate the participation of an entity on the blockchain framework. Regardless of the type of Blockchain, business logic is encoded using smart contracts. Smart contracts are an encoded agreement on the blockchain framework and are self-executed, which means that no human intervention is required to execute transactions. Smart contracts enable accurate, cost-effective and fast transactions, with enhanced transparency and security. The following use cases illustrate Blockchain's potential to disrupt the oil and gas industry and meet the industry's regulatory, operational and market needs. Photo courtesy of Elnur Amikishiyev – www.123RF.comLand Record Management • Record Sale and transfer of ownership • Create immutable audit trail of land movement, ownership and value• Alleviate ownership disputes and title mismatches • Provide tax authorities with accurate ownership • Land Rights stored on blockchain can be traded and sold as commodities Equipment History Record Management • Equipment record stored on Distributed ledger rather on central server• Changes to Equipment are conrmed by all nodes of the network, eliminating the needs of Central AuthorityUpstream Activities • Can be used in Design and Construction of wells and Facilities, tracking Equipment history• Reduces errors, increases efciency in nding metadata, enhances transparency• Replaces spreadsheet data storage Midstream Activities • Smart Contracts in Trading and Risk Management• Joint Ventures and Revenue Accounting• Quote to cash and reduces daily sales outstanding • HSE - Safety Inspection and Maintenance Activities, Identity and Certications• Managing Pipelines' Inspections Downstream Activities • Terminal Automation, Smart Contracts, Demurrage and Claim Management, Quality Control of Petroleum products• Payment Reconciliation, Compliance and Regulations
Page 29
Oilman Magazine / September-October 2019 / OilmanMagazine.com27OILMAN COLUMNLONG-TIMERELIABLE A-T CONTROLSTRUNNIONMOUNTEDBALL VALVES9955 International Blvd. Cincinnati, OH 45246 (513) 247-5465 www.atcontrols.comin stockSeveral blockchain projects have started and are building momentum in the oil and gas sector. Natixis and Tragura have developed the rst blockchain solution in commodity trade nance to digitize U.S. crude oil transactions. The distributed ledger platform, backed by Hyperledger Fabric hosted by Linux Foundation, let digitization of major steps in a crude oil transaction on the Blockchain, enabling improved transparency, enhanced security, and optimized efciency. Blockchain with IBM and SAP can streamline joint billing operations, Authority for Expenditure (AFE) approval tracking, and other oil and gas processes. AFE operators can now extend existing joint venture accounting and AFE tracking communications with Blockchain to create a single shared truth distributed ledger that secure immutability and provides permission-based visibility to operators and non-operators ensuring compliance, avoiding delays as well as the tedious and time-consuming prior period adjustments. Backed by Quorum, Vaqt a trading platform is being used by Shell, BP, Norwegian Equinor, Mercuria Energy Group, Koch Supply and Trading, and Gunvor. The largest shareholders of VAKT Global are such banks as ABN Amro, ING, and Societe Generale. Other companies are expected to join in 2019. VAKT has the potential to provide a cost reduction of 40 percent by getting rid of paper documents and replacing them with smart contracts. In May 2019, over 20 European energy trading rms announced peer-to-peer Blockchain based trading framework.While Blockchain has the potential to bring the biggest impact on the oil and gas industry, the technology is in its nascent phase, leaving enormous opportunities for investment and growth. As the oil and gas transactions involve multiple intermediaries, the early adoption of Blockchain provides an incentive for the company's protability and performance. The early adopters are capitalizing on this innovative technology and saving time, but the blockchain adoption by oil and gas companies is not ahead of the curve. The biggest barrier impeding blockchain adoption is the trust issues. According to Pricewater Survey, the barriers to blockchain adoption are regulatory uncertainty, lack of trust among users, ability to bring networks together, separate blockchains not working together, inability to scale, intellectual property concerns and audit/compliance concerns.The current operating system has many drawbacks that may pose risks such as data and identity theft, high costs of transactions in public Blockchain, lack of recipients and users, technical problems due to initial applications and lack of standardized mode of operation. Implementing and standardizing Blockchain requires signicant investment, including legacy system integration as well as reskilling and retraining of the workforce. Cyberattacks may ensue from insufcient security design aws and deciency management systems. Due to data inputs at various nodes, there is a risk of tampering at each node. Jurisdictional problems may arise as decentralized ledger span multiple locations, and blockchain companies are unclear about the jurisdictions, and regulatory regimes to which their products and services are being subjected. Regulatory and legal environments for Blockchain are still under development. The users must understand the evolution of regulatory guidelines and its ramications.Blockchain technology brings many opportuni-ties, application to business processes, but is not free of challenges and risks. It is imperative that the users mitigate the risks and deploy safeguard measures to harness maximum benets of this technology.
Page 30
Artificial Intelligence Provides New Layers of Refinery Safety in 21st Century p 8 Oil and gas Industry Trends Safety and Technology Improvements p 22 5 Ways Artificial Intelligence and Machine Learning Benefit Crude Oil Marketers p 28 How Oil and Gas Employers Can Navigate an Applicant s Economy p 36 THE MAGAZINE FOR LEADERS IN AMERICAN ENERGY September October 2019 OilmanMagazine com EMERGING TECHNOLOGY IoT Machine Learning AI
Page 31
Oilman Magazine / September-October 2019 / OilmanMagazine.com29OILMAN COLUMNUse No. 4: Regulatory Compliance and Data IntegrityAI and ML have the ability to boost back-ofce efforts to ensure regulatory compliance by recog-nizing fraud, abuse, and mistakes. In the case of potential fraud or abuse, ML can perform ongoing checks for intentional interference with data in-tegrity. This enables organizations to protect their assets by keeping up with potential market abuse pattern identication. Today, large banking institu-tions rely on self-teaching AI to monitor and process billions of transactions while searching for patterns indicative of fraud and abuse like insider trading, stock manipulation, or other unauthorized actions. Similar functions in commodity marketing allow AI to detect abuse in crude oil marketing or trading.Even in the case of unintentional errors, the back ofce can employ ML to track and validate numbers for data integrity and regression testing. When employees make changes to code or algo-rithms, programmers are able to make sure the changes are not deviating against known values. AI also has the capability to reduce human error by aggregating data on its own without human interference.Use No. 5: Data ProtectionLike in the nancial sector, AI and ML also have the capability to enhance an organization's processes and protect its data at a higher level. As organizations grow and become more digitally focused, the sheer amount of data, both public and private, can become overwhelming. AI and ML can offer new, effective forms of security to prevent this data from potential risks. By continuously analyzing large quantities of data for anomalies, AI can identify threats, alert relevant parties, and provide actionable intelligence.In the same vein, AI's ability to continuously monitor, collect, and analyze data allows for algorithms that can identify structural inefciencies that could lead to system failures before they happen — reducing system blackouts and safeguarding customer trust. Challenges to Industry-Wide Adoption of AI and MLWhile AI and ML present numerous opportunities to advance efciency in oil marketing, the commodity management industry is still in the beginning stages of adopting these technologies, and signicant challenges and roadblocks remain before the industry will see widespread adoption.The rst and perhaps most challenging obstacle is that the value of articial intelligence compounds over time, which is a luxury only early adopters, visionaries, and innovators are typically comfortable with. Before the mainstream commodity industry adopts AI, there are still many simple calculations and algorithms to be tested and tuned over time.Many organizations talk about the possibilities, but the industry needs visionary leaders willing to invest time into perfecting calculations to run front ofce activities like oil marketing successfully.Skepticism is another challenge organizations looking to adopt AI and ML must overcome. Ultimately, embracing AI and ML will be a transformational, paradigm-shifting move that will require substantial organizational buy-in following extensive proof of concept. Even then, the mere existence of such technology does not mean it will conclusively be adopted. To counteract naysayers with a measured approach, industry leaders can take incremental steps to lay a foundation of trust by incorporating simple machine learning into everyday processes. By proving value and accuracy over time, the necessary comfort and trust of these new technologies and their possibilities will grow.Another signicant challenge AI and ML innovators face is resistance to automation. Understandably, some marketers are nervous about what automation means for their jobs. The truth is, when applied correctly, AI and ML should complement and amplify the skills of industry workers and empower them to add greater strategic value throughout their organization.Incorporating AI and ML Into Your Crude Oil BusinessCommodity organizations are just now beginning to explore the possibilities AI and ML offer their businesses. Alone, this can be a daunting task, but the value of AI and ML compounds over time, driving tremendous growth for organizations with each instance. That's why industry visionaries are turning to the leaders in advanced commodity analytics to lay a technological foundation that embraces ML today to support more signicant AI initiatives in the future. Those with the headstart will have the competitive advantage over the mainstream laggards.That's why ION FEA and ION Commodities are at the forefront of advanced commodity analytics. We're dedicated to solving these problems for commodity organizations and laying the necessary framework by building analytics capable of powering AI and ML initiatives, so that forward-looking organizations can learn from their data, identify patterns, and make decisions with minimal intervention.Technology cycles and opportunities like this don't come around every day. The question is: Which side of the AI and ML adoption chasm will you nd yourself on?Josh Gray is the Chief Scientist for ION FEA at ION Commodities. At ION Commodities, Gray manages the ION FEA research teams, who control a broad range of analytic and risk management tools. With more than 15 years of energy trading and quantitative risk management experience, one of Gray's chief initiatives is recognizing new market trends and identifying needs for the development of new ION FEA software features, models, and/or contract specications. Gray received a Doctorate in Theoretical Physics from the University of California, Santa Cruz in 2001.
Page 32
Oilman Magazine / September-October 2019 / OilmanMagazine.com30OILMAN COLUMNWhy Not Graphene?By Raul PalenciaGraphene is a sub-derivative material of the most abundant element on our planet: carbon. Known by scientists as the miraculous material, graphene is positioned as the biggest dream of manufacturers of materials such as spaceships, pipes protective covers, computer parts, auto parts for both bodywork and engines. It has also become the perfect compound for batteries and phone screens, computers or submarines. This is just a small list of all the utilities this material has.The rst quality of graphene is that it is extremely light, but tremendously strong at the same time: a 1 m2 layer weighs only 0.77 grams. It is transparent, exible, waterproof, does not pollute and it's harder than a diamond, 200 times stronger than steel and more exible than carbon ber. It is also a super conductive: 100 times faster than the silicon used on chips.It conducts heat, generates electricity when it receives light, and changes its properties when combined with other materials. For example, it can repel water or be more conductive.Initially discovered in the 1930s, graphene did not acquire any importance, because in order to produce a small piece of it, high pressures and temperatures had to be used, but not until 2010 when two Russians, Andre Geim and Konstantin Novoselov, won the Nobel Prize in Physics for discovering a new method for a more stable graphene production.Quoting the article written by these scientists about graphene, this material "is a form of carbon. As a material it is completely new - not only the thinnest ever but also the strongest. As a conductor of electricity it performs as well as copper. As a conductor of heat it outperforms all other known materials. It is almost completely transparent, yet so dense that not even helium, the smallest gas atom, can pass through it. Carbon, the basis of all known life on earth, has surprised us once again."When we turn to the oil and gas industry, we need a material that can be resistant to pressure, compres-sion, abrasion, and at the same time, that has a signicant exibility or hardness to be capable of conduct-ing electricity in voltages equal to or greater than 480 Volts. Also, we need it not to be destroyed or weakened in approximately 15 years, which is the average usage time that an electro submersible pump is kept on the ground before it is necessary to apply corrective maintenance.With such a bold material it is necessary to go through each sector of the industry to see in which applications it could improve the oil and gas eld.SubsoilEvery day that goes by, there are fewer conventional reservoirs and it is necessary to use more resources to access unconventional ones. The rst difculties when facing these deposits, are the adverse conditions that the operator faces.A reservoir placed in the Triassic age, can face pressures above 12k psi, or temperatures greater than 400 ° C. To these conditions is usually added the existence of contaminating uids, so that a metal pipe with tungsten carbide alloys works, but after a period of time, it jeopardizes the well, whose investment tends to exceed an amount of 7 digits. The graphene, even when it's 200 times thinner than a sheet of paper, is capable of coating the casing and production pipe to shield subsoil equipment that was compromised in the past, because it is so slim that the commonly used diameters would not be affected.In addition to this, it is advisable to use the lifting method known as BES (Electro Submersible Pumping), when it comes to ultra-deep wells, since this technique has the highest volume of production, but it also tends to be the most expensive one. One of the main expenses of this type of pumps is the power cable, which is responsible for carrying energy from the surface to the bottom.The ability to conduct 200 times more electricity than silicon, offers us a much thinner power cable than commonly used, which is also more reliable in terms of power. On the other hand, we have its resistance to the different pollutants that are exposed and a power cable designed to resist much more than the one factories tend to use.The deadly enemies of bombs are abrasion and corrosion. While having a minimum of revolutions of 3500 rpm, there is no time to lter the uids or to make a separation of them while facing the pollutants, so the use of graphene becomes an important option.The BES system consists of a centrifugal pump that drives the uid to the surface. In these cases the passage of liquid uid is the pump's cooling agent, so when there is gas, the pump suffers severe damage, since it tends to overheat. If we use graphene to build the pump, we avoid damage and corrosion by abrasion and pollutants in the rst instance.Thanks to its ability to be combined with other elements, we can make a graphene alloy for heat dissipation and thus we'll have a BES system capable of working with larger amounts of gas, besides being much stronger over time.ExplorationIn addition to metal-like capabilities, graphene is the best sound conductor that exists, capable of moving waves or receiving them with a precision that's never seen before. Sound companies with IHiber or Beats use graphene for their special equipment.In the exploration sector, one of the most important studies ever made is the seismic research. It's Graphene – Photo courtesy of Digital TrendsAndre Geim and Konstantin Novoselov - Nobel Prize in Physics 2010Image courtesy of IITB-Monash Research Academy
Page 33
Oilman Magazine / September-October 2019 / OilmanMagazine.com31OILMAN COLUMNcarried out with the emission of sound waves that travel through the subsoil, returning to the surface and being captured by receivers. Using graphene would highly improve the emitted and received signals, and this way the sharpness of the subsoil images would be optimal for geophysicists, substantially supporting exploration work.Not very different but just as important are the sonic records offered by many service companies. These records allow to recreate an image of the formations that are being traversed during drilling and are using the principle of bats. They allow to see the micro fractures, fractures and, in the best cases, to recreate a 3D view of the formation. Likewise, when having a better sound emitter and receiver with graphene, the quality and certainty of the results would be neat and fully functional.At the same time, it provides the opportunity to be used in cases such as the Pearl Deposits in Venezuela, gas elds located in the northwest of the country. This deposit pres-ents one of the largest gas reserves in South America close to 15 trillion cubic feet of gas, but with the dif-culty that in its generating rock is born, besides gas, the mercury metal, that makes sustained produc-tion impossible, (mercury is a highly toxic and corrosive liquid metal).One of the few metals capable of tolerating mercury at high pressures is graphene. Using a thin layer of coating, so thin that it would practically not affect the diameters of the pipes, good oil extraction can be achieved with few durable wells over time.SurfaceThe surface equipment has a double degradation: inside pipes, heads, separators and valves passes the uid produced that sometimes contains highly corrosive pollutants. To this we add environmental conditions such as the arid areas of Africa, the strong sea waves from the north, the abrasion of the sands in the area of Arabia among other things. The use of graphene as protector of these equipment would be the best option.Surface separators fulll a crucial task: when the uid is produced and arrives to surface, its pressure changes, so it releases aggregate uids that come as solution such as gases or water. And since water is a natural oxidant, any gas that travels in the triple solution of oil, gas and water can become a lethal acid, for this reason the three-phase separators are responsible for preventing the trip of these three uids in a ow line that could later reach storage tanks.Separators tend to be large, robust and heavy tanks and need an impor-tant maintenance to avoid deteriora-tion. When using graphene to cover the tank, we reduce the impact of corrosion by contaminants. On the other hand, graphene can be used on the internal shock plate that has the separator, because in addition to being resistant, the vibration thrown by the plate would provide a better detachment of the gas and water atoms that joins the oil. This way, a cleaner oil will travel in the ow line.Given So Many Uses and Solutions, Why Not Graphene?Despite the discovery of a more stable method of producing graphene, it still has a very high cost. Besides this, the oil and gas industry is one of the world's commercial activities that generates the highest amount of money, so it can easily makes sense to ask why grapheme isn't being used industrially today.Raul Palencia is an engineer and researcher with more than 10 years of experience as a Geologist. He graduated from the prestigious University of Andes (ULA), later he received a Master's degree in Reservoir Engineering at the Venezuela Hy-drocarbons University. During his career development, he worked for oil companies in positions such as: eld geologist, reservoir engineer and reservoir simula-tion. He has worked in Argentina, Ecuador, Mexico and Venezuela. He currently resides in Texas. Electric Resistance Welding Drill Pipe Photo courtesy of TallysSeismic – Image courtesy of GeoExPro Sonic Logs – Image courtesy of Emerson ParadigmTriphase SeparatorPhoto courtesy of China Oil HBP Group Perla Field, VenezuelaImage courtesy of Offshore Technology Electro Sumergible PumpingImage courtesy of Framo
Page 34
Oilman Magazine / September-October 2019 / OilmanMagazine.com32OILMAN COLUMNSoftware and Technology's Effect on Safety, Operations, and Modernization in the Oil and Gas IndustryBy Tonae' HamiltonIn today's society, technology has become the new norm, with many businesses integrating technological software into their operations, regardless of the industry. Technology has proved benecial to business in terms of improved operations and cost. The oil and gas industry has also been able to improve operations and reduce costs as a result of technological software. As of recent, technology has been making waves in the areas of pipeline safety and oil and risk management in the oil and gas industry. Businesses are investing in advanced software, such as robotics and automation, to increase pipeline and worker safety and the efciency of operations. SolSpec, a software company that specializes in the processing and analysis of photogrammetry and LiDAR data, develops oil and gas software to improve pipeline construction and oil operations. Bryan Crowe, Chief Operating Ofcer of SolSpec, provided his perspective on how technology is shaping safety and oil management in the oil and gas industry, how modernized the industry has become as a result of technological software, and what SolSpec is doing to impact the industry. With technology playing a larger role in the oil and gas industry, there has been an increased demand for technological software. As such, more oil and gas solutions companies have been established with many focusing on pipeline safety and risk prevention. SolSpec, founded in 2016, was created with the goal of empowering more efcient and effective use of drone imagery and analysis to improve the safety, protability and environmental stewardship of pipeline construction, operations, and other large-scale land use projects. Crowe expressed that after initially collecting data for a year, they realized the need — and opportunity, to improve the speed of processing, storage and analysis of data. "Today, SolSpec specializes in the processing and analysis of photogrammetry and LiDAR data from Unmanned Aerial Vehicles, Manned Aircraft, and Satellite systems. We've developed a secure cloud-based geoprocessing platform and propriety analytics models based on analysis of over 2 million acres of pipeline right-of-way projects to create high-resolution 2D and 3D models for comprehensively visualizing and quantifying risk to pipeline safety by measuring changing conditions, hydrology, erosion control, and slip potential," Crowe explained.One of the biggest threats to operational safety in the oil and gas industry is pipeline construction and stability. As Crowe stated from a report, "Between 1999 to 2018, PHMSA reported a total of 11,991 incidents of compromised pipeline integrity, resulting in 318 deaths and 1,304 injuries, with over $8 billion USD in total cost." From the past up until recently, traditional methods of operation and poor construction of pipelines has led to fatal incidents. Crowe expressed how operators need a more comprehensive, data-driven method to evaluate risk that goes beyond the physical pipe and includes its environmental context. "Identifying environmental conditions on and off the ROW that may threaten the integrity of pipeline infrastructure is crucial for timely mitigation and adequate preparation for future challenges," Crowe explained. With that said, advancements in technology and software, along with the ability to utilize data to mitigate risks, has persuaded many oil and gas operators to integrate technological solutions into their processes and modernize operations. Oil and gas businesses have begun to see the positive effects technological software can have on pipeline safety and operations. As Crowe stated, "Just as ILI technology is changing the way operators conduct internal pipe inspections, aerial analytics technology will transform external pipeline risk assessments and environmental Photo courtesy of Sitthinan Saengsanga – www.123RF.comContinued on page 34...
Page 35
Contact For Pricing & More Information+1 337-235-4055info@LAGCOE.COMLAGCOE 2019Why AttendLAGCOE.com/expoIn New Orleans, LALAGCOE 2019 offers an array of opportunities to be part of the world's pioneering oil and gas industry technical conference and exposition. Join us for this inaugural event in our new Location: New Orleans, LA. The city boasts an international airport, numerous hotels within walking distance, and cultural experience unlike any other. CONNECTEXPLOREDISCOVERwith colleagues and a wide range of businesses including onshore and offshorehundreds of exhibits and over 10,000 attendees from across the globethe latest technology andequipmentHEREThe future of energy starts Ernest N. Morial Convention CenterOctober 9-11, 2019CMYCMMYCYCMYK
Page 36
Oilman Magazine / September-October 2019 / OilmanMagazine.com34OILMAN COLUMNinspections through Right of Way Integrity Management (RIM)."With an increase of emerging technologies, the oil and gas industry is undergoing a rapid digital transformation. "Digital transformation is sweeping the oil and gas industry as more companies embrace technology to drive vast improvements in productivity, better system efciency, savings from reduced resource usage, and fewer spills and emissions," Crowe expressed. As for pipeline improvements and risk reduction, aerial technologies such as drones and UAVs are what oil and gas operators are increasingly investing in and utilizing to collect data and improve worker safety and training. Crowe described how innovation through cloud platforms, ultra-high spatial resolution aerial imagery, AI and machine learning, predictive analytics and big data are opening up new opportunities to transform pipeline integrity management, help reduce risks, and accelerate time to value. "Data is available to provide operators with fast and accurate analytics for them to make timely decisions to protect the safety of their employees and the public, the environment, and to maximize operational efciencies," Crowe further explained.Even with more oil and gas operators integrating advanced technologies, including aerial analytics into their operations, the oil and gas industry, as a whole, has not fully embraced drone technology. As Crowe mentioned, "Aerial analytics are instrumental to ROW Integrity Management. I think there's a general misconception about ROI of Aerial Analytics that has been carried over from when drones rst hit the market for commercial use." "Drones improve employee efciencies and create a safer work environment by removing employees from hazardous environments. If armed with a drone, a typical pipeline technician can easily cover 10 miles of inspections," Crowe explained. With that said, SolSpec is continuing its focus on expanding the use of aerial technology and analytics in the oil and gas industry. "We continue to optimize our ROW Integrity Management solution with region-specic environmental and geological conditions. Our models and analysis consider factors as specic regional population density, product type, class location, potential impact radius, and environmentally sensitive areas and summarize this into simple, actionable intelligence," Crowe explained. Crowe also stated how SolSpec is expanding into construction monitoring, vegetation analysis, change detection, and optimized LiDAR processing. "We are rolling out our new data viewing platform later this year that will greatly improve aerial analytic processing for our customers," said Crowe. SolSpec, along with other oil and gas solution companies, are taking the initiative to improve and modernize the management of oil and gas and the industry as a whole. Nevertheless, there are still many ways the industry can improve and further modernize operations. Crowe shared how the transition from reactive disaster management to proactive disaster risk reduction is where the industry can make huge advances. "A RIM program informed by aerial analytics increases the efciency of pipeline technicians, facilitates emergency response, and identies key areas for focused resources and efforts in hazard mitigation. Armed with these insights, operators can prioritize risk mitigation and monitoring to take proactive actions where they are needed most," Crowe explained further. With emerging technologies still on the horizon, there are plenty of opportunities of modernization for the oil and gas industry. As for the use of drones in oil and pipeline management, Crowe expressed how BVLOS or beyond visual line of sight restrictions prohibit drones to be utilized for large scale data acquisition. "By removing visual line of site restrictions drone operators will be able to more quickly analyze their pipelines and other assets to provide supplemental emergency response, predictive maintenance, and ongoing integrity verications," said Crowe. With technology's breakthrough in the oil and gas industry, the industry has seen improvements in capturing data, oil management, revenue and risk prevention. The industry's processes today are more modernized than in the past, but still have a long way to go. According to Crowe, "Greater acceptance of new technologies by regulatory bodies would also help in modernizing oil and gas operations." Crowe emphasized that modernization is extremely important for the oil and gas industry. With the rapid development of technological software, the industry is sure to see more progression in the near future. "Technology is impacting every aspect of the oil and gas industry. Operators that harness the power of technology are seeing real benets to their safety numbers and their bottom line. Those who are late to the game are operating at a disadvantage. Real time and near real time analysis of operations are making the oil and gas industry a safer and much more efcient industry," said Crowe. No w Av A i l A b l e : T h e C r u d e li f e Cl o T h i N gw w w.s h i r T s i C l e.C o m/T h e C r u d e l i f e
Page 37
THE ONLY TRADESHOWIN THE BAKKEN produced byDO MORE BUSINESS IN THE BAKKENShowcase your business at the only conference located in Williston. Meet the boots-on-the-ground workforce and network with the Bakken trigger-pullers.INDUSTRY FORUMS Industry forums provide valuable information for three key areas of operation: Fleet Management & Trucking Engineering & Management Well Site FacilitiesREGISTER NOW!BAKKENOILSHOW.COMOCTOBER 2 & 3, 2019Wednesday 9:00 am - 6:00 pm Thursday 9:00 am - 2:00 pmThe 9TH Annual Bakken Oil Product & Service ShowRaymond Family Community Center | Williston, ND
Page 38
Oilman Magazine / September-October 2019 / OilmanMagazine.com36OILMAN COLUMNHow Oil and Gas Employers Can Navigate an Applicant's EconomyBy Ron Hudik and John RomanowFew industries understand supply and demand dynamics as well as oil and gas—and few places in the world are seeing those dynamics play out as dramatically as in the Permian Basin, where a crippling talent shortage looms large. Midland's July unemployment rate sat at a razor-thin 2.1 percent, and 15,000 jobs are open on any given day. At the same time, takeaway capacity in Permian pipelines is expected to surge in the second half of 2019 and into 2020,1 and IHS Markit forecasts oil production in the West Texas eld to reach 5.4 million barrels per day by 2023, accelerating an already dire dynamic. It's a shortage that's being felt across Texas—and across oil and gas globally—as Boomers retire, younger workers shun the industry, and technology redenes roles at a rapid clip. Nearly half of respondents in the latest Global Energy Talent Index are worried about an impending talent crisis; 40 percent say the oil and gas skills crisis is already here. After drastic cuts to stafng levels and apprenticeship programs in the last oil and gas downturn, companies now struggle to win back talent that has moved on to other industries. High pay isn't enough to change the equation. Oileld salaries in the Permian start near $100,000, while experienced truck drivers can make $300,000 with overtime—and still, the talent shortage rages on. Downstream, skilled trades shortages in the Gulf Coast are leaving oil and gas companies struggling to nd craft labor. Oileld services struggle to staff for drilling and production, and all sectors are competing for engineers and IT talent. The impending "great crew change" further complicates the picture. Although Houston is home to one of the youngest workforces in the country with a median age of 34, more than half of oil and gas workers are over 45. Technology may offer long-term relief, but it presents short-term challenges. Digital oileld spending is expected to reach $17.8 billion by 2022, and 40 percent of eld operations jobs could be eliminated by technology. Yet in order to reap the improved efciency and cost savings of digitized rigs, companies must rst have a workforce capable of designing, building, and working those rigs. The same holds true of AI, machine learning, and RPA advances throughout the industry that rely on an inux of elusive STEM talent. Competition for that talent is especially erce in Southeast Texas, where oil and gas companies nd themselves recruiting against each other, Silicon Valley, and a new surge of start-ups in their own backyard. Boasting a 2.7 percent unemployment rate, Austin has earned the nickname Silicon Hills for its saturation of high-tech companies that offer a "cool factor" unmatched by oil and gas. When STEM talent does opt into oil and gas, they're increasingly doing so via a burgeoning start-up scene, where small rms are tackling big challenges for the industry—leveraging AI and new technologies to evaluate well locations, improve production forecasting, and predict equipment failures. Houston alone is home to more than 500 technology start-ups and ranks ninth on Inc. magazine's new list of hottest start-up cities, as well as being home to large oil and gas incubators that attract local entrepreneurs. Amidst all the chaos, it's clear the talent shortage is too big for HR departments to solve alone: a cross-discipline approach is needed. One deceptively simple task to support more effective recruiting is ensuring that job descriptions and postings are up-to-date and accurate. As technology transforms how work is done, HR will need to partner more closely with operations and IT to keep abreast of how roles are changing, map out new job descriptions, and craft job postings that use relevant keywords and target in-demand talent. It's an ongoing effort as technology continues to dene new ways of working—from truck drivers receiving training in high-tech simulators, to nance teams using RPA to deliver real-time analyses, to data scientists applying AI to predict output and loads. But job accuracy is just a baseline. Making oil and gas jobs attractive may prove an even larger challenge. In a recent survey, more than 70 percent of U.S. respondents said they were more likely to choose to work at a company with a strong environmental agenda—dampening Texas oil and gas company's ability to source talent from across the country. Millennials in particular are linking ethics and environmentalism, with three out of four saying they would accept a smaller salary to work for an "environmentally responsible" company, and 40 percent reporting they have chosen one company over another because of its sustainability record. Again, oil and gas companies can benet from a multi-pronged approach, with HR, PR, and marketing banding together to craft an employer brand that resonates with younger workers. Some oil and gas players have taken the innovative step of moving technology pros out of IT and into talent acquisition roles, enabling them to connect with younger prospects and share rst-hand experiences of a fullling high-tech career in oil and gas. Alumni pools can also be effective at closing specic skill gaps; bringing back older workers as consultants on special projects can help meet short-term needs with proven (albeit pricey) skill sets. New partnerships outside of the oil and gas industry appear to hold real promise as well. Community colleges and trade schools in Houston are working with oil and gas leaders to design specialized training that reskills workers and equips new talent to succeed in the eld. Lone Star College's oorhand/roustabout certicate program—which uses a life-size drilling rig as the students' learning environment—is so popular that Houston's oil and gas employers often offer students jobs before they've completed the IADC-accredited program. Taking a faster-track approach, a new breed of education rms is offering "boot Data are three-month annual percent changes. Shaded area is U.S. recession. Rig counts include rigs operating in New Mexico and Texas – Source: Bureau of Labor Statistics; Baker Hughes; seasonal and other adjustments by the Dallas Fed.
Page 39
Oilman Magazine / September-October 2019 / OilmanMagazine.com37OILMAN COLUMNClass certication in the oil patch frequently revolves around whether the putative class can satisfy Rule 23's commonality and predominance requirements. The recent trend has been toward increasingly troubling developments for opera-tors, including courts that focus on ostensibly "common" facts that are irrelevant to the claims asserted or, worse yet, courts that have more or less marginalized material differences in lease forms that should have represented a barrier to class treatment. In August, the United States Court of Appeals for the Sixth Circuit entered the fray, issuing another decision that is by no means friendly to the industry.The opinion, Zehentbauer Family Land LP v. Chesapeake Exploration LLC, is notable because it stands at the intersection of motions to dismiss and motions for class certication. Dismissal motions often receive special scrutiny in the class context, and surviving dismissal is of course a necessary prerequisite to ling a class certication motion. By the time litigation reaches the certication stage, the exposure for defendants can be so great that settlements are not uncommon even when the plaintiffs' merits case is weak. After all, the prospect of facing off against thousands of plaintiffs – rather than just a handful of individual ones – can transform the defense against even marginal claims into an exercise fraught with risk and uncertainty.Crediting the arguments advanced by the defendant operators in Zehentbauer, the representative plaintiffs engaged in a bait-and-switch. In particular, at the motion-to-dismiss stage, the plaintiffs placed primary emphasis on the theory that Chesapeake and Total had "breached the leases by selling oil and gas to the defendants' midstream afliates at below-market prices" (although the complaint did contain cursory, passing references to the improper deduction of post-production expenses). Under the afliate-sales theory, the plaintiffs would have to "show that the defendants' royalty payments were based on sale prices that fell below what an unafliated company would have paid for the oil and gas at the wellhead," and, critically, "the inquiry to determine these market prices is highly individualized because the market prices depend on the quality of the oil and gas sold at each well, the quantity of the oil and gas so sold, and the proximity of the well to processing facilities and downstream markets."The Sixth Circuit agreed that the plaintiffs could not carry their Rule 23 burden on the claim that the afliate sales were made at below-market prices. But the undivided appellate panel determined that this did not preclude class certication since the plaintiffs withdrew the afliate-sales claim on appeal, arguing that they would instead proceed solely on their allegations of the improper deduction of post-production expenses. From the operators' perspective, this was a kind of gamesmanship: "present[ing] a plausible breach-of-contract theory that would survive an initial motion to dismiss," and then changing course by "advanc[ing] a different, implausible theory of breach that would propel a motion for class certication."Regardless of whether the operators are correct in this particular case, there is a lesson to be learned. When defending against lease claims in a putative class action, operators must be sensitive to every factual wrinkle in the complaint. No allegation should be dismissed as window dressing or mere boilerplate. What might initially seem like an insignicant allegation, in other words, could later become the crux of the plaintiffs' case. Realizing this too late in the proceedings could amount to a lost opportunity to target those allegations – early on, before the plaintiffs can seek class certication – by way of a motion to dismiss.Tom is a litigation partner in the Houston ofce of Kane Russell Coleman Logan PC, where he leads the rm's energy practice group. Tom is also the host of a weekly podcast on legal news and developments in the oil-and-gas industry, available at www.energylawroundup.com, and a video series on effective legal writing, available at www.theartofthebrief.com. Sixth Circuit Fans the Flames of ClassCertification Against Operators By Thomas G. Ciarlone, Jr.camps" to upskill oil and gas workers: daytum recently hosted workshops at the University of Houston to teach oil and gas technicians and engineers how to use simple coding packages so they can better analyze and visualize data they work with in the eld. Given the worsening talent crisis, investments in the future workforce are equally critical. Some companies are thinking beyond typical high school curriculum to reach kids in Texas middle schools and drum up interest in the skilled trades, planting the seeds for well-paying oil and gas careers that don't require a four-year degree or student debt burden. Outsourcing providers are evolving along with oil and gas and playing an increasingly vital role in addressing workforce challenges. Workforce solutions partners like KellyOCG are helping oil and gas companies—from global industry leaders to local Houston rms—with everything from payroll services to HR consulting to total talent supply chain programs. Solutions are as robust and diverse as the challenges they address. For example, the right outsourcing partner can help determine the optimal mix of talent (full-time, contract, etc.) and technology, an area of tremendous opportunity in oil and gas, where digital solutions have the potential to cut upstream production costs by as much as 20 percent. Attracting talent in an environment where talent clearly has the upper hand also requires looking beyond typical demographics and traditional talent pools. Progressive companies are creating bespoke talent agendas that incorporate best practices traditionally reserved for customers, including segmenting candidates based on internal attitudes and motivations in order to map out more effective recruiting and retention strategies. Supply and demand will always be a deciding factor in the oil and gas industry's success. Companies that embrace innovative partnerships can build talent pipelines that yield a competitive edge today and in the years ahead. Ron Hudik, Vice President, Global Solutions with KellyOCG, has been providing strategic guidance and recommendations around custom-designed, client-specic workforce solutions to companies in all sectors of the energy industry for more than two decades. He specializes in the design and implementation of solutions related to Managed Service Provider (MSP) programs, Recruitment Process Outsourcing (RPO) solutions, and many others. John Romanow, Vice President - South Central region at Kelly Services, has been connecting talented people to companies for more than two decades with a focus on oil and gas and several other industries. An experienced workforce solutions executive, John leads the stafng and business solutions operations for Kelly throughout Texas, and several other neighboring states. 1 https://www.dallasfed.org/research/energy/indicators/2019/en1907.aspx
Page 40
Oilman Magazine / September-October 2019 / OilmanMagazine.com38Interview: Bobby Martin, Founder, OmniShelf By Tonae' HamiltonTonae' Hamilton: Can you expand on how the idea of the OmniShelf came about?Bobby Martin: As an oileld service technician, I use a laptop most of the time and would constantly struggle due to not having a workstation. I had to hold my laptop with one arm, while typing with the other or set it in my lap while sitting on a chair or on the oor. The only place I could set it when not in use was on the oor. One day I notice that a 3rd party company had a built-in metal folding shelf mounted on the inside of their control panel doors. This shelf was used by their technicians to set their laptop on while connecting to the PLCs. I thought this was a great idea, but I needed something similar that was mobile and could be used anywhere on the rigs. I wanted to design a similar device with magnets enabling me to use it anywhere since just about everything on a rig is made of metal. TH: What is your goal for the OmniShelf ? In what ways do you feel it will benet oil and gas industry professionals?BM: Our ultimate goal is to get the OmniShelf in every business that has any type of mainte-nance and/or electrical department. We would also like to get it into the military. We have cur-rently sold to large companies such as Shermco Industries, Siemens Industry, Michelin, Trans Ocean, and many others. As far as retailers, Dealer's Electrical Supply in OKC has been selling the OmniShelf for several months. We recently were approved by the buyer for Home Depot to place the OmniShelf on their website. The OmniShelf would be a huge benet to any worker who needs extra workspace and/or needs a temporary desk. The OmniShelf can be used in various ways. TH: In addition, what would you say are some of the biggest challenges oil and gas professionals face in the workplace? Will the OmniShelf resolve some, or any, of those challenges?BM: Whether is a controls technician, electri-cian or a mechanic, they all face the problem with no workbench or station near the piece of equipment they are working on. The OmniShelf solves this everyday problem, whether it's to hold a laptop, tools, power tools, meters or just a writing surface. The OmniShelf ergonomically provides a safer way for eld workers to work, from holding a laptop at the proper height to holding tools while working in an electrical panel. It also helps reduce the potential of neck and back pain by being able to have your tools at arm's reach and not having to reach down to the oor or ground. TH: Can you expand on the design of the OmniShelf ? For example, are there any sur-faces that the OmniShelf won't stick to?BM: The OmniShelf is designed as a portable briefcase/workbench/desk. It has 1.5 inches of clearance on the inside when closed. This allows most laptops and hand tools to be carried, inside the OmniShelf, from one workspace to the next. The OmniShelf has a "Y" design to allow the magnets to be adjusted closer together. This allows it to attach to narrow surfaces, such as a narrow column or light pole. We use 4 rare earth magnets to latch it closed. These have 6-7 pounds of magnetic pull, which is strong enough to hold most small hand tools. This is a very convenient place to hold tools between uses.When the OmniShelf is attached to a wall surface, there is a 1/4" clearance the shelf and the wall surface. This allows room for papers or folders to be stored while using the OmniShelf. Last, but not least, we offer an option for four (4) industrial strength suction cups. This allows the OmniShelf to stick to any at, non-porous surface. Between the use of magnets and suc-tion cups, the OmniShelf can attach to most surfaces.TH: Will you ever consider making a second OmniShelf (i.e., bigger, different design) or making changes to the current product?BM: Yes, we have many ideas such as, different accessories, making one a little smaller and one that is more water/weatherproof. OILMAN COLUMN
Page 41
Are you looking to expand your reach in the oil and gas marketplace? Do you have a product or service that would benefit the industry? If so, we would like to speak with you!We have a creative team that can design your ad! OilmanMagazine.com/advertise • Advertising@OilmanMagazine.com • (800) 562-2340 Ex. 1 ADVERTISE WITH US!
Page 42
Oilman Magazine / September-October 2019 / OilmanMagazine.com40OILMAN COLUMNThe Trouble with Oil Price Predictions By Lakshman Achuthan and Anirvan BanerjiPredicting oil prices is notoriously difcult because oil prices reect both supply and demand dynamics. Of course, supply issues garner the lion's share of the media's attention – often around geopolitical shocks – and are inherently unpredictable. Nevertheless, in reality, the demand side of the equation dominates sustained swings in oil price ination. Having studied such cyclical dynamics for decades, we have a clear understanding of the cyclical drivers of global oil demand to help us distill whether moves in oil prices are supported by directional shifts in demand growth, or are merely reective of supply-driven gyrations. When global economic growth slows, oil demand growth follows suit. Such swings in oil demand can also show up with a lag in measures closely followed by industry participants, including growth in rig count. Another key cyclical insight is that the trajectory of oil price ination – the growth rate of oil price – tracks broad industrial raw materials price ination, where cyclical demand is clearly the overwhelming driver of price action (see chart). Today, regardless of additional supply disruptions, the cyclical demand dynamics that underlie oil price ination point to more near-term weakness ahead. No doubt, oil prices are swayed by supply-related news on a day-to-day basis. This is not only because of very real, transitory supply distortions, but also because oil is an exchange-traded commodity subject to speculation. To see through these issues, our research group splits a set of sensitive industrial materials prices (that we have tracked on a daily basis for over 30 years) into two groups. One group consists of exchange-traded commodities, including oil, copper and nickel, and the other is comprised of their non-exchange-traded counterparts, such as natural gas, hides and steel. Most of the time, the prices of the exchange-traded and non-exchange-traded commodities move together, but they can diverge sharply on occasion. Because non-exchange-traded raw material prices are shielded from speculative forces, their prices more accurately reect the predictable uctuations in demand that are driven by cycles in global industrial growth.For example, around the onset of the Arab Spring, in early 2011, there was a spike in oil price ination, while non-exchange-traded com-modity price ination continued falling. These were in line with a cyclical slowdown in industrial growth. More recently, the behavior of those prices has also been tell-ing, with regard to those underly-ing demand dynamics. While raw material commodity price ination has mostly been declining since the start of 2017, oil price ina-tion followed suit only through mid-year, when OPEC supply cuts took hold, boosting oil prices. This divergence held through most of 2018 until, as worries about global demand mounted late last year, oil price ination tumbled back in line with that in non-exchange-traded commodities. Then, following the Fed's dovish pivot in January, oil prices participated in the speculative risk-on rally, only to reverse course yet again. Thus, despite its wild swings, oil price ination is actually well-anchored to the smoother and more predictable cyclical swings in non-exchange-traded commodity price ination. It is almost as if those non-exchange traded prices act as a trend line from which oil price ination may temporarily deviate. Therefore, when there are sharp directional divergences between the two measures of commodity price ination, supply-related or specula-tive distortions are likely at play. In other words, when oil price ina-tion spikes or plunges again, in the wake of speculation about supply or risk-on sentiment, a dangerous or fortuitous moment may be at hand. To understand which one it is, it pays to check what the non-exchange-traded commodity prices are signaling about where we are in the industrial demand cycle.Lakshman Achuthan is the co-founder of the Economic Cycle Research Institute (ECRI). He also serves as the manag-ing editor of ECRI-produced forecasting publications. Over nearly 30 years of analyzing business cycles, he has been featured in the Wall Street Journal, FOX Business News, the Washington Post, Forbes and many other publications. He is also a frequent guest on business and nancial news programs on CNBC, Bloomberg, Reuters and MSNBC. Achuthan has been a featured speaker at John Mauld-in's Investor Conference and the Levy Institute's Minsky Confer-ence. In 2004, he co-authored Beating the Business Cycle: How to Predict and Prot from Turn-ing Points in the Economy. Anirvan Banerji is the co-founder of the Economic Cycle Research Institute (ECRI). Additionally, he is the editor-in-chief of ECRI's forecasting publications and is the co-author of Beating the Business Cycle: How to Predict and Prot from Turning Points in the Economy. Banerji has been an invited speaker at events ranging from the Eurostat colloquium on modern tools for business cycle analysis to the Grant's Interest Rate Observer conference. Photo courtesy of lightwise – www.123RF.com
Page 43
Ernest N. Morial Convention CenterNew Orleans, LAOctober 28-31 Workshops & ConferenceOctober 29-30 Exhibitionwww.cleangulf.org34869The premier annual event for industry and government from North America and beyond to come together and discuss planning, preparedness and response issues for oil and hazardous materials spillsRegister with VIP code OILMAN19 for a $50 discount! 34869_CG19 Oilman Mag Ad.indd 1 6/5/19 8:12 AM
Page 44
Oilman Magazine / September-October 2019 / OilmanMagazine.com42Oil From Garbage: Any Prospects?By Eugene M.KhartukovAt the end of 2018 Wiederkehr Recycling AG (Switzerland) suc-cessfully held the second stage of continuous pyrolysis plant TDP-2-200 commissioning. The pilot run of the plant was carried along with C65 (65 kW) Capstone microturbine. The Thermal Decomposition Plant is equipped with a generator operating on produced pyrolysis gas presented with the maximum declared capacity.The rst stage of commissioning was held in June 2018 – the marketable products (pyrolysis fuel, synthetic gas and dry residue) obtained within sawdust processing matched stated specications.The TDP-2-200 plant, which is designed for automotive shredder residue (ASR) treatment, was mod-ernized and supplemented by gas cleaning system and complies with European Environmental Directives.What many energy investors are hoping for will be the "Next Big Thing" is a technology called the thermal depolymerization process, or TDP for short. The idea behind TDP is not new – in fact, it's millions of years old. Take organic matter, subject it to heat and pressure, and eventually you get oil. Of course, in nature, "eventually" is usually an inconvenient number of millennia; the TDP shortens that time to "hours," if you can believe that. The very approach was developed by Illinois microbiologist Paul Baskis in the 1980s and rened over the next 15 years. The technology was nally developed and patented for commercial use in 1996 by Changing World Technologies (CWT). Brian S. Ap-pel (CEO of CWT) took the technology in 2001 and expanded and changed it into what is now referred to as TCP (Thermal Conversion Process), and has applied for and obtained several patents for commercial use in 1996 by Changing World Technologies (CWT) of West Hempstead, New York. The full-scale plant already in operation in Carthage, Missouri, since 1999. CWT's Thermal Conversion Process purportedly reforms organic waste into renewable fuel oil, without com-bustion, incineration or toxic residue, providing a solution for solid waste management while creating a renew-able domestic source of energy. The TDP is a surprisingly straightforward ve-step process. First, raw materials are fed into an industrial-grade grinder where they're chopped up into extremely small bits and mixed with water. The mixture is then subjected to heat and pressure (around 250 °C and subjected to 600 psi (4 MPa), breaking molecular bonds and reducing the material to simpler components in as little as 15 minutes. The next step is reducing the pressure dramatically to drive off the water; in the process, some useful minerals such as calcium and magnesium settle out as a valuable byproduct. The remaining so-called "black slurry" is then sent to a second-stage reactor where it is heated to 500°C, further breaking down the longer chains, and the resulting petroleum is then distilled in a manner similar to conventional oil rening. The distillation step divides the hydrocarbons into vaporous gas (a mixture of methane, propane and butane), liquid oil (similar to a mixture of gasoline and motor oil), and powdered carbon.All that to say: garbage in, (black) gold out. The process produces no waste materials, unless you count water, which can be recycled in the system. The gas can be used to produce heat for the machine itself; oil can be sent to reneries to be made into a variety of useful products; carbon can be turned into everything from water lters to toner cartridges; and the remaining minerals can be used as fertilizer.Virtually any organic material can be fed into a TDP apparatus. By making adjustments to the combinations of temperature, pressure, and cooking times, various input products (referred to as feedstock) can produce a wide range of output products; the proportions of, say, gas to oil to carbon will depend on the composition of the feedstock. The rst fully operational TDP system is being used to recycle the waste at a turkey processing plant. All the turkey parts that aren't used as meat – skin, bones, feathers, and so on – are fed into the machine, thus solving a serious waste problem (up to 200 tons per day) while creating commercially valuable products. But TDP can also process discarded computers, tires (even steel-belted radials), plastic bottles, agricultural waste, municipal garbage…you name it. In fact, the city of Philadelphia is hoping to use TDP to convert the sludge that comes out of its sewage treatment plants into oil, which will later be used to generate electricity.Nothing is too messy or too scary for TDP to handle. It can make clean, safe materials out of nearly anything. Even medical wastes, dioxins, and other biohazardous materials. Even anthrax, for crying out loud. Apparently, the only kind of material this system can't handle is nuclear waste.The Carthage plant produces API 40+, a high value crude oil. It contains light and heavy naphthas, a kerosene, and a gasoil fraction, with essentially no heavy fuel oils, tars, asphaltenes or waxes. It can be further rened to produce No. 2 and No. 4 fuel oils. In order to better the plant's eco-nomics if then consumed the full waste output of the nearby turkey OILMAN COLUMN
Page 45
Oilman Magazine / September-October 2019 / OilmanMagazine.com43processing plant (270 tons of turkey offal and 20 tons of egg production waste daily). At the start of 2005, the Carthage plant was producing about 400 barrels per day (64 m3/d) of crude oil but still was reported to be running at a loss. Further 2005 reports summarized some economic setbacks which the Carthage plant encountered since its planning stages. It was thought that concern over mad cow disease would prevent the use of turkey waste and other animal products as cattle feed, and thus this waste would be free. As it turned out, turkey waste may still be used as feed in the United States, so that the facility must purchase that feed stock at a cost of $30 to $40 per ton, add-ing $15 to $20 per barrel to the cost of the oil. Final cost, as of January 2005, was $80/barrel ($1.90/gal).The above cost of production also excludes the operating cost of the thermal oxidizer and scrubber added in May 2005 in response to odor complaints (which, however, should have been directed to the turkey, not to the TDP oil plant).A biofuel tax credit of roughly $1 per U.S. gallon (26 ¢/L) on production costs was not available because the oil produced did not meet the denition of "biodiesel" according to the relevant American tax legislation. The Energy Policy Act of 2005 specically added thermal depolymerization to a $1 renewable diesel credit, which became effective at the end of 2005, allowing a prot of $4/barrel of output oil.It is noteworthy that the Energy-Returned-on-Energy-Invested (EROEI) ratio of the oil-produ-cing TDP is quite high – it is now estimated at 6.67, which is comparable to other energy harvesting processes. To be considered viable as a prominent fuel or energy source, a fuel or energy must have an EROEI ratio of at least three. By comparison, the current processes used to produce ethanol and biodiesel from agricultural products have EROEI in the 4.2 range, when the energy used to produce the feedstocks is accounted for (in this case, usually sugar cane, corn, soybeans and the like) (these EROEI values are not directly comparable, because these EROEI calculations include the energy cost to produce the feed-stock, whereas the above EROEI calculation for TDP does not). For conventional oil and gas produced in the USA EROEI is now estimated at around nine.TDP pyrolysis plants have proven themselves in Russia and the CIS countries. In particular, the py-rolysis technology offered by IPEC (International Power and Ecology Co.), a world leading producer of waste processing (pyrolysis) equip-ment, is a unique development in the Russian market. IPEC's Russian customers include the leading oil and gas companies of the Russian Federation (Rjsneft/RN-Uvatneft-egaz, Gazprom Neft, NOVATEK, LUKOIL-Komi, etc.), industrial and service companies ETK KazSlanec, BT-PROMOTKHODY, Apatit, etc.), as well as municipalities and the private sector (like the Kaliningrad Region's Unied Waste Management System). However, it should be noted that these TDP pyrolysis plants do not produce any oil, being designed to utilize drilling waste or to burn municipal garbage for electricity.In 2016, an inter-national certicate was issued for the entire range of IPEC's TDP-2 continuous pyrolysis plants for compliance with the European Directive 'On the Safety of Machines and Equipment' (2006/42/ EC). Compliance with international standards allowed starting deliveries to the European market. Currently, TDP-2-2000 projects are implemented for the Estonian company Aktsiaselts VKG Oil (Viru Keemia Grupp). In Europe, however, no oil is now usually produced from city garbage. Instead, waste (used) cooking oil from restaurants is widely utilized to produce a quality diesel fuel across Europe – in the UK it is being even ofcially blessed and monitored by the National Environment Agency.The TDP technology is currently of limited use in Asia. Still, at the end of 2017 Thailand has bought a waste plastic pyrolysis plant from Zheng-zhou-based (China) Doing Company to be installed in Bangkok. This waste plastic pyrolysis plant has a small capacity; it could process 1-ton waste tires or waste plastic per day. In Thailand, there is so much waste plastic in the household garbage.Prospects Although it would be easier and less expensive to simply burn the municipal garbage, some U.S. cities are planning or at least deliberating to use the TDP to convert the sludge that comes out of their sewage treatment plants into oil, which will later be used to generate electricity. There are no published forecasts of oil from garbage production worldwide but, according to the World Bank's Urban Development Department, by 2025 the amount of global municipal waste will rise from 1.3 billion tonnes per year today to 2.2 bln tonnes per annum, with over 11.6 percent of the total being accounted for by the USA.We, in the CPBS, estimate that by 2030 only in the States there will be at least ve oil-producing TDP plants, located near or within the territory of New York, Los Angeles, Chicago, Houston, and Philadelphia, with a combined capacity of around 3,000 b/d. Surely, not too much and not very impressive but this is only the beginning and, how it was wisely noted on the matter by one U.S. writer, "we won't run out of oil as long as we have garbage." Eugene Khartukov is a Professor at Moscow State University for International Relations (MGIMO), Head of Center for Petroleum Business Studies (CPBS) and World Energy Analyses & Forecasting Group (GAPMER) and Vice President (for the FSU) of Geneva-based Petro-Logistics S.A. Khartukov has authored and co authored over 320 articles, brochures and books on petroleum and energy economics, politics, management, and oil and gas in the FSU, Russia's Far East, the Caspians, Europe, the OPEC, ME and Africa. Participated as a speaker and/or a session chairman in more than 170 international energy, oil and gas and economic fora. OILMAN COLUMN
Page 46
Oilman Magazine / September-October 2019 / OilmanMagazine.com44OILMAN COLUMNInterview: Rachel Olney, Founder and CEO, GeositeBy Sarah SkinnerSarah Skinner: Can you tell me how Geosite got its start? Rachel Olney: The idea for this company was many years in the making. I was fortunate enough to do a study for the Air Force years ago that gave me one of the best top level views of what was happening with commercial space and how it would impact other non-space industries, despite my academic focus in manufacturing. It ended up snowballing into a deep involvement with US Special Operations and an opportunity to help shape and advance innovation efforts happening across the Department of Defense. I got to spend a lot of time in some really intense places with some of the most capable people in our military. But deep down, I have always had a love for efciency that was cemented in my time with heavy industry. When I heard that one of the teams I was working with had multiple casualties due to a process problem that could be solved with technology - technology I understood - I knew I needed to start Geosite. SS: How would you describe Geosite's capabilities? RO: Geosite is a project management software for teams operating across the surface of the earth. Our application leverages the proliferation in satellite imagery sources and sensor systems to let organizations with distributed operations better coordinate and leverage assets (like people and equipment). Most humans are visual and Geosite is the platform that allows spatially distributed teams to communicate visually about their operations and to intuitively and collaboratively map operations. Geosite enables customers, from the U.S. Military to the energy industry, to use spatial data for more rapid and accurate planning and operations through intuitive workows and collaboration tools.SS: What led you to believe that there was a market out there for a different kind of geospatial software?RO: There are two main compounding factors. First, before Geosite, software for spatial data was built solely for geospatial scientists. However, more than just engineers or scientists need to leverage this data to make smarter decisions to drive safety and efciency. Because we select the best commercial and government data for our customers and have built a system that can ingest and translate data into an intuitive and visual tool, it takes out much of the learning curve and allows professionals with many different backgrounds and types of expertise to leverage technology. Second, there is simply more and more spatially referenced data - everything from updated imagery of the oil elds, to ood data and terrain. Organizations also want to see the data their own systems are producing, from production numbers to GPS trackers. I see E&P companies looking at 12 different pieces of software just to stitch together a cohesive picture of what is happening in the eld rather than seeing a holistic picture, which leads to extremely costly and dangerous mistakes. SS: How can access to this kind of data benet companies? RO: With the digitization of the oil eld, E&P companies have more data from tracking and monitoring systems than they can intelligently incorporate into their operations. Geosite visualizes this data, allowing organizations to decrease time and labor effort in the eld and increase safety through management by exception. Additionally, the project-based communications on Geosite's platform allow your team to connect with services companies and contractors on specic projects - especially because our pricing is not per-seat. Lastly, Geosite gives E&P companies a collaborative, easy to use mapping environment. The ability to visually communicate decreases logistics delays and access to daily and high resolution satellite imagery that lets your team see what is happening in the eld. Geosite's data library also serves ood and environmental data - the ability to easily incorporate this information into planning helps increase safety and decrease risk. SS: Have you seen much of a demand for your product in the oil and gas industry?RO: The response has been incredible because many of our customers didn't even know what we had built was possible - or even that the technology and data exists, especially on the space side. Many oil and gas companies have trouble knowing the conditions in the eld without physically sending someone out to check. This is costly in many ways, including time and personnel, and it also generates more risk. Geosite provides the most up-to-date and highest resolution satellite imagery available, which allows operators to conduct desktop recon. Even more importantly, many oil companies have started investing in collecting more and better data, but few have seen this affect their bottom line because the software to integrate this information into their daily processes did not exist. Geosite answers this problem by linking this data into the right software to leverage the information across the enterprise.SS: How can it be benecial to oil and gas E&P companies? RO: Few companies can realize gains from satellite and sensor data because they can't integrate data and analytics into their business operations. In fact, creating a simple map of company assets usually requires advanced training and creates a bottleneck in the decision-making process. Geosite solves this problem by connecting executive, project management, and workforce teams to world-class satellite imagery and real-time sensor data in automatically updated maps. While projects are completed, users can view and edit project maps and data in Continued on page 46...
Page 47
Join us for TPS 2019 and be part of the exchange of ideas that impact turbomachinery, pump, oil & gas, petrochemical, power, aerospace, chemical water and related industries. The expert‑selected technical program, combined with the internaional exhibition makes TPS the perfect platform for networking and learning new problem‑solving methods and technologies.48TH TURBOMACHINERY& 35TH PUMP SYMPOSIASHORT COURSES: SEPT. 11SYMPOSIA & EXHIBITION: SEPT. 10‑12REGISTRATION OPENS SUMMER 2019LEARN MORE AT TPS.TAMU.EDU#TPS2019 #TurboPump19
Page 48
Oilman Magazine / September-October 2019 / OilmanMagazine.com46real time. Teams with different roles can view or add comments to make it easier and faster to communicate. Executives can easily review project summaries and maps; project managers can track project status in real time and create work orders; and workers can use spatial data and tags for daily tasks.SS: How can you get your name out to these companies and let them know that there is satellite data out there other than Google?RO: When I rst started talking to people in the oil and gas industry about Geosite, I assumed that they knew there was data they could lever-age but just didn't have access to. However, this turned out to be a false assumption. In hind-sight, it makes sense that they wouldn't know what is available - I had the "curse of knowl-edge" and assumed people knew what I knew. Yet, I spent years learning about the space and geospatial industries. We actually ended up shift-ing some of the features of Geosite to ensure our customers would not need to come up the steep learning curve of the geospatial industry. Ultimately, the major focus for any company is the needs of its customers. When we commu-nicate how we solve real problems facing the oil and gas industry, our customers understand how they can leverage our technology. It's never just about the technology itself. SS: You've spoken about Geosite being more simplied and user friendly. What kind of in-depth training would a company be looking at for their personnel once they purchase the software?RO: We built our platform so that anyone, regardless of background, could use it - not just GIS experts. It should not take more than 10 minutes to explain the full functionality of our platform, which is very different than geospatial software from the past decade. So there is no training required. We pride ourselves on this point because training and onboarding often become large barriers that keep businesses from using new software. However, unlike most software marketed towards enterprises, and more like the types of applications consumers are used to, Geosite is extremely intuitive, and as we get feedback for certain tools to incorporate more depth and complexity, we will make sure those tools remain self-explanatory. SS: What is Geosite looking toward for the future?RO: Geosite is currently working towards the integration of more sensor data (GPS and SCADA) so that users can track asset locations and status anywhere in the world. With the digitization of the oil eld, we are working closely with sensor companies that are creating exquisite sensors, data, and analytics to help increase efciency, accuracy, and safety. For instance, Reservoir Data Systems is doing some incredible things creating and analyzing data during completion. Because my background isn't in oil and gas I love connecting with these kinds of experts that are truly pushing the envelope and deeply understand the industry. Moreover, it is the creation of all of this incredible data that drives Geosite's thesis for project management software that lets diverse teams leverage better data. In the short term, we are also excited to work really closely with our rst major oil and gas customers and adapting Geosite to meet all of their needs. Rachel Olney is the Founder and CEO of Geosite Inc. Her academic research at Stanford focused on innovation in bureau-cratic and hierarchical organizations as well as mechanical and systems engineering and design. Rachel also informed future plan-ning for the military's actions to leverage commercial imagery and communications platforms to create improved intelligence products and resilient planning and opera-tions systems. Her company, Geosite, is backed by the top Venture rms in Silicon Valley, including YCombinator. OILMAN COLUMNSEAL OF DEPENDABILITYWWW.OILCENTER.COMwww.oilcenter.com | 800.256.8977 | esales@oilcenter.comQUALITY THROUGH RESEARCHENVIRONMENTALLY FRIENDLY PRODUCTSSPECIALTY GREASES & OILSCLEANERS & DEGREASERSTHREAD COMPOUNDSWIRELINE PRODUCTSVALVE PRODUCTSPIPE COATINGSOIL CENTERRESEARCH LLC
Page 49
MEET OVERATTENDEES IN ONE DAYWWW.OKOILEXPO.COM3,600OCT. 11OKC STATE FAIR PARK
Page 50
Oilman Magazine / September-October 2019 / OilmanMagazine.com48OILMAN COLUMNEnhance Security in Oil and gas Asset Integrity Management: The Latest Technologies and Strategies to Protect Digital Data By Dave MaguireThe IIoT has transformed the landscape of Asset Integrity Management for the oil and gas industry. By empowering owner-operators with the ability to interconnect a vast array of physical assets on one digital platform, IIoT facilitates improved productivity, protability, inspection scheduling, and corrosion mitigation – all while signicantly reducing the likelihood of asset failure. These benets have been driving the increased adoption of digitalization in oil and gas AIM (Asset Integrity Management). The new benets of digitalization also come with new challenges. In the case of operational AI, that challenge is the security of inspection data. In order to protect the integrity of asset and inspection data, it is imperative that oil and gas operators take into consideration the potential vulnerabilities and weaknesses inherent within their AIM software and processes – and utilize the right tools to ensure that necessary countermeasures and safeguards are in place.The ChallengeThere are two facets to security in this industry: OT (Operational Technology), which refers to software (or hardware) that directly monitors and controls physical assets in the enterprise, and IT (Informational Technology) which deals more with overall information processing. For the purposes of this article we will focus on the OT aspect of oil and gas operations. In the old technological climate, owner-operators would manually manage operational maintenance and equipment integrity using paper-based processes, Excel spreadsheets or monthly reporting cycles. In today's era of digitalization, operators can deploy AIM software platforms that aggregate, centralize, store and analyze all data from disparate sources into one database. They can utilize intelligent data analytics such as RBI (Risk Based Inspection) and IOW (Integrity Operating Windows) to garner actionable intelligence from their data in real time, making it possible to stay on top of asset performance and adopt predictive maintenance before costly loss of containment or unplanned shutdowns occur.The data from this software is stored digitally either in the cloud or in an on-premise database using the company's own servers. Thus, the challenge becomes protecting the security and integrity of the data where it's stored – ensuring no third parties can access or manipulate the information and protecting it from attack.For oil and gas owner-operators, that risk can manifest in a multitude of ways. Incorrect data entry, access to and manipulation of data by an unauthorized user, storage of data on unprotected servers or databases or weak security processes that create vulnerabilities for the data to be altered or exposed to threat. Any of these can compromise the efcacy of the AIM program. The key to achieving the benets of IIoT – optimized inspection scheduling, prolonged equipment life and fewer shutdowns – relies on the protection and security of the AIM data.The SolutionThe best way to leverage technology is to seek out an AIM software that utilizes secure encryption, robust databases, and the option to host data either on-premises or in the cloud. While security experts had concerns about cloud hosting when the technology was in its infancy, these days it has become exponentially more secure – arguably even more so than on-premise servers. With automatic security controls in place, companies don't have to invest the time and effort in protecting their on-premise data. There are fewer vulnerabilities to third-party access, no risks of physical access and better overall resiliency to threats such as natural disasters or re. Additionally, the technology behind the cloud is always current and Image courtesy of Metegrity
Page 51
Oilman Magazine / September-October 2019 / OilmanMagazine.com49OILMAN COLUMNevolving automatically – unlike the manual process of updating and maintaining an array of physical hardware.Advancements in AIM technology for oil and gas operations have led to the availability of software that offers securely encrypted cloud-based hosting. In fact, there are now eld-based software tools that make it possible to conduct and manage asset inspections directly from the eld via mobile tablet. To ensure that your asset data is protected, seek out a software that provides:• Robust database with secure encryption. This can be on-premises or in the cloud. Ideally, this should be an industry-standard database such as Oracle that professional DBAs can be hired to manage, audit and secure if on-site, rather than a proprietary system created by the AIM software developers.• A designated security feature designed to control access to data, establish a hierarchy of user access designations and automate security countermeasures within the software. This feature should be fully customizable, allowing the operators to adjust security functions, user levels, etc., according to their unique needs and goals.• Seamless regulatory compliance to all major regulatory industry codes (including ASME, API, OSHA, etc.). The software should be able to generate a customized report tailored to the specic industry standard with the click of a button – and securely retain all relevant data in a clear and transparent audit trail.• Integration with Microsoft Excel. As the industry catches up with digitalization, there is still heavy existing use of Microsoft Excel by engineers in the eld. However, leaving critical asset data in Excel leaves it vulnerable to access and manipulation. An AIM software with Excel integration can extract all of that data and lock it securely into the AIM database where it is protected from alteration.• The ability to support Transport Layer Security (TLS) 1.2, the current industry standard for secure connections which provides defense against exploits like BEAST, POODLE and DROWN.• Mobile application with integration. The app should complement, connect to and seamlessly integrate with the larger AIM software – this helps mitigate data entry and human errors.A quarantine feature for mobile asset inspec-tion tools – one that places a hold on all inspection data received from the eld so it can be thoroughly checked for quality assurance. Operators should also ensure that the AIM software selected comes with comprehensive support – this should include professional con-sultation and assistance with implementation, to ensure that the legacy data is properly sorted and populated; comprehensive training services to ensure that operators are aware of the most effective and secure methods for utilizing the software; and ongoing technical support to assist with, prevent and/or rectify any breaches or threats. If you are interested in selling your deal in this current market, you won't be alone in Q4. The market shift from hold to sell is happening, and it's happening in a big way. The marketed deals will be done on a much larger scale, the smaller deals are being transacted off-market, because the value-add from mass marketing a smaller (sub $15MM deal) isn't there. The buyers in this market are looking at cashow, and are buying on current cashow. Little to no upside value is being attributed for PUD or acreage, even in the Permian and Delaware. The PV values being offered on operated deals are anywhere between PV15 and PV25 – which in honest terms are "cashow."What we've been seeing is a much larger buying base than any other time in the last decade. However, the sellers are, for the most part, interested in selling out for better PV numbers than any of the buyers are willing to give. That will push a huge wedge between the buyers and sellers, causing a gap in pricing consistent with the 2015 gap.The larger, WSJ reported deals of the hundreds of millions will still be accomplished by the end of Q4, because the brokers will pitch to the publicly traded companies that they can cover the difference of an elevated sales price with the increase in stock value. The smaller deals, however, will be reevaluated to reect the market. And sellers will either admit the value or continue to hold (if they can). You may not like that the KBB value of your car is what it is (trust me, I put 120,000 miles on my car last year), but that's the value. The sooner the sellers understand that the cashow multiple is the deciding factor, the better. Keep the PUD's, the acreage, the "upside" and have the wells sold hold it. Work out different ways to capitalize on the upside. Because in the foreseeable market, if you want to get paid for upside, you are going to have to drill it yourself.There will be a signicant number of sellers in Q4 and Q1 – selling at cashow multiples (especially as the Presidential race gets more prevalent towards mid-2020). Take advantage of the buyer networks available to transact now. Quick View of The Acquisition & Divestiture Market By Josh Robbins
Page 52
Oilman Magazine / September-October 2019 / OilmanMagazine.com50Oilman Magazine / September-October 2019 / OilmanMagazine.com50OILMAN COLUMNAugmented Reality: More than a Game By Sarah SkinnerThere are all kinds of new technologies and up and coming software out there that are capturing our attention daily. It's exciting to wait in anticipation for what is around the corner, metaphorically and literally, as you watch newscasters video the masses camping out waiting for the newest iPhone to arrive in stores. When you think "new and exciting technology" it's possible that the energy industry sector is not the rst one to come to mind as a beneciary of such progress, but this industry has been a grateful recipient of many of these advancements and really, they're just getting started.The most exciting at the moment is not just a software though, it's an entire experience. It's the experience of Augmented Reality (AR). The most familiar and recognizable AR experience is probably Pokémon Go. Pokémon Go uses a real world environment where computer generated objects are placed within a game for people to play. While enhancing the perception of what is in front of them, it gives consumers a computer generated immersion into a real environment, which results in a fun and exciting altering of the normal world in which we live, so it easily explains its appeal. Now imagine a far more advanced version of AR and what its emergence into the energy industry could lead to. The solutions it could provide are countless. One of the leading augmented reality multi-source knowledge platforms for enterprises is called Fieldbit. Fieldbit got its start in 2014 and is headquartered out of California. The augmented reality platform offers eld service technicians rich, real-time information and guidance through interactive collaboration with experts and digital resources, enabling them to solve critical problems effectively and efciently, thereby reducing the need for costly technician visits.Previously, solutions were made on paper or on computers, which is still 2D. But with AR, there is a different kind of knowledge out there. Technicians in the eld can interact with an expert located at headquarters for troubleshooting, which saves a company from a costly site visit. Everyone within an organization can look in on the environment at hand in real time through devices like phones, tablets or through smart glasses. With smart glasses, the experience is much more natural and efcient since people need their hands to work. Any way you choose, all of the information is presented in front of you and the ability to show and interact with digital information that is superimposed with physical objects is literally at your ngertips. Evyatar Meiron, CEO of Fieldbit says "If you look at what an oil rig actually looks like – it is a very complex site with pipes, tanks, etc. Fieldbit aims to smooth the process of xing an oil rig by creating a map that highlights where everything is located and ag exactly where a malfunction is so that the technician can easily locate the issue and x it in real-time." With a technology as advanced as this one, it would seem that a large amount of time for training would go into learning about it. It's actually such a small amount of training that it's similar to applications on mobile phones. The application is started and the consumer just browses through it to see how it functions. In addition, there is not much training on the workforce side of things either. The knowledge sources for the technician is between the technician on site and the expert in the service center. There are three knowledge assets here: collaboration, visualization and the ease of integration of other enterprise software. "The idea is to create an easier process for the technician and cost savings for the enterprise. So Fieldbit created a technology that is user friendly, informative, and does not require a lot of training for the technicians to get on board. Ease of use and simplication is our goal," says Meiron.Safety is another crucial benet that AR offers. Many companies must monitor and obtain equipment in hostile environments. Having the ability to access the most up-to-date and compliant safety procedures in their eld of view is an advantage that is hard to pass up. EMR rates can make or break a company and safety should be at the forefront of everyone in this industry. AR being able to take a step by step approach with an employee to ensure tasks are done safely and correctly is a huge advantage. AR spans many industries, but it is not a stretch to say that the energy industry will thrive from this revolutionary technology. The ability to be the eyes, ears and hands on ground, no matter the location, is invaluable. The possibilities are endless when experts, owners, subcontractors, technicians, etc., can be on site and fully engaged, without physically being present. It is amazing and inconceivable to think that we've reached a time where this technology actually exists. It's exciting to watch the merging of this kind of technology with the energy industry and we eagerly anticipate what is to come! Photo courtesy of nicoelnino – www.123RF.com
Page 53
BIGGESTBIGGERBIGFOR NEW PROJECT OPPORTUNITIES THROUGHOUT THE US, CANADA AND LATIN AMERICAbe THERERegister at americas.breakbulk.comTHE ORIGINAL BREAKBULK EVENTFor everyone involved in procurement, transport and logistics of oversized cargoesOctober 8-10, 2019 George R. Brown Convention CenterHouston, Texas, USA
Page 54
Oilman Magazine / September-October 2019 / OilmanMagazine.com52OILMAN COLUMNColorado Governor Continues War on Oil and Gas By Jason SpiessShortly after Jared Pollis was sworn in as the 43rd governor of Colorado he issued a declara-tion of war against oil and gas in the state of Colorado. Since then there has been a political battle between the people and politicians from cafes to town halls to the state capital steps. Last April, the Governor signed a "local control" which calmed some of the political waters from the appointed industry leaders and politicians. However, small businesses and grass roots industry leaders still had questions and were not completely convinced the Governor's war on oil and gas was over. Last month, Whiting Petroleum Corp. eliminated 254 positions or a third of its workforce, including 94 executive and corporate positions at its Denver headquarters. While there are a myriad of reasons for these layoffs, the ongoing uncertainty permeating in Colorado's oil and gas sector cannot be discounted or ignored.Heath Holloway, CEO and managing member, Titan Solutions, lives in Denver and has an ofce in Greeley, which is located in Weld County, the state's top oil and gas county. Holloway is also a third-generation oil and gas professional, following his father and grandfather."It's pretty interesting right now with Governor Pollis and his war on oil and gas," Holloway said. "In the past a lot more people were quiet or hid the fact they worked in oil and gas, but today, more and more are stepping up and courageously standing up for the industry." Perception plays a role in the future of oil and gas. The blueprint of the Extreme Environ-mentalists is akin to a cult or some religions, giving the environment an intense emotional attachment. Colorado's pristine rivers and Rocky Mountain highs became the perfect backdrop for a smoke and mirrors eco-opportunity. This is the angle of the debate Holloway knows very well since Titan Solutions provides containment solutions to prevent spills and enable companies to maintain consistent operations. Their containment solutions range from whole site containment to creative custom designs that addresses unique site issues."A lot of people do not even know that Colorado has oil and gas activity," Holloway said. "When I go to conferences or on vacation with my family people are surprised when I tell them not only is there oil and gas in Colorado, Weld County is one of the top counties in the nation." Over the past decade, Weld County has been one of the top oil and gas producing counties in the United States. Yet, there are still people in Colorado who are unaware of the industry's economic impact and community development opportunities."It's about educating people right now. We bring people in all the time to talk to our employees and family members about what is going on in their slice of industry," Holloway said. "This way our people know what is going on, how it affects us, how it affects everybody."Holloway continued saying there are still meetings and town halls happening every day in the state in an attempt to scale back some of the perception and regulation against the oil and gas industry. "There's a good group out there called Energy Strong (Colorado) that is working for all of us putting in the time and effort at town halls when many of us cannot be there," Holloway said. "This has enabled and created a new network of shared information that never existed before."Energy Strong Colorado is a result of Senate Bill 181, which created major restrictions and changes to how oil and gas development is regulated in Colorado. But worse, it created more uncertainty for the industry.According to Energy Strong Colorado's website, their mission is to unify the blue and white-collar professionals of Oil and Gas, while fostering community among the Oil and Gas workforce, the supporting industry workers, and industry supporters. Their website also states the advocacy group educates others about the benets of promoting the advancement of natural resource exploration and extraction in Colorado. "Through education and empowerment, we ardently defend any and all attacks against the professionals of the Oil and Gas industry, its workers, and their families". Energy Strong Colorado's site states.Jack Hamlin, president of Summit Engineering and vice president of Energy Strong Colorado says it was quite an undertaking in the beginning due to a learning curve in the new age of politics, logistics and technology. But after a crash course in reality, Energy Strong Colorado mobilized the troops."We had to get people mobilized, that's the essence of what this is about," Hamlin said. "Basic things like educating our industry on what was going on, live streaming the meetings so our colleagues could see the narrative the opposition was trying to push." Hamlin said it was "alarming" to hear what many had thought about the oil and gas industry. "It's turned into a (political) partition issue and it really is not," Hamlin said. "It's about energy independence, about how we get better and how safe it is." At the end of the day, however, Holloway believes education and engagement will be the solution to Colorado's energy issues. "I think it is getting back to the basics about what oil and gas is. From plastics to cars to jobs to really almost everything." Holloway said. "There needs to be an understanding of what oil and gas is. What it means to communities." Titan Solutions began as a small supplier of LED light plants. Today they have grown to offer numerous business lines to a multitude of companies.
Page 55
www.beachwoodmarketing.comBeachwood navigates teams to find deals that no one else can.2828 NW 57th Street, Suite 309 l Oklahoma City l (405) 463-3214We don't market to test the waters, we hit the market to make waves.
Page 56
800-208-7918 nyb.comPERFORMANCE ISSUES?PROBLEMSDebris Buildup Causing Imbalance Changes in Operating Conditions Excessive Erosion and/or Corrosion Repeated Maintenance/Performance IssuesBENEFITSCustom Solutions to Diffi cult Problems Retrofi t Any Manufacturer's FanSOLUTIONImproved Effi ciency/Energy Savings Maximized ROI for Equipment Life Cycle Costs Rapid Adaptation for New Production Demands "Better than New" Reliability