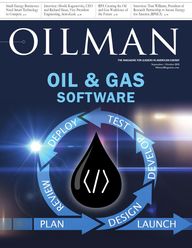 Return to flip book view
Oilman Magazine Sept/Oct 2018
Page 1
THE MAGAZINE FOR LEADERS IN AMERICAN ENERGYSeptember / October 2018OilmanMagazine.comOIL & GAS SOFTWAREInterview: Tom Williams, President of Research Partnership to Secure Energy for America (RPSEA) p. 36Small Energy Businesses Need Smart Technology to Compete p. 4Interview: Shoshi Kaganovsky, CEO and Richard Haun, Vice President Engineering, SensoLeak p. 20RPA Creating the Oil and Gas Workforce of the Future p. 24
Page 2
AFE On DemandProduction On DemandLand On DemandWellEz On DemandFund projectsfaster.Buy, sell, andmanage leases.Analyze well siteoperations.Capture, allocate, andreport on production.Drilling & Completion AccountingLand ManagementProductionRun with the power of one. Unify your operations with a complete upstream solution deployed in just 60 days.www.quorumsoftware.comRun your E&P business with the speed andsavings of software in the cloud.Upstream Software On Demand
Page 3
IN THIS ISSUEFeatureThe Evolution of Efciencyin Oil and Gas SoftwareBy Sarah Skinner - pages 18 & 19In Every IssueLetter from the Publisher – page 2OILMAN Contributors – page 2OILMAN Online // Retweets // Social Stream – page 3Downhole Data – page 3Texas Oil & Gas Industry Overview – page 9Product Showcase: Fox Thermal – page 10OILMAN ColumnsJason Spiess: Oil and Gas Industry Energizes Multimedia Kidtrepreneur's View on Capitalism – page 6 & 8Josh Robbins: Early Winter – page 12Mark A. Stansberry: American Natural Gas and NATO – page 15Tonae' Hamilton: Interview: Shoshi Kaganovsky, CEO and Richard Haun, Vice President Engineering, SensoLeak – page 20 & 22Tonae' Hamilton: Revamping the Oil Industry with Technology and the Millennials – page 25 Eric R. Eissler: Permian Basin Outgrows Pipeline Infrastructure, Construction Boom Underway but has Growing Pains – page 28 Tonae' Hamilton: Interview with Phillip Bird, Collector, Oklahoma Oil and Gas Memorabilia – page 30 & 31 Eric R. Eissler: Natural Disasters Strike, but the Oil and Gas Community is Ready to Repair and Pull Through – page 32 & 33 Tonae' Hamilton: Innovating the Industry with an Energy Start-up – page 34 & 35 Thomas G. Ciarlone, Jr.: The Neverending Story: "Fixed" vs. "Floating" Royalties in Texas – page 35 Eric R. Eissler: Interview: Tom Williams, President of Research Partnership to Secure Energy for America (RPSEA) – page 36 & 37 Gifford Briggs: Elections: What's at Stake – page 37 Jason Spiess: Meridian Energy Group Meeting Timeline Objectives for Davis Renery While Expanding Engineering Operations in Houston – page 38 Guest ColumnsMatthew Mott: Small Energy Businesses Need Smart Technology to Compete – page 4Susan Synder: Earthquakes, Wind, Fire & Storms: Onshore Oil & Gas Production Operations Disaster Preparedness – page 5Nick Spanos: With Blockchain, the Energy Industry will Soon Become Unrecognizable – page 11Corrosionpedia: Four Reasons Oil and Gas Pipelines Fail – page 14 & 15Rich Radi: Are Fleet Accident Costs Hiding in Your Blind Spot? – page 16Allen Yoho: RPA Creating the Oil and Gas Workforce of the Future – page 24Brian Schrader, Esq., BIA: Why Oil and Gas Companies Should Consider eDiscovery as a Standard Business Process – page 26Oilman Magazine / September-October 2018 / OilmanMagazine.com1AFE On DemandProduction On DemandLand On DemandWellEz On DemandFund projectsfaster.Buy, sell, andmanage leases.Analyze well siteoperations.Capture, allocate, andreport on production.Drilling & Completion AccountingLand ManagementProductionRun with the power of one. Unify your operations with a complete upstream solution deployed in just 60 days.www.quorumsoftware.comRun your E&P business with the speed andsavings of software in the cloud.Upstream Software On Demand
Page 4
Gifford BriggsGifford Briggs joined LOGA in 2007 working closely with the Louisiana Legislature. After nearly a decade serving as LOGA's Vice-President, Gifford was named President in 2018. Briggs rst joined LOGA (formerly LIOGA) in 1994 while attending college at LSU. He served as the Membership Coordinator and helped organize many rsts for LOGA, including the rst annual meeting, Gulf Coast Prospect & Shale Expo, and board meetings. He later moved to Atlanta to pursue a career in restaurant management. He returned to LOGA in 2007.Mark A. StansberryMark A. Stansberry, Chairman of The GTD Group, is an award-winning author, columnist, lm producer, radio talk show host and 2009 Western Oklahoma Hall of Fame inductee. He has been involved in the oil and gas industry for over 39 years. He is currently serving as Chairman of the Board of the Gaylord-Pickens Museum/Oklahoma Hall of Fame, Vice Chairman of the Board of Regents of the Regional University System of Oklahoma, Board of Directors of OKC Port Authority, Board of Governors of the Recording Academy/Grammys Texas Chapter, Lifetime Trustee of Oklahoma Christian University and Board Emeritus of the Oklahoma Governor's International Team. He has served on several private and public corporate boards.Jason SpiessJason Spiess is an award winning journalist, talk show host, publisher and executive producer. Spiess has worked in both the radio and print industry for over 20 years. All but three years of his professional experience, Spiess was involved in the overall operations of the business as a principal partner. Spiess is a North Dakota native, Fargo North Alumni and graduate of North Dakota State University. Spiess moved to the oil patch in 2012 living and operating a food truck in the parking lot of Macís Hardware. In addition to running a food truck, Spiess hosted a daily energy lifestyle radio show from the Rolling Stove food truck. The show was one-of-a-kind in the Bakken oil elds with diverse guest ranging from U.S. Senator Mike Enzi (WY) to the traveling roadside merchant selling ags to the local high school football coach talking about this week's big game.Joshua RobbinsJosh Robbins is currently the Chief Executive Ofcer of Beachwood Marketing. He has consulted and provided solutions for several industries, however the majority of his consulting solutions have been in manufacturing, energy and oil and gas. Mr. Robbins has over 15 years of excellent project leadership in business development and is experienced in all aspects of oil and gas acquisitions and divestitures. He has extensive business relationships with a demonstrated ability to conduct executive level negotiations. He has developed sustainable solutions, successfully marketing oil and natural gas properties cost effectively and efciently. Thomas G. Ciarlone, Jr.Tom is a litigation partner in the Houston ofce of Kane Russell Coleman Logan PC, where he serves as the head of the rm's energy practice group. Tom is also the host of a weekly podcast on legal news and developments in the oil-and-gas industry, available at www.energylawroundup.com, and a video series on effective legal writing, available at www.theartofthebrief.com.Steve BurnettSteve Burnett has been working in the oil industry since the age of 16. He started out working construction on a pipeline crew and after retirement, nishes his career as a Pipeline Safety Compliance Inspector. He has a degree in art and watched oil and art collide in his career to form the "Crude Oil Calendars." He also taught in the same two elds and believes that while technology has advanced, the valuable people at the core of the industry and the attributes they encompass, remain the same. Phil GravesPhil Graves has spent nearly a decade working in the oil and gas industry. He has served as Director of Sales and Director of Digital Development for a large national industry publication and has held various management positions with a completions company and was in charge of operations in the Permian Basin and Eagle Ford shale. Phil now runs a marketing and photography company focused on providing vivid images of the industry at work in multifaceted disciplines and projects.There has been a huge leap in the oil and gas space to embrace software to improve productivity on the corporate side, in eld locations and at production sites. Over the last few years the industry has been introduced to technology terms such as big data, machine learning, articial intelligence and IoT or Internet of Things. Blockchain and bitcoin has also entered the oil and gas arena. Data visualization is another popular tool used today to quickly interpret and process data as it is created and displayed. At the same time, there has been a push to transfer all productivity data to remote servers or to a cloud storage. However, the industry has been slow to fully adopt this measure. Maintaining control of critical data is still a priority for many oil and gas companies. There are now several companies in the oil and gas industry creating software tools that improve the way employees complete work assignments in various departments from accounting and procurement to design and production. In this issue of OILMAN we dive into how the oil and gas industry deploys software that allow personnel to do more tasks in less time and how the industry is using technology to pull and review information in the eld that was once a manual process. The race is on to connect human capital to technology that will position the oil and gas industry for growth.MAGAZINESEPTEMBER — OCTOBER 2018PUBLISHER Emmanuel SullivanMANAGING EDITOR Sarah SkinnerASSOCIATE EDITOR Tonae' HamiltonFEATURES EDITOR Eric EisslerGRAPHIC DESIGNER Kim FischerCONTRIBUTING EDITORS Gifford Briggs Steve Burnett Thomas Ciarlone, Jr. Joshua Robbins Story Sloane III Jason Spiess Mark StansberrySALES Eric FreerTo subscribe to Oilman Magazine, please visit our website, www.oilmanmagazine.com/subscribe. The contents of this publication are copyright 2018 by Oilman Magazine, LLC, with all rights restricted. Any reproduction or use of content without written consent of Oilman Magazine, LLC is strictly prohibited.All information in this publication is gathered from sources considered to be reliable, but the accuracy of the information cannot be guaranteed. Oilman Magazine reserves the right to edit all contributed articles. Editorial content does not necessarily reflect the opinions of the publisher. Any advice given in editorial content or advertisements should be considered information only.CHANGE OF ADDRESS Please send address change to Oilman Magazine P.O. Box 771872 Houston, TX 77215 (800) 562-2340Cover images courtesy of Elnur Amikishiyev and Juan Pablo Gonzalez – www.123RF.comLETTER FROM THE PUBLISHERCONTRIBUTORS — BiographiesOilman Magazine / September-October 2018 / OilmanMagazine.com2Emmanuel Sullivan, Publisher, OILMAN Magazine
Page 5
Oilman Magazine / September-October 2018 / OilmanMagazine.com33For The Week Ending August 31, 2018DIGITAL DOWNHOLE DATAColorado: 30Last month: 32Last year: 37 North Dakota: 52Last month: 57Last year: 52 Texas: 528Last month: 524Last year: 456 Louisiana: 55Last month: 52Last year: 66 Oklahoma: 139Last month: 137Last year: 130 U.S. Total: 1,048Last month: 1,048Last year: 940OIL RIG COUNTS*Source: Baker HughesBrent Crude: $74.41Last month: $74.16Last year: $52.69 WTI: $69.97Last month: $69.88Last year: $47.26CRUDE OIL PRICES*Source: U.S. Energy Information Association (EIA)Per BarrelColorado: 12,680,000Last month: 13,849,000Last year: 9,846,000 North Dakota: 36,610,000Last month: 38,326,000Last year: 30,697,000 Texas: 132,308,000Last month: 131,583,000Last year: 102,440,000Louisiana: 3,861,000Last month: 4,030,000Last year: 4,215,000 Oklahoma: 15,775,000Last month: 16,409,000Last year: 13,246,000 U.S. Total: 320,230,000Last month: 323,739,000Last year: 272,214,000CRUDE OIL PRODUCTION*Source: U.S. Energy Information Association (EIA) – June 2018 Barrels Per MonthColorado: 144,811Last month: 154,834Last year: 134,382 North Dakota: 57,573Last month: 60,314Last year: 46,449 Texas: 620,079Last month: 631,041Last year: 560,639Louisiana: 232,818Last month: 239,568Last year: 169,788 Oklahoma: 241,846Last month: 243,891Last year: 203,690 U.S. Total: 2,618,170Last month: 2,683,080Last year: 2,340,784NATURAL GASMARKETED PRODUCTION*Source: U.S. Energy Information Association (EIA) – June 2018Million Cubic Feet Per MonthConnect with OILMAN anytime at OILMANMAGAZINE.com and on social media RETWEETS@OilmanMagazine#OilmanNEWSStay updated between issues with weekly reports delivered online at OilmanMagazine.com SOCIAL STREAMfacebook.com/OilmanMagazine
Page 6
Oilman Magazine / September-October 2018 / OilmanMagazine.com4Small Energy Businesses Need Smart Technology to Compete By Matthew MottAs we emerge from a challenging economic environment, the oil and gas industry is facing short-term volatility, growing demand, and less potential supply available. In fact, the IEA (International Energy Agency), has been projecting that a supply crunch could be on the horizon since 2016.As such, oil and gas companies are faced with the challenge of developing a resilient strategy to mitigate these risks, boost their production, and future-proof their business. For startups and small businesses in the upstream oil and gas industry, now is the time to transform operations by leveraging advanced digital solutions to accelerate growth and meet demand.Small upstream businesses can better manage, operate, and optimize assets through adopting modernized software that will scale and adapt in the long term. Beyond the back ofce, cloud-based applications can increase productivity and efciency in the eld with enhanced capabilities that support the modern energy workplace.For example, Fleur de Lis Energy, LLC, a private E&P operator headquartered in Dallas, Texas, was looking to generate attractive, risk-adjusted returns and stable cash distributions to its investors through the acquisition, exploitation, and operation of a diverse portfolio of oil and gas properties in North America. The company had quickly acquired new acreage and needed to collect accurate, timely, and robust production data while minimizing their IT footprint and overhead."We wanted to stay in the cloud with as many applications as possible," said Terry Farmer, director of IT at Fleur de Lis Energy. "Our tools needed to be lean, agile and implemented quickly." After researching the technology available in the market, Fleur de Lis decided to turn to Houston-based company Quorum Software. For Fleur de Lis, myQuorum Production On Demand proved to be the most mobile, cost-effective, and user-friendly easy to use solution for those working in the eld. As Fleur de Lis continued to grow through operational excellence and asset acquisition, their Quorum software tools performed and scaled to meet the demand."With the most recent acquisition, we had 90 days to make the transition to our systems and Quorum deployed their solution and trained our eld guys with no problem," said Farmer. By utilizing an integrated solution built on Microsoft Azure, Fleur de Lis and Quorum formed a partnership that drives innovation and operational efciency on both sides. "The amount saved in overhead by using cloud applications is enormous, probably $4 million per year," said Farmer. "I would have to hire 20 more people to maintain and support on-premise installations."The company plans to continue integrating other cloud-based Quorum software to complete its end-to-end production management suite, including AFE and a data hub for reporting. "We will be using Quorum's production data as the gold standard in our organization and link all other data in a reporting database," said Farmer. "We'll then place our BI tools on top of it and use this data to make important business decisions at Fleur de Lis. That shows you how much value we place on our data being collected and reported by Production On Demand and SCADA." Small businesses need technology that is affordable, quick, easy to implement, and built purposely for a growing business. That's why Quorum recently introduced a full suite of integrated upstream solutions specically tailored to high-growth businesses like Fleur de Lis. Cloud solutions provide businesses with seamless upgrades and the latest features and functionality, plus users can access data from anywhere without the need for expensive IT overhead.With the launch of Upstream On Demand, Quorum is delivering one integrated software solution that will give small businesses the power to build out their suite of tools as their business grows. E&P operators can streamline operations from land management, through drilling and completion, production, and accounting.Applications include:• Land On Demand – enables businesses to buy, sell, and manage leases and agreements with integrated GIS mapping.• AFE On Demand – assists businesses with preparing cost estimates, reducing approval cycles, and monitoring project budgets.• WellEz On Demand – reports drilling and completion operations, tracks eld costs, and analyzes performance.• Production On Demand – manages SCADA, optimizes production, and visualizes allocations. Now more than ever, oil and gas businesses need proven solutions that are affordable and can be deployed quickly in an ever-changing market. Companies that choose cloud-based applications are more likely to see an increase in overall business agility, operational efciency, and a quicker transition of their personnel into the modern energy workforce.Regardless of where the market and technology go, an investment in a exible, adaptable software infrastructure can help provide a foundation for growth now and into the future.Matthew Mott is Senior Product Marketing Manager, Drilling & Production at Quorum Software. He has spent the last six years helping independent oil and gas companies make the digital transformation to cloud-based upstream applications through support, customer success, and marketing roles. In his current role, Matthew works to connect customers, support teams, and product teams to help Quorum deliver the modern energy workplace. OILMAN COLUMNQuorum's Upstream on Demand Software is Built with the Latest Cloud Capabilities for Land Management, Drilling and Completion, Budgeting, and Production Management
Page 7
Oilman Magazine / September-October 2018 / OilmanMagazine.com5Earthquakes, Wind, Fire & Storms: Onshore Oil & Gas Production Operations Disaster Preparedness By Susan SynderThe scope of this article is to assist onshore oil and gas production businesses in understanding what a "Recoverable Disaster" posture is; meaning an onshore oil and gas production site that can resume production as quickly, safely and economically as possible after a disaster. Proper "Disaster Preparedness," as dened by FEMA (United States Department of Homeland Security/ Federal Emergency Management Agency), is achieved by "a continuous cycle of planning, organizing, training, equipping, exercising, evaluating, and taking corrective action to ensure effective coordination during incident response." This sounds great and it would work to reduce risk and save money if you had a renery or large industrial facility that typically comes with many qualied workers that can participate and contribute to the disaster planning process, but in the oil patch Larry the Pumper and Bob, Eddie and Juan the Roustabouts are about the only personnel you have at your disposal. In this article for the sake of expediency and editorial space, we will focus on few to no workers, a small upfront investment that will save countless dollars in repairs, replacement, environmental challenges and possibly some bad PR on the evening television news. Even more narrowly, let's limit the discussion to onshore drilling operations, completions or production operations and the one cyclic event that challenges even the most robust of oil and gas installations; Mother Earth's sky-borne re and fury, the thunderstorm. Storm related disasters such as oods, hail and wind have a devastating impact to high prole surface constructed infrastructure, but nothing can compare to the losses and elevated risks created by the lightning generated by an approaching thunderstorm. Lightning's impact to unprotected infrastructure is destructive, expensive and extremely dangerous to a worker in or near an unprotected site. Cloud to ground lightning discharges can release large amounts of short circuit current exceeding 100,000 amps and voltages up to and over 1,000,000 volts, not to mention the release of large amounts of thermal radiation, full spectrum light up to 50,000K and a sound intensity that's near immeasurable. That's only the rst strike and depending on the region in which your installation is operating, there is a higher probability of the reoccurrence of another lightning strike or what is also known as a "re-strike." Just add a combustible liquid hydrocarbon within an enclosed tank or two and the mixture for a multi-tasked disaster is borne.Goodbye to that brand new million-dollar installation you nished last month and hello to the insurance adjuster's questions about what your lightning risk mitigation tactics were. Pray there were no workers in or near the site when the lightning strike happened. You could only imagine the discharge of environmental noise, inhalants, and sound waves generated by the lightning and the resulting explosions.The lightning generated by a thunderstorm and its impact to unprotected infrastructure is no doubt highly destructive, but it also impacts other infrastructure and installations near to and even far away from the original site of the lightning's impact. Electrical transients and surges create long lasting problems to electrical equipment grounding systems, solid state devices such as electronic controllers, LCD & LED monitors, micro-processor based devices, computers, UPS systems and even non-oil and gas related infrastructure like the rancher's water well equipment and even the electric utility's protection and control equipment. Lightning related disasters are likely the costliest event to recover from at any onshore industrial oil and gas site. It's not a matter of if you take a lightning strike, it's a matter of when it occurs, its overall impact to the site and at what point during your production process. To be frank, most unprotected sites usually require complete demolition with full environmental remediation of contaminated soils and an expedited reconstruction of all onshore industrial oil and gas infrastructure that will come at a much, much higher cost than in its earlier greeneld days. These costs don't even include the loss of access, loss of use and the loss revenue. At this point in the discussion a "Recoverable Disaster" posture is out the window. The current posture in play is a very expensive lesson in risk mitigation on which you are on the losing end. Lightning protection is a cheap security blanket that helps minimize the impact of the destructive nature of lightning. A well-engineered, properly documented and properly installed lightning protection system on the front end followed by a proper maintenance program during its service life, will minimize the destructive nature of the high amounts of electrical current and voltage that will more than likely travel the lightning protection system to a well bonded path to ground. After the storm, you will be making repairs to a few produc-tion related pieces of equipment and possibly installing a new lightning protection system. These costs are pennies on the dollar to the aforemen-tioned situation. Value adding out or trying to save a few bucks on the installation of a lightning protection system on your onshore industrial oil and gas site should be a non-starter. As stated previously, a properly installed lightning protection system will offer a lifetime of protection. Its ROI (Return on Investment) is recognized very quickly and its should be valued as jobs saved, not jobs lost. Additionally, it's an ecosystem and environ-ment that's saved not damaged.One last note; qualifying the company that installs your lightning protection is a must. Ed's Drywall, Taxidermy and Lightning Protection Service may not be who you want to install the zones of protection on your onshore industrial oil and gas infrastructure. Investigate and interview the various companies that professionally install and maintain the various methodologies of lightning protection. OILMAN COLUMNPhoto courtesy of Abshier Energy
Page 8
Oilman Magazine / September-October 2018 / OilmanMagazine.com6Oil and Gas Industry Energizes Multimedia Kidtrepreneur's View on Capitalism By Jason Spiess, Photos courtesy of The Crude LifeOtis began an entrepreneur's journey at the age of 30 days old. Video Arts Studio was working on a new program for Discovery Channel and it just so happened they needed a one-month-old baby for the cover art and pilot program "Sheri Daniel's Baby 101." Although the pilot was not picked up, this opportunity became the catalyst for Otis to begin building his multimedia resume.Right around the same time, during his rst month of life, Rock and Roll icon Alice Cooper held baby Otis on a Springtime visit to Fargo, ND and proclaimed, "Otis! He will do amazing things in life!" At the age of two, Otis landed an opportunity to do voice work for the highly-rated "Tom Wynn and Friends" morning show on 790 KFGO-AM in Fargo. From Christmas radio imaging, to station liners, to ad copy, Otis' voiceover talent grew with the demand. He continued voice work for a variety of AM and FM radio stations and programs in the Dakotas and neighboring states. It was around that time, when Otis was ve-years-old, that his family temporarily moved to the Bakken oil elds.Otis continued honing his craft in the oil patch by reading the "Daily Lunch Room Report" for iHeartMedia North Dakota, formerly Clear Channel. This daily feature, on three Dickinson radio stations, had Otis reading lunch menus for all the local and surrounding schools. People called into the station to nd out when the Daily Lunch Room Report was scheduled to air so they could build their morning commute around it. Kids and adults enjoyed hearing Otis tell them what they could expect for lunch later that day. Otis took an active role in writing and producing the daily program for the Bakken region, as well as for online streaming listeners. During this time in Otis' life, he also worked as a host and cashier for the family-owned, multi-media food truck. His innate curiosity about people and their stories made him a natural at engaging customers during their visits to "The Rolling Stove" at Mac's in Dickinson.After a year, Otis returned to Fargo and began looking for his next professional endeavor. After having lunch with entrepreneur Marty Riske, Otis found his next job, restocking shelves for a video game store after they remodeled. Otis began working for VidCycle in Fargo, learning the value of hard work, the meaning of time cards, and how to work with managers to learn new skills. He did such a good job stocking shelves, they added the duty of customer service on the oor. Otis was living the dream, talking to people about one of his biggest passions—video games.OILMAN COLUMNOtis and DadOtis interviewing U.S. Senator John Hoeven and Amy KlobucharContinued on page 8...Otis interviewing Mike Henderson, Vice President, Marathon OilOtis interviewing Harold Hamm, Chairman and CEO, Continental ResourcesOtis interviewing Jack Stark, President, Continental ResourcesOtis and Brian Sullivan, Anchor and Journalist, CNBC
Page 9
Page 10
Oilman Magazine / September-October 2018 / OilmanMagazine.com8When the video store was sold, Otis found himself out of a job at age nine. So, he decided to branch out into a new area of entrepreneurism and began walking neighborhood dogs after school. This turned into a ve-day-a-week, after school job.Otis decided to take his passion for making money and giving back to the next level. This time, it was a podcast. The Kids and Capitalism KidCast was created, a mentor in the media was secured and now some radio stations even air his program. Kids and Capitalism has also hosted fundraising and sporting events, supporting the mission to work hard, create business plans, give back, learn etiquette and have fun.As Otis approached middle school, he became more focused on using his broadcasting talents in the area of competitive gaming. To that end, he submitted an application to be a gamer commentator for the Grand Forks, ND, DakNo Gaming Tournament's live Twitch broadcast. Not only was Otis selected to work the tournament, he was the youngest contributor by over a decade. He also had the most media experience of any broadcaster at the tournament. Otis was used as a color commentator and roving sideline reporter for the E-Sports event.After years of participating in capitalism role playing, Otis decided to learn how capitalism truly works. He knows from personal experience, living and working in the Bakken, that there is no better industry to learn from than the oil and gas industry. In May 2018, Otis attended the Williston Basin Petroleum Conference (WBPC) in the Bakken region of North Dakota. During the conference Otis was able to interview everyone from executives to interns to business owners. While at the WBPC, Otis also took advantage of a media networking opportunity and met the staff from CNBC, including Brian Sullivan, Anchor & Senior National Correspondent of "Worldwide Exchange."Otis is currently in discussion with several energy companies for a future tour of technology centers and possibly a well site. Currently, Otis is host and producer of the Kids and Capitalism KidCast, gives presentations to young kidtrepreneurs, contracts voice work for agencies, media organization, and sponsors. He is also in the infant stages of starting his own Twitch Channel to monetize his passion for playing video games with his friends across the United States. OILMAN COLUMNOtis interviewing U.S. Senator Heidi Heitkamp Otis broadcasting at the DakNo Gaming TournamentPrecision Mass Flow MeasurementAn ONICON BrandCustomGas MixEthaneCarbon DioxideMethaneHexanesHydrogen ArgonButanePentanesPropaneHeptanesNonanes+OctanesNitrogenSet and Log a Custom Gas Mix!FT4X Advanced Features:• Robust 2nd Generation DDC-Sensor™ • Data Logger with date/time stamp & 40 24-hour daily totals• Gas-SelectX® Gas Selection Menu• Density and Gross Heating Value of Gases• CAL-V™ Calibration Validation• Up to 1000:1 Turndown• FM/FMc, ATEX, IECEx, and CE Approvals• Optional RS485 Modbus RTU• Free FT4X View™ Software Fox's Model FT4X Data Logger records 40 24-hour daily totals, logs events and alarms with a 7 year history, has settable Contract Time to define the contract day, and has a power off totalizer. The FT4X also has the 2nd Generation DDC-Sensor™ and advanced correlation algorithms to provide accurate, multi-gas-capable gas ow measurement. Direct mass ow measurement, exceptional low-ow sensitivity, fast response, and low maintenance requirements also distinguish the Fox Model FT4X. TRY THE FOX ONLINE CONFIGURATOR TOOLEmail at sales@foxthermal.com, call us at (831) 384-4300, or visit us online to nd out how we can help you meet your gas measurement and process efciency needs. Use the online product congurator to customize a meter for your application!w w w. Fo xTh e r m a l.c o mThe FT4X Gas-SelectX® allows the user to choose pure gases or a custom gas mix with the gases available in the Oil & Gas and Mixed Gas Menus. Set the gas composition in 0.1% increments in the eld and the meter's Flow Calibration, Density, and Gross Heating Value are automatically adjusted for the entered mix. FT4X Flow Meter
Page 11
Texas Oil & Gas INDUSTRY OVERVIEW TOP 5 PRODUCERS:XTO Energy INC. 9.98%Devon Energy Production Co, LP 7.58%Lewis Petro Properties, INC 5.13%TEP Barnett USA, LLC 4.32%Enervest Operating, LLC 3.87%TOP 5 OIL & GAS SCHOOLS: Texas A&M – College Station University of Texas – Austin Texas Tech University University of Houston Texas A&M – Kingsville TOP 5 CITIES FOR ENERGY JOBS:HoustonAustin DallasSan Antonio Midland 111222333444555Figures represent percentage of state production. Source: RRC of Texas - 2017Source: US World News Based on population growth.TOTAL EMPLOYEES Oil & Gas Industry325,439 According to the Houston Chronicle March 31, 2018TOP 5 LARGEST OIL FIELDS: by estimated production Eagleville* Sparaberry Trend AreaBriscoe Ranch* WassonSugarcane *Eagle Ford Shale12345Source: EIA
Page 12
Oilman Magazine / September-October 2018 / OilmanMagazine.com10PRODUCT SHOWCASEFOX THERMAL has launched a new product - the Model FT4X Thermal Mass Flow Meter - ideal for serving Oil & Gas and Industrial applications.The new FOX Model FT4X allows the user to enter a Custom Gas Composition to optimize the ow meters calibration and calculate Density and Gross Heating Value.The FT4X is a high-end ow meter, and it features a robust design. The notable new feature of the Model FT4X is the Data Logger. The FT4X Data Logger records ow rate, totals, and other events and alarms. The advanced features of the Model FT4X Data Logger include:• 40 daily totals• Settable Contract Time denes Contract Day• Time/date stamped alarm & event logs; 7 year history• Power off totalizer; power failure creates event log entry• View Density and Gross Heating Value of selected gasThe logs in the Model FT4X also display information about the meter's setting and functionality:• Gas or gas mix composition• Flowmeter's conguration settings• Calibration Validation historical test data• Logs of events and alarmsThe FT4X has a long list of other advanced features: • 2nd generation non- cantilevered DDC-Sensor™ - Advanced Direct Digitally Controlled sensor • Expanded Gas-SelectX® Menus – 3 onboard gas selection menus• CAL-V™ - In-situ Calibration Validation• RS485 Modbus RTU or HART - Communications options• Standard USB Port – Connect a PC• FT4X View™ - Software for conguring, graphing, and logsThe 2nd generation DDC-Sensor™ eliminates the sensor element vibration which can lead to metal fatigue and failure. Its unique design provides a technology platform for calculating accurate gas correlations for the Gas-SelectX® feature. The FT4X was designed to be used in Oil & Gas and Industrial applications. It is ideal for monitoring pure gases or even complex are gas compositions. Gas-SelectX® provides an expanded selection of gases from 3 menus: • Pure Gas Menu (11 common gases)• Mixed Gas Menu (11 common gases - mix in 0.1% increments)• O&G Gas Menu (C1 – C9+, Nitrogen, and CO2 gases - mix in 0.1% increments)The FT4X's CAL-V™ feature allows users to conrm that the meter is functioning properly and accurately -- with just a simple push of a button. FT4X View™ software allows easy adjustments to the meter conguration, evaluation of alarm conditions, collection of process data, and measurement viewing from your PC or control station. Moreover, this software can be used to initiate CAL-V™ -- and it automatically logs the results of each CAL-V™ test. If any regulatory submission is required, the software will generate a certicate for easy recordkeeping. Greg Smith, Sales Support & Customer Service ManagerFOX THERMAL, Inc.399 Reservation Road, Marina, CA 93933(831) 384-4300 | www.foxthermal.comFox Thermal Precision Mass Flow MeasurementAn ONICON BrandSEAL OF DEPENDABILITYWWW.OILCENTER.COMwww.oilcenter.com | 800.256.8977 | esales@oilcenter.comQUALITY THROUGH RESEARCHENVIRONMENTALLY FRIENDLY PRODUCTSSPECIALTY GREASES & OILSCLEANERS & DEGREASERSTHREAD COMPOUNDSWIRELINE PRODUCTSVALVE PRODUCTSPIPE COATINGSOIL CENTERRESEARCH LLC
Page 13
Oilman Magazine / September-October 2018 / OilmanMagazine.com11With Blockchain, The Energy Industry Will Soon Become Unrecognizable By Nick SpanosWho could have ever guessed, that when Satoshi released the white paper for the technology behind Bitcoin, known as blockchain, that it would also herald a revolution in the oil and gas industry? Writing as an early innovator at the conuence of blockchain and oil and gas — and as someone who regularly travels to the furthest reaches of the world's leading producers, from Iraq to Venezuela, to Saudi Arabia, this marks the biggest leap since the beginning of oil production.Currently, there are three overarching applications for blockchain in the oil and gas sector. First, the blockchain insulates sensitive data and systems from cyber terrorism. Second, it is used to streamline production, supply chain, and shipping, with seamless auditing. Third, a number of countries see blockchain in the production and shipping process as the basis for an asset-backed digital currency — a revolution in developing-world economics.But rst, what is blockchain? Blockchain is the distributed ledger platform known best for the cryptocurrencies which operate on it, such as bitcoin. In a basic sense, think of a spreadsheet that everyone has access to, where all users have consensus on who has what assets at any given time. The revolutionary development here is that there is no middleman or clearing house: all exchange on the network are directly peer-to-peer within this trust protocol. Since the ledger is decentralized, it cannot be hacked. In order to force a single change, you'd have to compromise at least 51 percent of the devices running the ledger. That's millions of computers.Now think back to how many leading companies suffer catastrophic hacks — like Aramco, whose 2012 hack of 30,000 workstations was the most devastating cyber-attack in history at the time. Blockchain's ability to encrypt and distribute information across devices, instead of keeping data in a centralized database, means that data and automated operations can no longer be so easily compromised by even the most powerful adversaries. A New York Times report in March reveals these attacks still happen behind the scenes, and authorities are scared to admit even where they occurred and what infrastructure was impacted. Imagine if the industry could nally nd relief from the lingering shadow of always wondering not if, but when the next cataclysmic attack will succeed.Just as blockchain is an immutable, permission-less, and secure basis for transactions, rms can even write 'smart contracts' and decentralized applications — which are self-executing digital contracts that enjoy the same properties of the blockchain. Yet up until recently, the blockchain was limited to its own ecosystem for information: the big caveat was that the blockchain could not respond to dynamic real-world data and events happening on the outside. With the arrival of vendors for blockchain smart contracts, rms can now set abstract conditions within smart contract code that allow trusted outside data sources to trigger nancial and other events on the blockchain.So, what does this mean for oil and gas?The story of oil production in the age of blockchain begins from the moment oil leaves the ground, when a digital ow meter measures each barrel. The ow meter sensor reports the event to the blockchain smart contract, which automatically generates a corresponding token for each barrel. Before these barrels can be moved or accepted by another party, the tokens must be held or transferred at each step of the process. This brings unprecedented transparency, as each point down the line, sensors and RFIDs embedded in valves and barrels, pipelines and trucks, are continuously reporting the status and location of the oil, from upstream to downstream.The trucker, the environmental auditor, the tax assessor, the water hauler — any vendor or contractor you can name — everyone will be paid automatically only at the precise moment that the sensors have recorded a movement of the crude, and only for the exact amount that is physically veried to have transferred. Thanks to this chain-of-custody process, accounting is on-the-spot and settlements are simultaneous. Human error, manipulation, and disputes suddenly become of least concern, while overhead is slashed as back ofce nance professionals and traders become obsolete.This leapfrog from the archaic past, from a still-paper-based system, to blockchain, is already in full swing. In Dubai, terminal operators can now simply upload the bills of lading to the blockchain, which is then encrypted and transferred within moments to the recipient. In a similar manner, crude tankers can be traded, with transactions veried on the blockchain within minutes, instead of hours or days — and without error.All of these benets suggest that the S&P Platts estimate of ve percent cost savings is probably quite coy — especially when they possibly didn't consider the benets of blockchain for the industry's data security.For those who seek the security and seamlessness of blockchain, but who hesitate at the level of raw transparency blockchain's distributed ledger can offer, there too is a solution. The data can be encrypted, with access permissioned within the system in such a way that only the "need-to-know" senior company ofcers and regulators are privy to the data.During a visit to campuses in Venezuela last year, my team witnessed the lead-up to the birth of the world's rst national cryptocurrency, the Petro. Concocted as an answer to the paper Bolivar's inationary meltdown, the Petro was to be "backed" by the nation's oil reserves. While the Petro's creators were gravely wrong to think they could create a token "secured" by crude deep within the earth — lacking any redeemability for the underlying asset — they were onto something.What this demonstrates, in principle, is that the marriage of nite natural resources and digital scarcity is a recipe for greater monetary sovereignty and economic stability. This phenomenon will feed itself back into a more positive climate for energy production, lowering prices over the long term, and other natural resource-rich economies are taking note. Following Venezuela, we then traveled back some half-dozen times to the Middle East. On one of these trips, we were invited by the Saudi Arabian chamber of commerce for the rst-ever blockchain conference, and by the end of a whistle-stop tour of leading campuses, tech hubs, and social organizations, had signed MOUs for academic partnerships — and are already welcoming Saudi students to Manhattan for intensive blockchain courses.The surge of interest seen rsthand, ranging from Saudi Aramco's headquarters, to little-known operators in Texas, is overwhelming.Nick Spanos is founder of Zap.org's EnergyLedger, which tailors Zap's next-generation blockchain smart contract solutions for the energy sector. EnergyLedger is currently adding to a roster of industry advisors ahead of approval for the rst patent for blockchain in the industry — making it one of the earliest leaders in blockchain innovation for oil and gas. In 2013, he founded Bitcoin Center NYC, the world's rst-ever live cryptocurrency trading oor, directly across from the NYSE. He is also known for his role in Netix's Banking on Bitcoin, and within the industry for his awarded patents on the multi-branch blockchain and blockchain-secure voting platforms. OILMAN COLUMN
Page 14
Oilman Magazine / September-October 2018 / OilmanMagazine.com12Early Winter By Josh RobbinsAfter attending this year's summer NAPE (North American Prospect Expo) event, the common theme was "2019." Everyone was preparing, planning and ineld developing for exits in early 2019. The amount of marketed operated deals at the event (and as a collective total across all platforms) was minimal through Quarter three. Unless you have a target acquisition in mind (on or off-market) and are willing to pay higher than PV-10, the amount of transactions by the end of the year should be in single digits. It's the start of an early winter. With that being said, 2019 looks to be a great year. With ineld developments propping up higher BOPD numbers, the exits (both private equity backed and not) will be publicized in December and January.On the off-market side, we are nding nearly half a dozen deals a week and closing about four deals a month. The transactions are only happening because of on-the-ground communication and not interpreted data. It's actual conversations between the people that own and operate the wells today, and the people that want to own and operate the wells tomorrow. It's that communication (especially in today's tech driven world) that has caused the marketed stall of deals.We have seen a shift in the type of assets companies are looking for, as they are more concerned that the price of oil will drop to $40 than they are if the price remains at $70. Each operator we talk to is looking for low cost operations, a technically sound team (both in the eld and in the ofce) and those requirements are not in large supply. The labor force and assets are both available, but the companies that are buyers are only considering decline curves and asset value based on reserves. Which is a great start, but having a 30-year veteran in the eld running the operations is an asset that is highly undervalued in 2018.Low labor numbers (or inexperienced labor) will account for a huge hurdle for the remainder of 2018. I heard three different stories about frac jobs gone wrong because of inexperience. Teams with knowledge will be in the highest demand, and the acquisition market won't be any different.Brace yourself for an early winter as the deals come to a freezing point, or nd a team that can help you target off-market deals to get something bought before the marketed frenzy of 2019. OILMAN COLUMNJosh Robbins
Page 15
Page 16
Oilman Magazine / September-October 2018 / OilmanMagazine.com14Four Reasons Oil and Gas Pipelines Fail By CorrosionpediaOILMAN COLUMNSince their rst introduction in the late 19th century, oil and gas pipelines have gone on to become the primary transportation system for extraordinary quantities of energy products to various consumers in numerous industries. The United States alone consists of 2.6 million miles of oil and gas pipelines - all tasked with supplying approximately 65 percent of the total energy consumed. According to data from the U.S. Energy Information Administration, of this, oil accounts for 40 percent of consumed energy, while natural gas provides the other 25 percent.Although pipelines are generally considered to be the safest way to transport fuel (over 70 times safer than tanker trucks and freight trains), like any other engineering structure, they are susceptible to several types of failure. And when they do fail, the outcome is often catastrophic. Fires, explosions and spills caused by pipeline failures can lead to human casualties, environmental pollution, and signicant economic losses. According to statistics from the Pipeline & Hazardous Materials Safety Administration (PHMSA), between 1998 and 2017, there have been a total of over 11,700 oil and gas pipeline failure incidents resulting in 1,293 injuries and 331 fatalities at an overall cost of approximately $US 7.3 billion. These incidents have brought pipeline safety to the forefront of international attention and highlight the importance of pipeline failure prevention and mitigation measures. The causes of pipeline failures are varied and are dependent not only on their design and operation but also their maintenance and management. Statistical data compiled from almost 700 oil and gas pipelines from 2004 to 2015 attribute the most common causes of failure to corrosion, excavation damage, pipe/weld material failure and equipment failure. Pipeline CorrosionCorrosion is, by far, the leading cause of pipeline leaks and ruptures in the oil and gas industry – accounting for 25 percent of failures in oil pipelines and 18 percent of failures in natural gas pipelines. According to studies conducted by NACE (National Association of Corrosion Engineers), the cost of corrosion damage can range anywhere between $US 471 to $US 875 million per year. This gure is expected to increase as pipelines continue to age. It is estimated that over 60 percent of oil and gas pipelines in the U.S. are over 40 years old. Internal pipeline corrosion is typically caused by the presence of carbon dioxide (CO2), hydrogen sulde (H2S) and free water in oil and gas products, whereas external corrosion occurs due to the reaction between the surrounding environment (soil, air or water) and the metal pipe. These substances react with the pipe material, causing the metal to deteriorate and gradually reduce in thickness. The subsequent weakening of the pipe's walls can result in leaks or ruptures due to the internal pressures and stresses acting on the pipeline. Corrosion is commonly characterized by pitting, uniform corrosion or stress corrosion cracking on the surface of the pipe. Excavation DamageExcavation damage presents one of the most signicant challenges to pipeline safety. This type of damage is usually accidental and is caused by the impact of construction equipment on the pipeline under consideration. Excavation may be in the form of digging, trenching, grading or boring during highway maintenance, home or building construction, or farming activities. According to PHMSA statistics, excavation damage accounts for 15 percent of failures in oil pipelines and 22 percent in natural gas pipelines. Accidental damage due to excavation may be observed as dents, scrapes, punctures, cuts or protective coating removal. While direct contact between the excavation equipment and the pipeline can cause sudden and catastrophic failure, scratches and dents can remove protective coatings and eventually lead to failure in the short to medium term. Coating damage can promote accelerated corrosion, which in combination with physical damage can increase the potential for leaks. Pipe or Weld Material FailuresPipe welds and other types of joints are usually weaker relative to the rest of the pipe structure. Moreover, earlier methods of welded longitudinal seams on some pipes are known to have been inferior in quality and more susceptible to failure. Although modern welding techniques have dramatically improved, weld failure continues to be a cause for concern. No w Av A i l A b l e : T h e Cr u d e l i f e Cl o T h i N gw w w .s h i r T s i C l e .C o m /T h e C r u d e l i f e
Page 17
Oilman Magazine / September-October 2018 / OilmanMagazine.com15American Natural Gas and NATO By Mark A. StansberryIn the fall of 1997, I was approached by a friend of mine, Vladimir, who asked if I could assist his native country the Czech Republic in getting into NATO. At the time, he told me the Czech Republic's leaders needed to meet with key U.S. Senate leaders. The U.S. Senate would have to ratify the Czech Republic going in to NATO by two-thirds of the Senate votes in order to be considered. Vladimir, a prominent Czech artist, and his family escaped from Czechoslovakia in October, 1981. The escape occurred three days before hearing a verdict from the Czech Communist regime. The Russians invaded Czechoslovakia in 1968. Vladimir and his artists' group painted posters about the invasion. He spent several months in jail along with probation. Vladimir was told that he could never practice art again. Part of the punishment for not joining the Communist party was that he could not get a job. However, about a year later he was able to get a job as a laborer. Years later in 1981, the case was reopened. He was going to have to go to court and prove his innocence. There was no proof of guilt. The decision to escape was evident. In 1982, Vladimir and his family arrived in Oklahoma with only two suitcases and speaking no English. Vladimir and his family were welcomed to Oklahoma and to the U.S. with open arms. Families of Czech descent in Tulsa, Oklahoma City and other communities welcomed them. He began painting again.Vladimir and I met for the rst time in early 1997. I was so fond of his art that I bought a painting. He had talked to me several times about the Russian invasion, about his love for the U.S., and his love for the Czech Republic and its people.Though I lived in Oklahoma, I had a small business location in Washington, D.C. in 1997. I reached out to several of my friends and contacts. I was able to arrange a meeting between the Majority Leader of the U.S. Senate and the Prime Minister of the Czech Republic in November 1997. In November 1997, there were only about 40 U.S. Senators in favor of the Czech Republic entering NATO meaning at least 27 Senators were needed for ratication. By spring of 1998, the necessary two-third votes were in place. By March 1999, the Czech Republic entered NATO.I only played a small part, a meeting between two world leaders. Vladimir played a crucial part. He knew what the price of freedom was. He fought for it. Vladimir was concerned about how Russia controlled Eastern Europe especially with the supply of natural gas. He hoped to see the day where that control would end, at least curtailed. The U.S. Administration recently stated that "Europe will be a 'massive' buyer of LNG to diversify its energy supply. And we have plenty of it." Natural gas will be a key player in the future of economic development in Europe and of its freedom. Mark A. StansberryOILMAN COLUMNAdditionally, some of the older pipes - joined with substandard welding - are still in use today. Weld failures usually manifest as cracks at the welded joint and can be caused by:• Improper welding techniques• Improper welding inspection• Presence of impurities in the welded steel• Welding of contaminated surfaces• Adverse reaction between the weld puddle and the surrounding environment.Failure may also originate from defects in the piping material itself. Impurities can become trapped in the molten steel during the manu-facturing process, resulting in weaknesses in the metal's crystalline structure. Although unwanted impurities during steel production were more prevalent in earlier manufacturing processes, defects in modern steel materials still account for a small percentage of pipeline failures. Mate-rial failure may come in the form of laminations and inclusions, or blisters and scabs. Based on the statistical sample data, material/weld failure is responsible for 22 percent of oil pipeline failures and 24 percent of gas pipeline failures. Equipment FailureEquipment failure is used to refer to any failure caused by a pipeline component or device other than the pipe itself. These include pumps, compressors, valves, meters, tanks or any other component essential for safe operation of the oil and gas transportation system. Equipment failure typically results in the release of hazardous uids into the environment, usually in small quantities. Since oil and gas equipment is generally located on company property and subject to limited access, these releases seldom result in injury to the general public.Equipment failure can be caused by improper usage, lack of maintenance or improper component selection for the given application. Seventeen percent of oil and 11 percent of natural gas pipeline failures are brought on by faulty equipment. ConclusionOverall, these four types of failures account for over 75 percent of pipeline leaks and ruptures in the oil and gas industry. Incorrect operating procedures, natural forces and other external forces acting on the pipeline account for the other 25 percent. The devastation caused by oil and gas pipeline failure underscores the importance of safety and reliability in these systems. The data from failure events collected by PHMSA and other departments worldwide are, however, useful in understanding the weaknesses that occur in pipeline management, and are necessary for continued risk identication, mitigation and prevention.Corrosionpedia aims to provide the rst steps in the research journey for asset integrity professionals the world over.
Page 18
Oilman Magazine / September-October 2018 / OilmanMagazine.com16Are Fleet Accident Costs Hiding in Your Blind Spot? By Rich RadiOn average, approximately 20 percent of a company's eet will be involved in an accident this year - each incident bringing a signicant cost to your company. These expenses include direct costs such as medical bills and vehicle repairs as well as potentially signicant indirect costs that may be hidden in your business' blind spot. The nancial impact is striking. OSHA (Occupational Safety and Health Administration) reported that motor vehicle crashes are costing employers $60 billion annually in medical care, legal expenses, property damage and lost production, alone. The average crash costs employers about $16,500 and jumps to more than $74,000 for a crash with injuries and even $500,000 or more if there is a fatality. That means a company with a eet of 1,000 vehicles should set aside at least $3.3 million annually to manage the nancial impact of accidents. Calculating the True Cost of a CrashThe true cost of accidents goes far beyond just repair costs and insurance deductibles. While most direct costs are typically covered by insur-ance, these expenses represent only a portion of the overall cost to your business. According to conservative insurance agency estimates, $1 of direct accident cost translates to approximately $3 of indirect costs. These indirect costs are often a challenge to identify and even more dif-cult to measure, but still affect your organiza-tion's day-to-day operations and bottom line.These "hidden" costs can take many forms, depending on the severity of the accident. A few of the more common ways accidents can affect a company include:• Lost productivity• Increased insurance premiums• Signicant exposure to legal liabilities• Potentially permanent damage to your corporate image• Diminished vehicle value• Increased administrative burden• Negative publicity• Workers compensation claims• Litigation expenses• Employee moraleDo you know how much eet accidents are really costing your business? Every time a driver gets behind the wheel, your company is vulnerable to repercussions that go far beyond just repairing a vehicle if you're not proactively addressing safety and driver behavior. To mitigate your corporate risk and control accident costs, you must establish a corporate safety culture that protects both your employees and your business.Capitalize on Proactive Driver Optics Most traditional driver safety programs are reactive in nature instead of proactive: an accident or driving infraction occurs, then corrective training is prescribed. Motor vehicle reports (MVRs) are pulled annually for each driver, but if an incident occurs in February and MVRs are run annually in January, another 11 months will pass without management visibility. Both practices are too little, too late and still leave your company at risk.A truly effective driver program is built on a foundation of monitoring driving habits in real-time. Rapidly evolving technologies such as telematics and advanced data analytics allow you to quickly identify and address high-risk behavior to improve performance, minimize risk and reduce accident costs. Understanding what behaviors your drivers are exhibiting on the road at any given moment empowers your company to quickly pinpoint who needs immediate training to help prevent accidents from happening in the rst place. For example, if a driver exceeds the speed limit on a frequent basis, safety training can be assigned with the goal of reducing his or her speeding habit.Data integration is giving companies real-time optics into areas they couldn't track even just a few years ago. Now, it's possible to combine a driver's motor vehicle report, your corporate eet policies, telematics data, driver risk scoring and accident data into a consolidated view of what's actually happening behind the wheel. This seamless integration of data points delivers enhanced visibility so that you can improve eet safety and reduce the impact of accidents on their bottom line. Drawing a Roadmap to Driver Safety SuccessTo effectively remove blind spots from your corporate safety culture, a successful driver safety program is both proactive and reactive. As you're building your program, include the following elements: 1. Monitoring MVRs on a consistent, on-going basis rather than just annually 2. Moving the eet safety policy online and combining it with a program of online training modules to promote comprehension3. Establishing a personalized onboarding program for new drivers that includes a driver skills assessment program to identify poor driving habits and assigns corrective training before an incident occurs4. Monitoring drivers through telematics and advanced analytics to identify high-risk behavior in real time5. Prescribing online training modules to match specic driver weaknesses to improve behavior 6. Incorporating a scorecard once your program is well-established to encourage friendly competition among drivers and reward your safest driversDiscover the savings of a crash that never happens. By injecting technology into your driver safety program, you're now less vulnerable to crashes you previously couldn't see coming. Your company's investment in safety for the long haul will open drivers' eyes to their impact of their behavior, empowering you to improve their performance, minimize risk and reduce accident costs.Rich Radi is Director of Driver Excellence for ARI, one of the world's largest eet management companies, with approximately 1.5 million vehicles under management in a wide variety of industries in North America, the United Kingdom and Europe. OILMAN COLUMN
Page 19
The Turbomachinery & Pump Symposia is a vital industry event, offering a forum for the exchange of ideas among rotating equipment engineers and technicians worldwide. The expert-selected technical program combined with an international exhibition is the perfect platform for networking and learning new problem-solving methods and technologies. Learn More at TPS.TAMU.EDU REGISTER NOW FOR YOUR FREE PASS!
Page 20
Oilman Magazine / September-October 2018 / OilmanMagazine.com18FEATUREAs the oil and gas industry grows, the IoT (Internet of Things) gets more advanced and in turn, grows along with it. This growth is crucial and as advances are made to deliver important data to oil and gas companies, they are presented with a plethora of software companies from which to choose. Oil and gas software is so versatile now that the clientele it benets is spread across all sectors and ranges anywhere from small, private engineering rms to large, publicly owned corporations. The software market is extremely competitive, with more developers emerging by the minute. When presented with so many options, companies have quite the challenge of nding the perfect software that meets their needs in a sea of options. Death of Paper and Value of TimeSince the invention of the printing press, the world has survived on paper. At the time of its inception, it was a revolutionary invention. The subject has long been debated whether or not it was, in fact, the greatest invention of all time. Companies across the globe have utilized paper for decades, centuries even. The oil industry was no exception. On the ofce side, drafting was done on large tables or oors, depending on the size of paper, with protractors and pencils. In the oil eld, pressure and production readings on wells were hand written on paper and faxed into to the corporate ofce each day. The paper was then led and kept for years until eventually they were moved off-site where they continued to be stored for years. Paper meant time and it also meant manpower – two extremely crucial factors when it comes to a company's prot margin.Time is a huge factor here and it can be a benet or burden, depending on how it's managed. The concept of advanced technologies allowing companies to manage, report and analyze data in real-time, is an incredible asset. It's a tool, that to be able to have a competitive advantage in an ever evolving oil market, a company or individual must possess in order to keep up with the times. Industry Software LeadersDrillinginfo, based out of Austin, Texas is the leading SaaS (Software as a Service) and data analytics company for energy exploration and production decision support. Their technologies – intelligence, analytics, tools and services combined into one, can benet anyone from royalty owners and small independents, to large corporations. Allen Gilmer, founder of Drillinginfo, was an independent oilman for seven years, co-founding three protable E&P (Exploration and Production) companies prior to founding Drillinginfo in 1999. Together with some other independent operators with seismic and land backgrounds, "We thought, 'what can we do to make this process better and more efcient? What tool can we invent that no one has ever seen before to improve on this?' We were the very rst in our eld to go out to market selling to the small guys rst," says Gilmer. Drillinginfo is now one of the most popular and widely used oil and gas software with approximately 50,000 users. Time is essential to their mission, as they provide instantaneous access to everything a company could possibly desire in their eld. Because of the advantage they offer, time is saved and excessive manpower that would normally be needed to complete these tasks, is no longer required. Oildex is another company making remarkable strides in the O&G software industry. They are the leader in nancial automation solutions for the industry. They allow their users to seamlessly and securely collaborate with their business partners, automate critical business processes and eliminate the high cost and errors associated The Evolution of Efficiency in Oil and Gas SoftwareBy Sarah SkinnerPhoto Credit: Chutima Sonma – www.123RF.com
Page 21
Oilman Magazine / September-October 2018 / OilmanMagazine.com19FEATUREwith the handling of paper. In May of this year, Oildex announced its OpenTicket, which is the next generation of the company's digital eld ticket solution. OpenTicket is the industry's only comprehensive, end-to-end cloud-based platform that provides operators and service providers with all the software they need to generate, review and approve digital eld tickets. "Highly inefcient paper eld tickets are the last obstacle to overcome when it comes to automating and digitizing the oileld," said Craig Charlton, CEO of Oildex. "OpenTicket solves this problem and allows service providers to quickly and easily submit eld tickets while allowing operators to quickly and easily approve those eld tickets. Coupled with our Openinvoice platform and recently announced Supply Chain Finance program, we are creating the most efcient source-to-settle ecosystem in the oil and gas industry." OpenTicket is a complete solution for both operators and service providers, it provides ofine mobile support for service providers, support for D&C (Drilling and Completions) "Virtual Company Man" capability and optimized processing which expedites approval. Before OpenTicket became available, it would typically take 4 to 8 weeks to accept a eld ticket and approve the invoice. Now the process can be done in around an hour. On August 13, 2018 it was announced that Thoma Bravo, LLC, a leading private equity investment rm has agreed to acquire Quorum Software. The transaction is expected to close in the third quarter of this year. Quorum is another cutting-edge software industry leader. They focus on helping oil and gas companies meet their long-term goals using familiar Microsoft technologies, enabling enterprise integration, driving faster deployment and providing access to clean, consistent and consumable data. The focus of Quorum is the user experience and cloud-based software, which allows any and every important piece of data to be accessed from anywhere. "The North American oil and gas industry continues to grow, with a heightened focus on operational efciencies and maximized capital productivity. Quorum's comprehensive capabilities across the value chain with advanced technical innovation and deep domain expertise, coupled with our strong brand, positions us well for continued growth. We look forward to beneting from Thoma Bravo's expertise in helping companies grow through their prudent investment strategies. We are also thrilled to partner with their software industry experts to harness exciting new growth opportunities," says Perry Turbes, Chief Executive Ofcer of Quorum Software. The Challenge of TransitioningAlthough it would be ideal, companies cannot purchase software, sign a check and expect to have their whole organization transformed overnight. Reasonably speaking, the transition and training that goes into converting, plays a large role. It is an immense commitment for all personnel involved from interns to the CEO. Drillinginfo offers a Customer Resource Center, which is a central location for customers to nd links to instruction materials, product documentation, submit a support ticket, ask questions, submit ideas, nd out about Drillinginfo events or even sign up for training. They also offer live webinars, many of which are free for subscribers and potential customers that are curious about what they offer. In-person training or "transform courses" are paid in-depth training courses designed to assist the new or experienced user to accomplish key workows with hands-on, instructor-led exercises. Courses are half or full day and cover topics from data loading and visualization through interpretation, velocity modeling and multivariate statistics. Each face-to-face course includes access to a training computer with appropriate datasets and a hard copy training manual which can be used as a desktop reference after the training course. When asked how long it generally takes to "go live" with one of the Drillinginfo products, Gilmer said, "Since most of what we do is app-based, the access and information is instantaneous. The larger and more specic packages may require additional training." In regard to setup and transition, Quorum has very specic timelines set forth on their website. It is in place to develop a plan that minimizes disruption, enhances business processes and speeds time to value. With a team of deployment experts, there are three options of integration: • Rapid – Using out-of-the-box standard conguration, the Rapid Deployment Package gets clients fully operational with myQuorum applications in three to four weeks.• Rapid+ – Using a variety of conguration options, the Rapid+ package delivers an entire suite of fully integrated myQuorum applications in ten to twelve weeks.• Tailored – Beginning with a comprehensive needs assessment, the Tailored Package features a custom engagement and fully deploys in as little as three months. Companies can choose to send their employees to Quorum's education center or host the training at their facility. Either way, the education and training services help get the most from the myQuorum investment. Oildex has a dedicated team of implementation specialists that assist operators with deploying OpenTicket. The team uses a proven methodology that focuses on the adoption of the software by both operators and their service providers, not just setting up the software and training users. The methodology builds on Oildex's 15 years' experience deploying its OpenInvoice product to oil & gas operators and to oileld service providers. The Oildex team works with each operator licensing OpenTicket to develop a rollout strategy that meets their particular needs. Most operators use a segmented rollout strategy where they onboard targeted regions and supplier types sequentially, as opposed to a single big-bang company-wide rollout. Implementation timeframes vary with the size and complexity of the operator. Typical projects take 30-45 days from the initial kickoff meeting to initial 'go live', followed by ongoing efforts to continue growing the supplier community. OpenTicket implementation teams typically manage the project, congure OpenTicket to support the customer's unique business rules, help the operator's eld personnel learn how to use the new system to review and approve digital eld tickets, and work with the operator's suppliers to get them onboarded.A major problem companies run in to with conversion, is the unwillingness for some of the older generation to adapt to these practices. They are set in their ways and doing things the only way they have known for decades. It is a challenge to get them to accept and utilize the new technologies out there. Because of the experience they provide, the knowledge some of these employees possess is invaluable and companies do not want to lose them. This makes transition delicate and it's so important that the focus is on making them feel comfortable and condent in this new role. For the software to be successful, everyone has to be on board. Each of these software companies, in addition to the many others out there, are offering a service. It is not just any service, though. They are offering the ability to gain an advantage in an extremely competitive market. So, when presented with this software, the question is not "if " we will convert over to cloud-based software, but "when." When the decision is made to make that leap, which one will be chosen? What sets one apart from the other? Distinguishing factors that come into play are the personalization aspects. All of them can be tightly integrated, customizing the software to t every need of an oil and gas company, which makes them invaluable. Extensive research is key though. Do the homework. The information is all there for an educated decision to be made to nd which software will be the best t for the company's bottom line. Once the decision is made, and personalization and training have occurred, actually "going live" becomes a reality. At that time, it will be a wonder how the industry ever survived without it.
Page 22
Oilman Magazine / September-October 2018 / OilmanMagazine.com20Interview: Shoshi Kaganovsky, CEO and Richard Haun, Vice President Engineering, SensoLeakBy Tonae' HamiltonBelow is an interview with SensoLeak CEO, Shoshi Kaganovsky and Vice President Richard Haun. The interview text has been left in tact, with only minor grammatical adjustments.Tonae' Hamilton: What inspired you to work on creating articial intelligence for the oil and gas industry?Shoshi Kaganovsky: It began eight years ago when I developed a system for helicopter engine monitoring. I decided to combine AI and machine learning to prevent critical failures by "identifying" the defects when they rst begin and before they escalate into a critical failure. With the development of the product, we then had the ability to alert a pilot to abort, minutes before a potential crash. I also realized that the energy industry suffered from some dated pipeline networks and related systems. Naturally, failure of these systems does occur and can have had long term effects on the environment and pose a danger to personnel and the general public. Failures still occur despite the best efforts of operators ranging from eruptions of gas and product lines, spills, leaks, etc. As a result, I decided to create a system that could identify the occurrence of pipeline leaks quickly and provide means to track the events. My intent was to develop a system that could be accepted as an industry standard and to provide a game changing improvement in safety and risk management. Articial intelligence can be looked at in many different angles and can be benecial when used in the energy industry. At this point, I am very focused on the energy industry as my main target for safety improvement using articial intelligence. TH: Being a female innovator in a male-dominated industry, are there any challenges you've faced while working in the industry?SK: There have been a lot of challenges. In an industry such as this one, my position is unique and usually, I am pitching my ideas primarily to men. With my name being "Shoshi" which is not gender specic, many assume I am a man. When I show up, I have been told that they are waiting for Shoshi until I tell them I am Shoshi and we have a laugh. All in all, it's ne and I enjoy the business. It's a pleasure to work with the guys and gals across the industry and it is enjoyable to be in this vibrant industry. TH: When did you begin working at Sensoleak and what advancements have you seen your company make in the oil industry since you began? SK: I founded the company in 2016! However, I started development of the technology in 2010. During that time, I was developing products and working as a tech scout. I also guided several start-ups. I would watch companies go under because of underdevelopment of their technology as well as their inability to predict all of the expenses. My strategy was to not enter the market before the technology was ready and be cautious regarding costs from day one. I had my technology ready for commercialization in 2016 and incorporated Sensoleak. I traveled for over 200 days that year and reached out to industries in many countries to get Sensoleak some traction. My team and I started offering proof of concepts (POCs) as a method to provide client familiarity with the technology. Some of these developed into long term agreements. As the company solidied further, I identied the U.S. as the best place for Sensoleak Global HQ. I planned the move to Houston, Texas in August 2017 just in time for Harvey, the hurricane, to ood my new hometown. I ended up volunteering with the Red Cross during the nights and helping with more physical tasks during the days. In December 2017, I opened my stand-alone American company and started recruiting people to grow the Houston business in the O&G industry rst focusing on pipeline networks. I hired top consultants to get a handle on improving the technology at a quicker pace. Compared to when I started, we improved the technology on accuracy and with great methodology. The machine learning and AI provides a solid basis for identication of systems deviating from the norm. I am very happy with the development progress of our systems and our strong team. With Richard as our VP of Engineering, I am amazed at how the entire Wikipedia of pipeline knowledge and engineering can t into a human's head! Our entire team's role is very important to the business and tech development. We managed to develop a system that has ease of implementation and can be easily introduced into existing systems. For decades, data has been collected from pipelines and our focus at this point is to minimize the false alarm rate toward zero. We want our system to assess issues that are the real problems, that are serious concerns for the operator. If there is any deviation from the norm, our system will catch it. Our system learns to detect any deviation from the norm and to make it visible to operators. False alarms are more than just a nuisance since they can eventually mask a real issue. Real issues result in bad press, and a lot of expenses for operators that can be avoided (environmental nes, clean-ups, idle time, maintenance, etc.). False alarms interfere with real alarms and we provide methodology so that our system can accurately separate real issues versus operational deviations in our systems. Companies in the past have tried to predict what will happen based on past events and have entered into comprehensive programs to prevent future incidents. Our system contributes to this approach in that it learns in real time 24-hours a day and 365-days a year, providing the best integrity picture in real-time. The AI recognizes trends in increased pressure drop over time, pigging events, start-ups, shut-downs, opening laterals to divert ow, and operational irregularities. This allows the system to identify and catch real issues early by separating the normal-though constantly changing-system parameters. With our system, we track the pipeline network functions and performance allowing the technology to learn on the y. With any serious issue identied, it will automatically localize the individual system segment that has the underlying cause and provide operators with precise notication. During its normal operation, the technology continually evaluates the sensors providing data to yield notice to the operator of malfunctions occurring either due to an individual sensor or a zone. As the algorithms identify sensor malfunctions, they will ignore them until they again begin providing improved results. With the AI, machine learning and combined physics the technology contains all the necessary parameters to oversee a task such as providing early warning of a system aw occurrence while assisting with maintenance by identifying questionable sensors. Richard Haun: I joined in May and was immediately impressed with the level of tech that they had on the table, from their data systems to their data scientists. What I hoped to bring to the table was my 50 years of experience with pipelines, much of it in the eld. My background includes a great deal of analytical work associated with the pipeline business and software development to resolve the tougher problems. I have written hundreds of programs in the course of my career. One of the things we do at Sensoleak is combine AI with principles of physics, sound judgement, and engineering analysis. The disadvantages of strictly using engineering software with pipelines is that when you rst start a system, you can only provide estimates of ttings, line roughness, product density and viscosity which can lead to inaccurate estimates of predicted to measured values. The initial evaluations for owing gauge pressures in pipelines are therefore always based on estimates OILMAN COLUMNContinued on page 22...Shoshi Kaganovsky
Page 23
Page 24
Oilman Magazine / September-October 2018 / OilmanMagazine.com22OILMAN COLUMNand as internal roughness increases over time, the estimates are further away from reality. Because of these considerations the pipeline parameters are best identied by the operational characteristics. By incorporating AI and machine learning, the advantages are that you can actually learn from the system and resolve parameter evaluations internally over time. Because operating procedures are complex, our systems are constantly monitoring changes and once an anomaly is identied, the system automatically drills down in the anomaly where you can decide if the anomaly is operational, if there is a leak, or if anything is abnormal due to sensor detection. If it is found to be an unusual operational procedure result, it can be picked up through the system and learned to be acceptable. Naturally this is useful for future operations of the pipeline. Of course, with any new pipeline network detection system, operators still have to provide information so that any anomaly occurrence is properly characterized to prevent a false alarm. You can drill down and read the pipeline better. TH: With Sensoleak's move to Texas, how do you think the move will affect the company and, furthermore, the oil and gas industry?RH: The center of the oil and gas industry is Texas and with our move, there is more access to many engineers in Houston to help support the implemen-tations. Most of the international companies are in Houston. I believe that being so available to the oper-ating companies as well as the reneries and pipeline operators, we will be able to catch on very quickly as a preferred provider. We already have things to do here and the storm (surge in clientele) is coming. I think it is an ideal location and we will be very successful here. We will be able to expand our role in the oil and gas industry through one successful implementation after another.SK: I second that. I used to y so much to the U.S. and would realize that if you don't have a local pres-ence, it is a difcult way to promote the business. I learned from Americans that unless they are looking in the "white of your eye," nothing will be found. I also learned that if I am present and working in their time zone, the demand is higher and we can accomplish way more. Just seeing the team working in one space makes me happy. When I just started, I had a couple of developers in Israel, but because there isn't really an industry there, I had difculty recruiting local O&G engineers so I hired remote ones from Canada and the U.S. Now we can collaborate better and everyone can brainstorm and write ideas on the board which is more convenient. Houston is an international hub and you can feel and see a lot of languages and cultures which is way more interesting. The timing is right with our move to Texas, as O&G majors seem to be ready to adopt new tech. I feel welcomed now in Houston, but whenever there's a need to explain my personal style I say that I'm not impolite and I'm not aggressive, I'm just Israeli – hands on approach, hard work and a very fast pace. This is how the culture is there. As ex-military I am used to trying to take things forward fast, keep the best interest of my company and team in mind while presenting the best solutions to existing problems. As for the machine learning experimenta-tion Richard mentioned, we want to see this company become successful and I can see it is beginning to hap-pen now. We are about to establish our presence in the industry pretty soon. We are meeting with companies big and small and discussing how we are able to assist them in ways most benecial to them. If our move here helps to improve the industry and has a favorable impact, then this would be our real success – seeing this technology beneting the industry.TH: Can you describe the articial intelligence (AI) technology you have in mind to replace the current pipeline infrastructure? RH: I really like it. The AI, methodology, and tech applications we're using are state-of-the-art and very cutting edge. The analytics and learning methods are based on engineering logic of the pipeline network system. The overall AI system is automatic, can drill down into circumstances, and identify if a circumstance is an operational event. The system can learn the data as it comes in and predict analyti-cal benchmarks and nd anomalies. Anything that deviates from the norm is called an anomaly. They are discovered and rationalized to determine whether or not individual sensors are being affected. The system is a lot smarter and faster than an individual. It gives individuals overseeing the pipeline networks the op-portunity to work smarter and you don't get the 'crying wolf scenario' of false alarms. The system gives you honest alerts and includes the engineering knowledge automatically in the intelligence software. Regarding its teaching and learning times, the algorithms are being taught and are developing norms. The algorithms are automatically updated as norms change. The system can readily adapt and learn with current happenings which the pipeline systems today could really use. Once you have the correct information it is also really clear which components require maintenance. This is an added 'plus' of the system implementation.SK: The innovation lies in the correlations and shows how variables affect each other. The beauty in machine learning is that it can learn over time and teach itself and adapt to changes. In terms of developing technol-ogy, we want to get to the point where machines can learn specic alerts, be able to prevent failures, and identify what is happening in the pipeline network and what should be done. Right now, the algorithm helps decision makers make decisions regarding mainte-nance, operations, safety and identies the network segment which encountered a problem. We plan a more robust system in the future that can output de-scriptions of the recommended maintenance schedule items and procedures in a timely manner for more efciency. TH: What effect do you expect the new technology/AI to have on the pipeline infrastructure and on the oil industry as a whole?SK: The aging infrastructure needs attention although the industry is very diligent. It is important to protect nature and water bodies that we have and our system which allows network segmentation, can allow the algorithm to 'tighten up' evaluations in different segments per client wishes. As an example, segments of pipelines that go near residential areas, schools, churches, wetlands, lakes or rivers, can be automati-cally identied to allow the algorithm response to be more sensitive for anomaly detection. We optimized a process of data analysis and we are putting data in order and making it more accurate than in the past. Although, our system can be applicable to monitor anything that can be equipped with sensors, pipeline networks are our current focus. With our system, we can help preserve the environment, improve safety, save litigation, and create a friendlier public environ-ment for operators. If we take for example one of the ofine projects we ran with one of the three largest O&G companies in the U.S., we were provided with several months' data (pressure, ow, temperature and density) and managed to identify all the defects, all the failures and all the false alarms while our competition identied all the false alarms as leaks. Major problem that costs the industry tens if not hundreds of millions of dollars annually – where the operators respond to these (false) alarms by shutting down the pipelines, dig along the line, just to realize there's no leak. Sensoleak is trying to minimize false alarm rate to zero and provide the operators only with real alerts that require their attention.TH: Besides the inclusion of articial intelligence and other innovations, what other changes do you think need to happen to improve the current state of the oil and gas industry?RH: I think the operators of oil and gas are very conscientious and I believe that they are striving for the best. It's difcult to change an old industry and it has been on a slow though steady improvement for the last 50 or 60 years. I have to say that the oil and gas companies are staffed with very responsible people. I have many colleagues in the industry and they never take safety for granted and are environmentally-con-scious. The companies work diligently and have tough standards for the employees and if employees do not follow through with policies, they will be terminated. I love the industry and have been in it for a long time. I think the industry is also quite responsive to imple-menting available improvements that improve system integrity. Company executives that are operating pipe-line networks have to answer to government agencies, shareholders and peers. I think they have been very responsive in moving system integrity improvements forward. This AI system may be the next selection for many of them.TH: What changes or innovations would you like to see happen in the oil industry or specically in Sen-soleak going forward?RH: I'd like to see our system installed in all of the pipeline control rooms, but if not in the primary systems, at least in the sub-systems. Everyone has a system which is an excellent approach. Having a pri-mary system in place with another unobtrusive parallel system running essentially off-line is something I think to be a great benet.TH: Are there any other types of articial intelligence and technology you are working on for other issues in the oil industry?SK: Applications are innite. When I researched new industries while working on aircraft, I considered both the oil and medical industry. Back in the 60s, our vascular system was compared in similarity to oil applications. A question that came to my mind was, "What if we used systems for the oil industry to detect problems with the heart or other organs in the body which can save a life?" If I can save one person's life I would know that I left behind something meaningful with my work. Since the medical industry is rather difcult to penetrate, I felt the oil industry was ready for us and there were many issues ready to be solved. In the future, I am hoping to develop applications that can prevent anything that can affect our well-being. We can use data to improve current systems whether it be for oil and gas, wind energy, rotating equipment, aircrafts, or health. MEET OVERATTENDEES IN ONE DAYWWW.OKOILEXPO.COM3,600OCT. 11OKC STATE FAIR PARK
Page 25
MEET OVERATTENDEES IN ONE DAYWWW.OKOILEXPO.COM3,600OCT. 11OKC STATE FAIR PARK
Page 26
Oilman Magazine / September-October 2018 / OilmanMagazine.com24OILMAN COLUMNThe latest trend in digital transformation is leveraging RPA (Robotic Process Automation) to automate between 30 to 45 percent of manual work. There are ever increasing reports of organizations using RPA to accelerate execution of tedious, monotonous tasks in nance and accounting, human resources, recruiting, supply chain and other oil and gas functions. There is mounting evidence that organizations that implement RPA can achieve a 40 percent average reduction in processing time and a 50 percent average reduction in costs. RPA implementation is enabling improved accuracy, increased reliability, and strengthened controls. It appears that RPA is helping combat skilled labor shortages in data management and analytics positions, by creating easier and more efcient access to operational data and real-time information.While RPA has been leveraged more in the back-ofce space, there are big opportunities within oil and gas operations, such as joint venture (JV) and revenue accounting, drilling and completions, production engineering, eld operations, subsurface, and operational data management.Joint Venture Accounting and Revenue and JIB NettingThose oil and gas companies that use RPA to automate their monthly close process have experienced 30-50 percent improvement in closing times. The expectation is that JV accounting and revenue and JIB netting processes could benet from leveraging RPA, as well. The necessary levels of IT integration between the various internal and external systems is challenging to implement and maintain. If the systems cannot be integrated, then considerable man hours are spent transferring data from one system to another. RPA can be used, in a non-invasive way, to create a bridge between the various systems. RPA can also automate high volumes of adds, changes, and deletions to the accounts. Lastly, RPA bots can be used to mitigate staff shortages, build expert knowledge into processes, and free up resources to work on activities that add more value.Drilling and CompletionsAs oil and gas teams are drilling wells, they must compile and analyze data from multiple sources to ensure they're drilling in the right direction at the right costs. If the team is heading in the wrong direction, it must be identied quickly. RPA can provide valuable support for operational reporting and drilling performance by automatically pulling data from systems, such as WellView, to help in the analysis process. RPA can also pull vendor well data, purchase order data, costs, and forecast data into a data warehouse to be used for more comprehensive analytics. Drilling engineers can use RPA to look at data and see differences between processes across rigs. This creates substantial time savings and streamlining, which can result in signicant nancial improvements over the year.Work Over OptimizationA signicant amount of human resources is spent identifying in which wells to invest workover time and effort. Typically, the investigation process requires conducting analysis using multiple tools to then compile an evaluation. The end-to-end process requires data to be captured, transformed, and transferred from one system to another – a tedious and burdensome process. So much so, that many teams utilize best guesses to evaluate and make decisions, which doesn't always translate to pursuit of the best targets. RPA can be used to automate the repetitive activities, which will free up time for resources to conduct value adding evaluations to identify the best workover targets.Production EngineeringProduction teams are in regular need of historical well data that provides a performance story for a well, from beginning to end. To pull together this type of information, team members will spend many hours obtaining information from analytics tools and multiple sources (legacy databases, excel les, engineers' knowledge, etc.). RPA is built to handle this type of task, as it sits next to existing tools and data sets and mimics the steps humans take to gather information from the disparate sources. An RPA bot can be set to execute hidden commands in the legacy systems to speed up processing. It can also run unattended, 24 hours per day and 7 days per week. The result is an efcient process with superior results.Field Operations (Field Asset Team)The team members who are hands-on in the eld need access to well information and analytics to be able to safely optimize, operate, and maintain wells and all surface equipment on the lease or facilities. The challenge becomes getting these team members the information they need in a usable format. Having information delivered in an easy to access, user-friendly manner is critical to eld operations teams. RPA can be used to gather information from various systems, compile the information into a ranked issues report, and deliver the report to eld operations' team members by email or another report out method. Using RPA will free operations support staff to work on higher value activities.Subsurface Data Management and Operations Data AnalyticsFor geoscientists, drilling, operations, and production engineers to conduct data analysis that helps move the needle for the business, they must have data available in a usable format. Subsurface data management and operations data analytics team members are instrumental to making the data available. Unfortunately for many organizations, these team members are in high demand and are stretched to capacity. RPA can expand the capabilities of these team members through automation of data request processing; data capture from legacy systems; data cleanup; data storage in a warehouse; and conducting QA / QC steps on the data to ag potential problems. When there is an increase in project volume or data ingestion, data processing capacity can be expanded to meet the increased demand.The briey described ways that RPA can be leveraged by oil and gas operations provides a view of some of the benets that can be achieved. RPA helps companies do more with the limited resources available. RPA also helps to reduce costs, sometimes by as much as 35-65 percent for onshore process operations, and can improve efciency by as much as 50-75 percent. In some transaction-heavy applications, the time to process data can be reduced by up to 95 percent. Another known benet of RPA technology is that it offers an investment recovery period between six to nine months, which has proven to be a major driver for RPA market.With this in mind, one might wonder if oil and gas companies have time to waste when it comes to implementing RPA. We think not.Allen Yoho is a management consulting with Enaxis Con-sulting. Yoho has over 10 years project management experience, as well as an established track record of leading projects from incep-tion to operation utilizing project management best practices to deliver superior results. Over the past seven years he has worked extensively in the oil and gas industry. Yoho earned a BS of Business Administration in Finance from California State University – Sacramento, as well as an MBA from University of Warwick. RPA Creating the Oil and Gas Workforce of the Future By Allen Yoho
Page 27
Oilman Magazine / September-October 2018 / OilmanMagazine.com25Revamping the Oil Industry with Technology and the Millennials By Tonae' HamiltonTechnology has become so prevalent in our society that it has worked its way into various industries. Industries such as retail, nance, education, and, of course, IT have all implemented technology in varying extents. One industry however, that had remained unaffected by the spread of technology for a long time, is the oil and gas industry. Until recently, the oil and gas industry had remained stagnant in traditional methods of operation with little signs of innovation. With the spread of technology coupled with the rise of millennials, or young adults, the oil industry has now experienced a slew of developments and technological innovations, which some may say were overdue. We recently sat down with a young geologist and technical advisor for Drillinginfo, Ian Thomasset who weighed in on the impact technology and the younger generations have had on the oil industry.Before his position with Drillinginfo, Thomasset got his start in hydrology. Through his own research, he became more familiar with the energy industry and saw how energy shapes the global economy and how necessary and signicant of an impact it makes. He stated how the energy industry has an "impact on the day to day lives of individuals" and how he wanted to be a part of that. At that point, Thomasset found a position with Consol Energy (now known as CNX gas) where he gained his rst real exposure to big data in the oil and gas industry. Acquiring immense knowledge in big data while at Consol Energy, he later transitioned to Drillinginfo as a technical advisor in January. Wanting to further apply his geology degree to the energy industry, Thomasset saw Drillinginfo as the perfect t. Since working at Drillinginfo, Thomasset has helped companies gure out solutions with big data and analytics. He mentioned that being a part of a "generation that has seen technology throughout their lives and have been constantly exposed to it" has allowed him, as well as his peers, to more easily embrace change and take on different approaches. "The running joke I've heard is that all the easy oil and gas has already been found and nowadays it is trickier," said Thomasset. With technological developments in place, Thomasset mentioned how the industry has become a lot more willing to change the course of how to nd oil and gas. "I came in with the mindset that industry veterans may resist change but found that as long as they see the science behind it, they are open to those changes," said Thomasset. He further described how he has seen industry veterans and newcomers alike work together to embrace change. Contrary to the way the oil industry was in the past, Thomasset expressed how people now involved with unconventional oil have the mindset of "I am most likely going to nd something." He further described how people now consider the operational costs and ROI (Return of Investment) they will receive from their prospects. "There has denitely been a major shift from conventional prospect thinking to unconventional prospect thinking and weighing out the cost-benet analysis more," said Thomasset. When it comes to whether or not the oil and gas industry has become a more "attractive" eld for the younger generations, Thomasset mentioned how he's seen a huge boom in industry interest, including from his colleagues while in graduate school. "It is that new technology that makes the industry more positive and attractive to the younger generations," said Thomasset. With a surge of new, younger workers coming to the industry, Thomasset was asked how that may affect the industry. Thomasset stated, "With all the talk involving big data, it is going to be a real co-mingling of the old school ways of working in the industry and the new data strategies and approaches that come from the current generations. This intermingling is what is helping the industry become what it is today." With technology's larger role in the oil industry today, Thomasset was asked whether he believed this implementation of technology was a positive change. Thomasset stated, "Technology has denitely positively affected the industry. It has provided transparency and a level playing eld. The small guys from smaller companies can have the same access to information as the major companies, so long as they obtain the right data set. The industry will be a lot safer because we'll have an abundance of good information available for everyone to see." Thomasset added "Being able to get a leg up in the industry and use information to compete with bigger companies is great. The independence of small companies to be able to leverage such information is huge. At Drillinginfo, the idea to use data to level the playing eld is key and fundamental to our purpose. Using data to make things clearer eliminates those unknown and murky aspects of the business. The younger generations denitely have a grasp on technology and are very comfortable using it, meaning we are able to do more with less."Drillinginfo, serves clients in various roles throughout the energy industry and Thomasset mentioned how he has helped his customers know how to utilize decision support solutions and big data and handle products with ease. "I think it's been fun driving value into their acreage positions. Helping guide people to quicker, faster decisions and providing them with solutions in relation to our products is what I enjoy doing," said Thomasset. When asked what developments he hopes to see going forward in the industry, Thomasset expressed he'd like to see a cleaner reporting system in regard to well spacing. "Finding out which wells may be interfering with each other is something I'd like to see possible in the near future. Having a greater understanding of information and data now is what can help drive out solutions," said Thomasset. OILMAN COLUMNPhoto Credit: Evgeniia Kuzmich– www.123RF.com
Page 28
Oilman Magazine / September-October 2018 / OilmanMagazine.com26Why Oil and Gas Companies Should Consider eDiscovery as a Standard Business Process By Brian Schrader, Esq., BIAOILMAN COLUMNOne unfortunate aspect of owning a business is that, from time to time, there will be a disagreement with another party — be it a client, employee, contracted partners or an outside organization — that can't be resolved by any other means but a lawsuit.In the oil industry, issues surrounding land use factor prominently into lawsuits. For example, disputes commonly arise over contracts for the operation of pipelines or the leasing of land where wells are located. Royalty income is another frequent focus of litigation, as royalty owners battle over the income to which they feel they're entitled. In addition, oil and gas businesses continue to see a rise in legal matters related to environmental issues.As different as these civil lawsuits are from one another, the legal process for each one plays out roughly the same. Litigation requires both parties to go through discovery, during which they gather any relevant les to respond to document requests and to support their side of the case. What was once a tedious task of gathering physical documents by hand, has evolved into a fully digital process that sweeps up a wide variety of data much more efciently.During electronic discovery (eDiscovery), these disparate forms of data are collected, processed, analyzed, ltered, reviewed and ultimately produced to opposing parties. If you've ever started this process from scratch, you know that it can be time-consuming, stressful and — if your company's data isn't well managed to begin with — fairly chaotic.It's true that for some companies, lawsuits only come around once in a while (if you're lucky). But when the need for eDiscovery occurs, it doesn't help anybody to handle it each time in the same haphazard, frantic way. In addition to putting unnecessary stress on your IT department to collect the necessary data, working on an accelerated time frame can result in data being lost or mishandled that might make the difference between winning or losing a case.All of this can be avoided by taking a step back and thinking about eDiscovery instead as a long-term, standard business process. Assuming that you'll be involved in one or more lawsuits during the life of your company — and chances are you will — it's simply a smart business decision to establish a system that allows you to respond to eDiscovery needs more quickly and with the condence that you have every relevant document available to use in your case.Here's how you can start creating a standard eDiscovery process: 1. Take stock of your situationTaking on a company-wide standardized eDiscovery process may sound overwhelming. Particularly if you have multiple ofces or have previously merged with another company, you may not have a good handle on what data even exists and where it's located.So, obviously, that's the rst step. In as detailed a way as possible, map out where your organization's data is – what les are with what people and in what departments, when they were created or modied, and who has access to them. Go beyond what you might think is relevant — in addition to invoices, maintenance records, contracts and land-lease agreements, data including emails, voicemails, photos, videos, Slack messages, social media posts and even texts are all admissible in court.Also outline your processes for managing litigation holds, the method by which your data will be collected and if you will do any initial ltering of your collected data. However, be cognizant of the time it might take. If you're adding one or all of these tasks onto your IT department's already heavy workload, consider whether it's in your best interest to nd a software solution and/or to hire an outside vendor to do the job.2. Choose an effective eDiscovery platformTo save both time and money in your eDiscovery process, select a platform (or multiple platforms — more about that in a second) that is capable of collecting and processing your data and preparing it for legal review. Look for a comprehensive solution capable of automating legal holds, doing remote collection of targeted groups of data and culling down your les. Ideally, your platform will also provide preliminary data analytics — allowing you to weed out irrelevant documents early in the eDiscovery process, understand the amount of data you're working with and predict potential costs.Most companies choose to also use a second, compatible platform for reviewing the les. This platform typically can do more in-depth analysis and search the data to determine relevance. As complex as this might sound, it all saves money in the long run if it prevents your legal team from having to unnecessarily dig through documents at what will certainly be a high hourly rate. There's one additional benet of having a centralized eDiscovery platform, and it's a huge one — once your documents have been collected, reviewed, tagged and processed as part of a case, they're there to stay in a safe, centralized place. There's no need to collect them or have them go through legal review a second time, and they can be used again if future cases call for them.3. Keep your review costs down with advanced planningDocument review is usually the most expensive part of the eDiscovery process. The most effective way to reduce this cost is to make sure that the data you're handing over for legal review is pared down as much as possible. One increasingly popular way of doing that is to use TAT (Technology Assisted Review). It's a form of articial intelligence that can be taught to identify relevant documents, and the system gets better at its job over time. TAR is a game-changing innovation that can streamline the review process dramatically, reducing costs and maintaining a high level of quality. TAR's only drawback at the moment is that it hasn't advanced to the point where it can accurately categorize spreadsheets or les that contain mostly formulas and graphs.Lastly, once you've prepared your data for the review process, you'll need to decide whether you'll outsource a legal team, which could include contract attorneys or a full-time managed review services team supplied by an outside vendor. Alternatively, your in-house attorneys could do the work. Although each option has its advantages, your primary concern should be that the team has the background knowledge and training to do their work effectively. Using the same team each time you need documents reviewed will provide institutional knowledge and ensure consistency, quality, accuracy and speed — so whatever you decide, make sure you're thinking long-term.Because litigation is almost a fact of life for suc-cessful businesses, particularly in the oil industry, it's smart to be prepared rather than tackling a large, important job under tight time constraints. A standard eDiscovery process goes hand in hand with your company's information management procedures, it will enable you to respond to any legal issues quickly and effectively, and it will save signicant time and money compare to an ad-hoc approach. Brian Schrader, Esq., is President & CEO of BIA (www.biaprotect.com), a leader in reliable, innovative and cost-effective eDiscovery services. With early career experience in information management, computer technology and the law, Brian co-founded BIA in 2002 and has since developed the rm's reputation as an industry pioneer and a trusted partner for corporations and law rms around the world. He can be reached at bschrader@biaprotect.com.
Page 29
www.beachwoodmarketing.comBeachwood navigates teams to find deals that no one else can.2828 NW 57th Street, Suite 309 l Oklahoma City l (405) 463-3214We don't market to test the waters, we hit the market to make waves.
Page 30
Oilman Magazine / September-October 2018 / OilmanMagazine.com28OILMAN COLUMNPermian Basin Outgrows Pipeline Infrastructure, Construction Boom Underway but has Growing Pains By Eric R. Eissler Oil production in the Permian is growing at an 800,000 barrel per day (BPD) annually. With production recently averaging 3.3 million BPD, the industry is on pace to outstrip its 3.6 million BPD of pipeline capacity in only a matter of a few months, according to an estimate by leading regional driller Pioneer Natural Resources. The Chairman Scott Shefeld told Bloomberg in late June that wells will have to be shut down due to lack of pipeline capacity. However, not Pioneer's wells, the company was able to bypass this problem by thinking ahead and reserved a majority of their pipeline space in order to continue production and grow their own production. More pipelines required: construction in full swingWith pipelines in the Permian reaching capacity, construction is in full swing and at the right time, too. With higher oil prices and the Trump Administration pressing on Iran and now Turkey, oil prices will continue to rise due to turmoil in the region. Taking advantage of the situation, mid-stream company, Plains All American Pipelines, is working around the clock to push up the timetable as much as possible. The company has two major pipelines expansions under way: Sunrise and Cactus II. The scheduled in-service dates for these projects are projected to be around January 2019 for Sunrise and partial service early in the fourth quarter of 2019 for Cactus II. In addition to these projects already under construction, Plains All American Pipelines is working with super-major ExxonMobil on a large-scale oil pipeline project that will ship more than 1 million BPD out of the region. Plains and Exxon are quickly laying the foundations for this project in hopes of breaking ground soon, with the aim of having it in service by 2021. More detail about the pipeline was made available in a press release from ExxonMobil: The proposed common carrier pipeline would be designed to ship more than one million barrels of crude oil and condensate per day, providing a safe, efcient and cost-effective option to transport ExxonMobil and other third-party production to market destinations in Texas. The pipeline would originate in both Wink and Midland, Texas with delivery points in Webster, Baytown and Beaumont, Texas. A priority would be placed on using existing pipeline corridors to help limit potential community and environmental disruptions.If that was not enough, there is yet another pipeline in the works, The Gray Oak Pipeline, which is being built by multinational Phillips 66 and Canadian Enbridge, aims to carry more than three million barrels per day from West Texas to the Corpus Christi and Houston regions. The pipeline is expected to come online during the second half of 2019. Finally, Kinder Morgan, this summer, also just announced that it too would join the pipeline building frenzy. The company announced it has teamed up with Apache Corp and a Blackstone subsidiary on the construction of a $2-billion, 2-billion-cu-ft gas pipeline project that will take natural gas from the Waha area to the Gulf Coast and to Mexico.With all the investment in pipeline infrastructure in the Permian Basin, it is easy to see that the region is expected to remain hot for a long time and continue on an upwards trajectory in terms of oil production. Regulators support pipeline expansion Even though Texas is one of the most oil and gas friendly states in the union, there is still regulation and regulatory bodies, namely the Railroad Commission of Texas, which oversees the entire oil and gas industry of the state. However, this time around, the Permian Basin is in luck because earlier this summer Ryan Sitton, a commissioner on the Railroad Commission of Texas tweeted, "We need investment in energy transportation infrastructure like pipelines and ports to realize Texas' full potential." Rightly said, because without it, the industry will slow, which would affect supply, and supply would affect consumer prices, which adversely affects the economy. Bottlenecks are not only for pipelines: Electricity consumption spikesAs more and more operators settle into the Permian Basin, the region is going though expansion pains that were notable in the boom towns of North Dakota earlier this decade. While there not enough pipelines in the basin to get the oil out, there is now a problem with supplying enough electricity to the region because many operators have taken the cheaper and more environmentally friendly method to get energy, that is, hooking up to the grid. However, the grid was never intended to support such demand from a growing oil and gas industry. To remedy this issue, the state will build more transmission for the electric grid, but that is going to cost money. To top it off, those who are hooked up to the system are expected to share the cost of expansion. Under state regulations, the costs of transmission projects are shared by all users of the power grid, regardless of whether they are served directly by the transmission or the utility building it. Dallas power utility Oncor, which serves the Permian Basin, is asking regulators to expedite two transmission projects, costing an estimated $223.6 million, to meet the spiking demand in the Permian.Boom is back, but with challengesWhile the Permian is poised to see record growth in the coming years, it will not be an easy growth that the region has been accustomed.. There will be many infrastructure challenges that lie in the way. However, within these challenges lie great opportunity for all the companies involved with the oil and gas industry in the Permian Basin. While there are constraints in the short term, the Permian is set to be transformed by 2020 with a larger pipeline network and an electric grid that will be able to handle the future demands of an even stronger industry within the next few years. OILMAN COLUMN
Page 31
Page 32
Oilman Magazine / September-October 2018 / OilmanMagazine.com30OILMAN COLUMNInterview with Phillip Bird, Collector, Oklahoma Oil and Gas Memorabilia By Tonae' HamiltonBelow is an interview with Oklahoma Oil & Gas memorabilia collector Phillip Bird. The interview text has been left in tact, with only minor grammatical adjustments.Tonae' Hamilton: What inspired you to start collecting memorabilia?Phillip Bird: I got into collecting several years ago. I had a lot of friends in Oklahoma and Texas that were in the business and if you live in either state, you're bound to know many people in the oil business. I started collecting because I loved the oil business and gas industry. It was an industry that employed a lot of people. Here in the south, we didn't have the big buildings like in the east, but we supplied the fuel to build them. That fact amazed me and made me proud to be from Oklahoma. I was a lender years ago and had clients in the oil business as well. They truly are a different breed of people and are very hard working. Over time, I acquired over 1400+ books. I have a yearbook of Webb City that was called "The Driller" and it is amazing how you can just build a city over night. There are several cities like that in Oklahoma including Three Sands. With that said, through friends in the business and an appreciation for the oil industry, I was inspired to collect memorabilia. Everyone collects something but oil and gas is my favorite stuff to collect. I have many little oil rigs and other smaller items that I collect.TH: When did you begin collecting memorabilia and what was the very rst piece you acquired?PB: It began in the 1980's, though I cannot remember the exact rst piece. I had several pieces from the beginning and actually lost a few pieces unfortunately during moves. Having had so many pieces from the beginning, I unfortunately cannot recall the rst piece.TH: Out of all the items you collected, can you share what your favorite piece is?PB: That's a tough one. I have one book that is a reproduction of an older book created by Aubrey Mcclendon. It talks about Chesapeake Energy and features pictures of Oklahoma City oil elds. I also have books and pictures where you can see the old oil elds under the Capitol Site and pictures of the Mary Sudik which is all so fascinating. The Mary Sudik no.1 is from 1930. I also like the Tulsa oilman and the Gusher pieces which truly exemplify Okla-homa. Therefore, I dont have just one or two favor-ites, rather I have several pieces that I really like. TH: What made you decide to sell your collection now and why did you decline the rst time?PB: Though I really enjoy my collection, a lot of people I know have gotten out of the oil business, passed on, or moved and I just don't get to enjoy it as much as I used to. I really enjoyed showing it to people but I just don't have that many people I can show it to anymore. Many people used to come by every week to check the collection and would have to come by several times just to see everything because of the size of the collection. I was offered money the rst time to sell my collection, but I was not ready at that time. I enjoy showing it still but I just can't show all the pieces in the way I want due to a lack of space. I go by a philosophy that if you can't show it, you don't need it anymore. There are so many little pieces of memorabilia that I have that it is just amazing seeing how many there are. I have Rufnex Yearbook, Crooked Oak High School, 1960sJ.R. Ewing from the TV series DallasOil Well at Oklahoma State CapitalMary Sudik Oil Well Gusher Webb City High School Yearbook, 1935Tulsa Oil Man, Oil Well Gusher, Decanters and a Drill Bit from the Tar Creek Project Derrick Yearbook, Victoria, Texas, 1960s
Page 33
Oilman Magazine / September-October 2018 / OilmanMagazine.com31Organized by:Assessing New techniques & Innovative Technologies to Cost-Effectively Build & Operate Modern And Efficient Well Site Facilities With Smarter Emission Controls And Leverage Automation & DigitalizationTo Increase Production Performance And Facilities Efficiency, Maximize Profitability And Control Fugitive EmissionsDownsize Facilities Footprint, Lower Emissions, Increase Fluid Measurement Accuracy & Safety Through... > Modular Concepts For Single & Multi-Well Pads > Standardized Facilities & Tankless Pads > Allocation Measurement Solutions > Facilities Automation & Digitalization > New Multi-Phase Flow Meters & SeparatorsSEPTEMBER 18, 19 & 20 | HOUSTON TXHOUSTON, TXPRE-CONFERENCE WORKSHOPS: TUESDAY SEPTEMBER 18 | TWO DAY TECHNICAL CONFERENCE: WEDNESDAY & THURSDAY SEPTEMBER 19 & 20Make Continual Improvements & Optimize Facilities Design, While Focusing On Growth In The 'Drill Faster', $70+ Oil Environmentwww.facilities-design-onshore.comLast year, American Business Conferences' Cost-Effective Well Site Facilities Onshore conference saw over 220 delegates in attendance, with the largest E&P representation in the event'shistory. In 2018, we're raising the bar once again, on all fronts, and bringing you an agenda, a mammoth speaker line-up and networking opportunities like never before.E&PS REPRESENTED AT THE 2017 EVENTAlta Mesa Holdings, Anadarko Petroleum Corporation, Apache Corporation, Approach Resources, BHP, BP Lower 48, Cabot Oil & Gas Corporation, Canbriam Energy, Chaparral Energy, Chevron, ConocoPhillips, Devon Energy Corporation, Diamondback Energy Corporation, Discovery Natural Resources, EP Energy, EQT Corporation, EXL Petroleum Operating, Extraction Oil & Gas, Gulfport Energy Corporation,Hess Corporation, Kinder Morgan, Mack Energy, Marathon Oil, Noble Energy, Oasis Petroleum, Parsley Energy, Petroleum Harvester, PetroQuest Energy, Pioneer Natural Resources, PRI Operating, Seven Generations Energy, Southwestern Energy, Equinor, Sundance Energy, TAQANorth, Tourmaline Oil Corporation, XTO Energy & MoreLBCG280_FE18_8x5_advert_v2.indd 1 08/08/2018 13:14OILMAN COLUMNhad it for so long, but sometimes you just need to move on. TH: Are there any pieces of your collection that you plan not to sell or may pass on to your family?PB: No, I do not intend on keeping any pieces. It all needs to go together. TH: What makes your oil & gas collection unique or different from other collections of the same type?PB: My stuff is more local than others you'll see. When people think oil and gas they think like a Shell oil sign. My collection is a tribute to the oil industry. I have books, small oil rigs, advertising pieces and small items that makes it different than any other person's collection. As far as I know, no one has as many books as I do. I have some really unusual books and a few hundred of my books are autographed by the authors, themselves. That makes them worth a lot more than those books that aren't autographed. If there is someone that has a bigger collection than I do, I'd like to see it. My collection pays homage to the state of Oklahoma. You'd be surprised of how many famous individuals are from Oklahoma and were in the oil business. Clark Gable, who was a top movie star in the 1930s and 40s used to work in the oil elds!TH: Do you currently have any other types of collections?PB: I also collect high school and collegiate yearbooks, which some you will nd in my oil collection. I also collect masonic items. I was able to connect my high school yearbook collection to the oil collection through locations the high schools were in, such as Victoria, TX. Such locations in Texas and Oklahoma are big on the oil industry. Additionally, I collect antiques and movie memorabilia as well as guns and coins. TH: If you could pick a place for your collection to go after you sell it, where would you like to see it?PB: I'd like to see it in a restaurant, club, or cafe. A bagel shop would also be a great place for my collection so customers have books to read and so they can learn about the oil and gas business and learn about Oklahoma and its history. It would be nice to have it in a restaurant where I could go and see it. I think it would be neat to be able to go visit a restaurant and see my collection. TH: Do you plan on starting any new collections in the future?PB: I'm not sure what my next collection would be since I haven't planned on that yet. Something like that you can't plan on, often these kinds of collec-tions start by accident. People collect some of the strangest items sometimes and don't plan on it. Oklahoma Oil and Gas Books (Approx. 1,400) and Other CollectablesOklahoma Oil and Gas Memorabilia For SaleThe collection is a fantastic showcase representing the Oklahoma Oil and Gas industry and is perfect for displaying in a restaurant, bar, coffee shop or museum. For more information, contact Phillip Bird at 405-463-0636 or morgtagebird@cox.net.
Page 34
Oilman Magazine / September-October 2018 / OilmanMagazine.com32Natural Disasters Strike, but the Oil and Gas Community is Ready to Repair and Pull Through By Eric R. EisslerOILMAN COLUMNNatural disasters have always been something everyone must think about from time to time. While it might not ever happen to you or your company, it still happens, and it is happening more and more as the Earth's weather patterns change. In the oil and gas industry, managers must think about the possibility of natural disasters striking more often. This is imperative due to the location of oil and gas wells in extreme locations such as in the sea, on the coast, in the desert, etc. All of these locations have unique weather patterns. Additionally, there are also earthquakes, tornadoes, hurricanes, and massive tidal waves that need to be considered, too. All of these threats will lead to signicant damage if the right precautions are not in place. Finally, do not forget about getting the proper insurance. To get a better idea of what some companies are doing to mitigate the damage that could occur from a natural disaster, we reached out to a company to learn more about their processes. Logistics industry faces changing weatherDominic Dupre of Dupre Logistics provided some insight into how some companies are gearing up for more and more natural disasters that are occurring in the U.S. Unfortunately, our emergency response surrounding natural disasters is put to work once every 2-3 years as we operate along the Gulf Coast, from Florida to South Texas, so we have been able to adjust and learn from each experience. In the crude hauling division, we operate a central dispatch model with remote login capabilities that ensure continuity of the business even when the ofce is closed down. Additionally, our eld execution is segmented by area with multiple maintenance facilities that ensure the business continues to run in the event that operations are shut down in certain geographical areas.Besides natural disasters, there are also disasters that come from within oil and gas equipment and can trigger a massive disaster that can give way to other environmentally damaging effects. For example, the most recent The Deepwater Horizon oil spill began on April 20, 2010, in the Gulf of Mexico on the BP-operated Macondo Prospect. At approximately 9:45 pm, methane gas from the well expanded into the drilling riser and rose into the drilling rig, where it ignited and exploded, engulng the platform. There were 126 crew members who were on board at the time: seven BP employees, 79 from Transocean and employees from other companies. The Deepwater Horizon sank on the morning of April 22, 2010. It was considered to be the largest accidental marine oil spill in the history of the petroleum industry. The U.S. Government estimated the total discharge at 4.9 million barrels of oil into the ocean. Government and regulatory bodies are here to helpThe National Petroleum Council prepared a paper entitled, "Enhancing Emergency Preparedness for Natural Disasters: Government and Oil and Natural 18 September 2018 | Houston, TexasImproving organizational productivity and well site efficiency through automation and technology Visit: www.futurewellsiteautomation.com Speakers including: Brandon Davis, Automation Lead, Devon EnergyGeorge Robertson, PCN Cyber Security Advisor, ChevronCliff Swadling, Production Operations Manager, Obsidian EnergyDesikan Sundararajan, Team Lead - O&M Shale Oil and Gas R&T, StatoilMark Duggan, SCADA Developer, Denbury ResourcesRogier Pouwer, Automation Engineering Manager, AnadarkoRod Barta, Operational Readiness Superintendent/Automation, Hess Corporation Owen Skjonsby, Superintendent US Operations, Crescent Point Energy With this in mind; we will unite over 150 automation specialists from leading operators, service companies and technology providers to: b Gain an industry forecast of the automation market, innovation on the sector and how it is expected to evolve over the next 12 months to ensure your strategy is aligned to future possibilitiesb Work through unique challenges by networking, sharing, discussing and collaborating with automation specialists from across leading operators, solution providers, start-ups and consultants that have successfully solved your problemsb Enhance operational efficiency across the entire organization through automation technology and process optimization that will reduce risk, improve safety and reduce costsb Leverage well site and company data that will improve speed and accuracy of decision making and optimize productionb Ensure new and existing technology selection is fully aligned to unique business objectives and designed specifically to solve well site problems and enhance efficiencyb Reduce risk and maintain all health, safety and environmental regulations and standards
Page 35
Oilman Magazine / September-October 2018 / OilmanMagazine.com33"This Summit provided interaction with upper managerial of key customersin the Power Industry that are invaluable to my company. This was by farthe best customer interaction of any conference I have attended." Regional Manager Energy Oil & Gas KSB Inc. October 28-30, 2018 | The Whitley, Buckhead | Atlanta, GA OILMAN COLUMNGas Industry Actions to Prepare, Respond, and Recover." The paper, published in 2014, found the following challenges in addressing emergency situations:• It is critically important for government emergency response organizations to have a baseline under-standing of the dynamic nature of the oil and gas supply chains.• Improved situational awareness about the status of oil and gas infrastructure and service disruptions from industry would enable DOE and other gov-ernment agencies to more effectively respond.• A major challenge during emergency response is effective communication between and within federal and state agencies and with industry. • The maintenance of a trained, knowledgeable response organization within government agencies should be a priority along with processes to sustain it. • Within industry and across all levels of government, leadership commitment and funding are required to continuously improve and ensure a state of readiness to respond to supply chain disruptions. Be prepared, not scaredAt a recent API (American Petroleum Institute) meeting this past May 2018, a subject of debate was that of being prepared in the oil and gas industry. This is imperative as the southern United States is well into Hurricane season, which runs from May 15 (previously June 1 and now has grown by 15 days. However, this is still up for debate.) to November 30. Hurricanes are one of the biggest natural disasters for the U.S. and the rening industry, due to rening units' proximity to water. Jeff Gunnulfsen, Director of Security and Risk Management at the American Fuel and Petrochemical Manufacturers, said the following on his commitment to safety in the eld at the API Meeting: "The rening and petrochemical industries practice emergency response, every day, 365 days a year. No two storms or emergencies are alike, and our industries prepare vigorously and consistently for all types of disruptions. Preparation is the rst step in managing major events, and by working diligently with industry partners, we're able to minimize the impacts of unpredictable events."More information on the steps oil and gas industry professionals are taking in the midst of Hurricane season can be found here: https://www.api.org/news-policy-and-issues/hurricane-information.Eye of the stormWhile the weather is changing, the oil and gas industry is adapting and developing new technologies and procedures to weather the storm. New protocols are being established and more time is being dedicated to safety training for handling natural disasters. While natural disasters cannot be prevented, tactics can be employed to help mitigate the damage caused by a storm or worse. While mother nature has the upper hand in this battle, humans are resourceful and full of ingenuity in coming up with innovative ways to prevent damage or to make repairs on the y.
Page 36
Oilman Magazine / September-October 2018 / OilmanMagazine.com34OILMAN COLUMNBuilding and launching a start-up in any industry can be difcult. Building a business requires time, money/investment, experience, and connections. Nevertheless, more individuals nowadays are taking the entrepreneurial route to expand their careers. With the spread of technology, building a business in recent years has become more practical. Two young entrepreneurs, Tyler Moehlman and William Vandiver have recently developed a start-up, with the aid of technology, in the oil and gas industry, an industry once known for being very traditional and not technologically advanced. Moehlman and Vandiver have entered the energy industry with plans to innovate current processes and improve operations. They describe what it's like being young entrepreneurs in the industry and their plans for change through technology. Both Moehlman and Vandiver graduated from Texas A&M, with Moehlman studying petroleum engineering and Vandiver studying engineering technology, respectively. Moehlman admitted that he originally majored in the eld for the high-end salary, but realized that choosing a career should be based on what you enjoy rather than monetary value. Moehlman chose to work at an offshore oil rig the summer before his freshman year. "I worked for Hercules Offshore as a roustabout and it provided me with a very humbling experience on how this industry works at the ground oor. That experience also assured me I was in an industry I wanted to be in," said Moehlman. Vandiver also had a positive experience with his internship in the oil industry. "I got to see the administrative processes of a company and see how the engineers and geologists come together. The internship really steered my attention towards exploration," said Vandiver. Moehlman and Vandiver also shared challenges they've faced while building and promoting their startup and what experiences they've had being young individuals in the oil industry. Moehlman expressed how experience has been one of their biggest challenges when presenting to prospects, for example. "The oil and gas industry is lled with entrepreneurs and their merit is weighted by what they have done thus far in industry. Many of them have either worked for large corporations or have been in industry longer than I have which is always a factor investment groups weigh when evaluating management teams," said Moehlman. Vandiver also added to that sentiment, stating "A new company is something that people would place at a higher risk when funding new management teams. We learned that having experience on your side and attracting experienced personnel to your team is something you want to have, going forward in the industry." When asked why they chose to stay in Texas to develop their start-up, Moehlman and Vandiver expressed similar reasons for selecting Texas as their primary location. Moehlman mentioned how he and Vandiver actually discovered a project in Texas two weeks before their graduation. Moehlman felt passionate about their project and thus requested a four month time period from his future employer to present their idea around town. "Houston is the energy capital of the world so I didn't need to travel very far to present my prospect," said Moehlman. Similarly, Vandiver stated how a signicant amount of the energy industry is in Houston and Dallas. "There are many private equity rms and better taxes for the business here in Texas. It is also a more attractive place for oil businesses and there are prospects close to home. Texas felt like a good homebase for our startup and Tyler and I have known this place our entire life," said Vandiver. Since starting their business, Moehlman and Vandiver have made a handful of advancements in the industry. In regards to the developments made in their start-up, Moehlman stated, "Thinking back to our eld analysis, I think we have been more meticulous with how we approach looking at a prospect and evaluating its worth. Using Drillinginfo, we were able to view the completion programs of offset wells around us. Fracking has evolved tremendously these last few years and we were able to observe which wells have or haven't been completed with new generation programs." Chiming in on the advancements made in the industry with their start-up, Vandiver stated "We've created a network and in any industry that is important. Through developing good prospects, we met great people in the industry who value good, well-thought-out prospects. From getting the project funded, to execution, we met some of the best geologists and engineers in industry and have had the opportunity to talk shop with them." Coming into an industry that is recently being revamped with technology, Moehlman and Vandiver described how their background in technology overall has helped them transition Innovating the Industry with an Energy Start-upBy Tonae' HamiltonPhoto Credit: drserg – www.123RF.com
Page 37
Oilman Magazine / September-October 2018 / OilmanMagazine.com35OILMAN COLUMNinto the energy industry and excel. Moehlman described how larger fracs, longer laterals, and straighter wellbore creation while drilling have all become possible through technological advancements. "Drillinginfo's interface, for example, provides an array of data for each well that you don't have to go digging for to discover," said Moehlman. Vandiver expressed how his background in mechanical, manufacturing, and engineering has allowed him to compare different tools and their lifespan from service companies and determine the best and most durable drilling equipment by tool life. "Drillinginfo has also helped with selecting equipment and has allowed us and many other individuals to view pie charts, decline curves, and other visual representations of data to thoroughly evaluate potential prospects. With technology, we are able to convey messages and data more easily via powerpoint, excel, etc." said Vandiver. Moehlman and Vandiver were asked if they are currently developing new technologies for their start-up. Although they expressed they aren't currently developing any, they shared how they follow up with other companies to gain insights on what they're developing and examine what new technologies are available in the industry. "We got to meet a startup that is using Articial Intelligence to perform directional drilling which I thought was an incredible concept," said Moehlman. Vandiver talked about current technologies he's impressed with, stating "With technology currently, we have been able to receive a better analysis of wells and drilling conditions and we get a clearer picture of what we are drilling through. With wider azimuth seismic we get a way more detailed fracture analysis and a clear picture of the stress prole on some of these brittle carbonate reservoirs. Companies like Drillinginfo are coming out with solutions and software applicable to well drilling operations allowing you to make more responsible decisions." When asked whether they believed the rise of technology in the energy industry is for the best, both Moehlman and Vandiver agreed that technology has impacted the industry positively. "When dealing with an industry where the primary element you work with is nature, the earth's subsurface, the primary reason for technology is to keep the wheels turning and and leave everything functioning properly," said Moehlman. Similarly, Vandiver stated "Technology is denitely going to progress and unlock new horizons in the industry. We've seen it with the shale oil revolution and with some of these natural gas hydrate 'ice' elds up north that now produce hydrocarbons. Both commercial horizons were made possible due to leaps in technology." As for what future improvements they'd like to see in the industry, Moehlman stated "I want to see new companies with more innovative databases, articial intelligence (AI), and automated drilling. Automation, AI, and new databases are involved in other industries around the world and I would like to see our industry incorporate those same innovations." Vandiver stated that observing real time data across the industry and incorporating AI and blockchain technology into oil and drilling solutions are improvements that would play a major role in the industry." Our generation will certainly be the one to push these technologies forward and go on to new horizons," stated Vandiver. The Neverending Story: "Fixed" vs. "Floating" Royalties in Texas By Thomas G. Ciarlone, Jr.The Texas Supreme Court and our Courts of Ap-peals have now been struggling for years with the elusive distinction between "xed" and "oating" royalties. In application, the difference between the two can have drastic and, depending on your posi-tion in a mineral title dispute, potentially catastroph-ic consequences. The case law has, by no means, been a model of clarity or consistency, and few hard-and-fast rules have emerged at the appellate level to give practitioners any legitimate comfort when drafting or interpreting conveyances.At a purely denitional level, it is easy to differenti-ate between these two types of royalties:• A "xed" royalty is set in stone, for all posterity. It is an unchanging fraction of total production.• A "oating" royalty, by contrast, is dynamic. It is a fraction of the royalty under the active mineral lease.So when the lease royalty increases, so does the "oating" royalty. Not so with the "xed" royalty; it is what it is, regardless of the terms of whatever lease happens to be in effect at the time.Sounds simple, right? In theory, yes. In practice, not so much.The Texas Supreme Court's recent decision in U.S. Shale Energy II, LLC v. Laborde Properties, L.P. represents the latest chapter in this ongoing jurisprudential saga.In Laborde, the grantors had reserved to themselves an NPRI (Non-Participating Royalty Interest), dened as follows (emphasis added):There is reserved and excepted from this convey-ance unto the grantors herein, their heirs and assigns, an undivided one-half (1/2) interest in and to the Oil Royalty, Gas Royalty and Royalty in other Minerals in and under or that may be produced or mined from the above described premises, the same being equal to one-sixteenth (1/16) of the production. This reservation is what is generally [sic] termed a non-participating Royalty Reservation.The operator under a lease with a one-fth royalty credited the successors to the reserving parties with one-half of the one-fth lease royalty—i.e., one-tenth of total production. But the successor to the grantee cried foul, arguing that the reservation expressly limited the NPRI to one-sixteenth of total production. The Texas Supreme Court sided with the operator's interpretation.Notably, nothing in the record indicated that a mineral lease was in effect at the time of the NPRI's reservation. The majority in Laborde accounted for this omission with the oft-repeated refrain that, for a decades-long period in the history of our state, it was widely assumed that the royalty in mineral leases could only be, and would always be, one-eighth.Finally, punctuation also matters, or at least so it would seem. In particular, a comma can apparently make all the difference in the world. On this score, according to the majority opinion, because "the same being equal to … one-sixteenth was set off by a comma, it constituted "a nonrestrictive dependent clause." In other words, wrote Justice Lehrmann for the Court, the phrase could be "taken out of the sentence without changing its essential meaning." (While the present author considers this a bit of a stretch, he simultaneously admits that he has little trust in people who don't use the Oxford comma.)Tom is a litigation partner in the Houston ofce of Kane Russell Coleman Logan PC, where he serves as the head of the rm's energy practice group. Tom is also the host of a weekly podcast on legal news and developments in the oil-and-gas industry, available at www.energylawroundup.com, and a video series on effective legal writ-ing, available at www.theartofthebrief.com.
Page 38
Oilman Magazine / September-October 2018 / OilmanMagazine.com36OILMAN COLUMNInterview: Tom Williams, President of Research Partnership to Secure Energy for America (RPSEA)By Eric R. Eissler Below is an interview with RPSEA President, Tom Williams. The interview text has been left in tact, with only minor grammatical adjustments.Eric Eissler: Regarding the technology roadmap, which I really like the title, "Keeping it Going for the Long Haul – the Easy Stuff is Gone." I have been saying that for a long time. The technology developed today is going to win the resource war of tomorrow. That being said: What is new? What is the latest and greatest coming out of RPSEA?Tom Williams: The RPSEA R&D program was funded through the Energy Policy Act that expired at the end of 2016. Since then, we have been active in technology transfer activities, conducting a variety of studies for onshore and offshore activities, and in reauthorizing the program. By completing the nal report and R&D roadmap, and supporting other government-led initiatives, there is clearly a contrast to the quality and effectiveness of a R&D program managed by the government versus one like RPSEA, managed through a public-private partner-ship. This was well documented in the R&D roadmap and our nal report. I am overwhelmed by the support I receive almost daily by calls, emails and at confer-ences I attend about the need to get our program going again. We had over 950 individuals contribute to these reports. All our reports are posted on our website at www.rpsea.org.The chance of getting reauthorization is good, but requires a comprehensive bill that includes specic language and the support of Congress and the Trump administration. Timing is the great unknown. The good news is the Trump Administration and Congress strongly support a healthy oil and gas industry built on technology. This is how the U.S. got in the position it is in today and is the future. EE: Because of the competitive nature of the industry how are trademarks, licensing, etc. handled?TW: We are an easy-to-do-business-with group driven by industry and researchers, not bureaucrats. Our pro-cesses promote the technology and processes that will help commercialize and promote the companies that receive our research awards.Some of the contract language in our government award and oversight has been onerous, but the goal is to make the process – from proposal through award – as least painful as possible. But because they're public funds and the DOE has had oversight of the awards, it is not pain-free.EE: When you have all these top companies working together and which compete amongst themselves, how is the intellectual property handled?TW: We don't own IP. Companies bring their IP to the table and commercialize the technology they develop. Process and ownership are dened in the proposal and award process. The primary way to judge the success of a project is if someone is saving money from a new
Page 39
Oilman Magazine / September-October 2018 / OilmanMagazine.com37OILMAN COLUMNtechnology and another is making money, reinvesting it via increases in hiring and production.About 25 years ago, when I was at DOE, they did not understand this. I believe the DOE National Energy Technology Lab (NETL), which provided oversight with our program, now do. They were good to work with.EE: As the quest for hydrocarbons continues, much of the remaining vast reserves lie under the ocean oor, which is still a great unknown. How do you visu-alize the next steps to mapping the oceans and building equipment that will function in the most remote areas of the earth?TW: Exploration in deepwater has made a lot of ad-vances. Recent discoveries in the Gulf of Mexico and elsewhere, internationally, show there is a tremendous future. The evolution and application of various subsea systems is evident; new technologies have been applied, some developed through the RPSEA program. It can compete with shale.We are also blessed with a progressive offshore regula-tor who has made a dramatic change in the past 18 months from an agency with poor communication to one of cooperation. The culture is still evolving for the better. This allows new, improved, safer and more effective technologies to be developed and applied instead of prohibited.Investments in offshore R&D are highly needed. The challenge includes a better way of demonstrating new technologies, so they can be approved and applied. Being risk adverse is warranted. We are currently work-ing on a new R&D roadmap with the OESI program, focused on technologies that will improve offshore safety and environmental performance. This report will be done this fall and has been needed for a long time.Again, this contrasts the difference between a not-for-prot organization like RPSEA and the government who, for a variety of obvious reasons, are not capable of putting out a credible report.EE: Getting back on land, how has the unconven-tional resources program been developing? TW: As I noted, our base funding has expired, but past R&D investments are the gift that keeps giving. Technologies developed under our program – those that better characterize unconventionals – are now being applied and adapted, and they're still evolv-ing. Our reports are constantly being downloaded, and references of this work are always being made at technical conferences like the Offshore Technology Conference (OTC), Society of Petroleum Engineers (SPE), American Association of Petroleum Geologists (AAPG) and the Society of Exploration Geologists (SEG). It is rather remarkable!EE: In terms of reaching tight oil and gas shales, in addition to making them economically vital has been a long process. What contributions has RPSEA made to this eld? What are the next steps to further develop technology and keep the U.S. as a leading producer of oil and gas?TW: The roadmap is clear. We learned we do not know enough about the reservoirs or the ways to best produce the reserves in the ground. We know we have a very low-recovery factor for oil and gas, but the per-centage is just a guess. We do know we must do more to increase production per well and address the tre-mendous reserve in the ground. That [addressing the reserves in-situ] does not require much more drilling, but instead improved understanding and the develop-ment of better methods. The easy stuff is gone. EE: While we can't see into the future, what is your prediction for the next ve years in the oil and gas industry?TW: People who predict these things are well-paid analysis – who are almost always wrong – and weather-men, who are just wrong half of the time. We can maintain our production levels through investments in R&D. Industry must never lose focus of continuously investing in zero-incidence goals and in being good environmental stewards. This is a role government co-funding can properly play, onshore and offshore, and one that will provide a high return on those investments. Momentum can shift on a dime when bad things happen.RPSEA is the Research Partnership to Secure Energy for America, a nonprot corporation es-tablished in the State of Texas. RPSEA has met the requirements for a 501(c)(3) corporation and holds a tax-exempt status with the Internal Revenue Service. RPSEA currently consists of consortium members representing virtually all sectors of the natural gas and oil supply technology value chain. Elections: What's at Stake By Gifford BriggsIf there ever were a time in U.S. history when the phrase "elections have consequences" would be most accurate, now would be that time. The contrast between the past and current United States President could not be more different. Under President Obama, we experienced a moratorium on drilling in the Gulf of Mexico, endless regulations and negative rhetoric.Under President Trump, we have seen a reawakening of the oil and gas industry across the nation. Approval processes have become more streamlined, allowing businesses to go forth unhindered by big government policies, and a push is being made for U.S. energy dominance.Louisiana is heading into another election year, but this one will be unlike any other our state has ever seen. With the installment of term limits, we expect to see an increase in voter activity during the 2019 election cycle. Many expect the 2019 election cycle to be not only one of the most expensive elections, but one of the most pivotal elections we have experienced.So what all is at stake for the 2019 election year?Before we get into that, Plaquemines Parish has their Council and Parish President up for election in 2018. This parish is ground zero for the coastal lawsuits. It is important for those inside and out of Plaquemines Parish to pay close attention to these elections.The 2019 election cycle will see one of the most signicant legislative turnovers in Louisiana's history. Along with the Governor's bid for re-election, 66 legislative members are term-limited along with a handful of others who are leaving ofce seeking other elected ofces or are merely choosing to end their career in the Capitol.The implications of this election cannot be overstated. The next round of legislators will not only be charged with redistricting in 2020 but possibly 2030 as well. A skilled legislator can impact House and Senate lines and change the political landscape of the entire state. National dollars are pouring into states to shape legislatures to the political makeup of their choosing. The thinking is that if you control the legislature, you control the lines. If you control the lines, you can inuence policy for years to come.For the oil and gas industry, these elections can be a turning point. Decades of abusive lawsuits driving investment out of South Louisiana and the highest severance tax rate on oil in the nation, all can be addressed, inviting investment and jobs back into our communities that need them. 2019 will also be a key year for the development of the Austin Chalk. As this play comes into prominence, we need to be sure that the people we elect are supportive of the Chalk's development.The stakes in this election cycle are high, but the reward can be even greater. To reap that reward, citizens and business must answer the call and fulll their civic duties to participate in the process. If you don't vote, you don't have the right to complain. Gifford Briggs
Page 40
Oilman Magazine / September-October 2018 / OilmanMagazine.com38Meridian Energy Group is well underway with its efforts to build the Davis Renery. Davis, commonly referred to as the "Cleanest Renery on the Planet," was permitted as a synthetic minor source by the NDDoH (North Dakota Department of Health – Air Quality) after an extensive 18-month review. This PTC (Permit to Construct) issued by the NDDoH validated all of claims Meridian had made over the past four years when they undertook the challenge to "clean up" the rening industry. Meridian commenced construction in July near Beleld, North Dakota, east of the Fryburg Rail Terminal just a month after the NDDoH issued the permit. The company contracted with SEH D|B out of Bismarck, ND to take on a signicant portion of the project, executing grading and other site work activity that is necessary for the renery.SEH D|B will lead civil construction activities by rening site grading plans to establish nal grades and contours. Initial construction activities will include: the installation of erosion control devices, stormwater pond development, and ditch shaping to establish vegetation and ensure runoff, which will be addressed to protect surrounding areas and existing waterways.According to Dan Hedrington, SEH Principal and Senior Project Manager, "This is truly a history-making event and we are eager to get started on the site work. The Davis project is an extremely environmentally sound project, and will no doubt positively impact the rening industry, North Dakota and its residents."The contract with SEH D|B employs a team of local subcontractors from Beleld and surrounding areas. Martin Construction Inc., Dickinson, North Dakota's premier earthwork construction company, will be the primary site developers for the civil construction. Martin Construction President, Kurt Martin is eager to join the Meridian cause and deliver the various benets the Davis Renery will bring to the Bakken. "It's exciting to be part of a project that brings economic stability to western North Dakota and features key advancements to cleaner renery methods," says Martin.Meridian has not only been busy with construction in North Dakota, the company has also expanded its Engineering and Projects operations in Houston. Meridian recently signed a long-term lease with Boxer Property for a 10,000 sq. ft. building to accommodate its Engineering and Projects departments. The new ofces, in the Greenspoint district of Houston, are strategically located near both The Woodlands and IAH Airport. This Houston location will include a full digital integration in order to interface in real time with Meridian ofces in North Dakota and California. This expansion came just two months after Meridian was issued the PTC for the Davis Renery in Billings County, North Dakota, and subsequently began earthwork and other site preparation work at the Davis site. The continued expansion of the Meridian presence in Houston will ensure the timeline for the Davis Renery will remain on schedule for design and construction of Davis, with full commercial operation scheduled for late 2020. Meridian's Houston operations will also facilitate access to the professional stafng required for the development, engineering and contracting for future rening and other projects that are currently in the planning stages. Lance Medlin, Meridian EVP of Projects, led the lengthy process of determining the ideal site for Meridian's new ofce. "We are fortunate to have developed a partnership with Boxer Property that we allow us to continue the development of the Davis Renery as well as our future projects. This expansion gives us the ability to house our Project Teams in one facility, giving us better efciencies and momentum for moving our projects forward," says Medlin.Chad Hope, Meridian CFO, also expressed his enthusiasm for the continued expansion. "This growth is both a result of Meridian's progress and the exciting future opportunities we're being presented with and represents the most cost-effective manner of meeting our current and future needs," says Hope.Meridian is condent the Davis Renery will become the blueprint for all renery products that follow it. Leveraging BACT (Best Available Control Technology), Meridian has literally set the new green technology design standard for modern oil renery and has redened what's possible in applying true innovation to all phases of the process – construction, operation, emissions control, and of course, ongoing regulation and monitoring. OILMAN COLUMNMeridian Energy Group Meeting Timeline Objectives for Davis Refinery While Expanding Engineering Operations in Houston By Jason Spiesswww.cleangulf.orgImproving prevention, preparedness and response of oil and hazardous materials spills in inland, offshore and marine environments Conference Tracks Include: • Planning&Preparedness• Response• SubseaandDispersant• TrainingandExerciseBestManagementPractices• Information/ResponseTechnologies&Research• InlandPreparednessandResponse• EmergingTrendsRegister with VIP code OILMAN to receive a $50 registration discount! November 13-15, 2018ErnestN.MorialConventionCenterNewOrleans,LA3258532585_CG18 Flyer OILMAN.indd 1 6/7/18 1:33 PMFuture Site of the Davis Renery (Photo courtesy of Meridian Energy Group)
Page 41
www.cleangulf.orgImproving prevention, preparedness and response of oil and hazardous materials spills in inland, offshore and marine environments Conference Tracks Include: • Planning&Preparedness• Response• SubseaandDispersant• TrainingandExerciseBestManagementPractices• Information/ResponseTechnologies&Research• InlandPreparednessandResponse• EmergingTrendsRegister with VIP code OILMAN to receive a $50 registration discount! November 13-15, 2018ErnestN.MorialConventionCenterNewOrleans,LA3258532585_CG18 Flyer OILMAN.indd 1 6/7/18 1:33 PM
Page 42
Work smart. Work on. The All-New Globalstar Sat-Fi2 Satellite Wi-Fi Hotspot.GLOBALSTAR.COM/OILMANWORK BEYONDTHE LIMITSEMAIL | TEXT | TALK | SOCIAL | WEB | S.O.S.GLOB18_8.5x11_SatFi2_Oilman.indd 1 8/10/18 2:02 PM